Chihuahua Hair Loss: Why Is My Chihuahua Going Bald?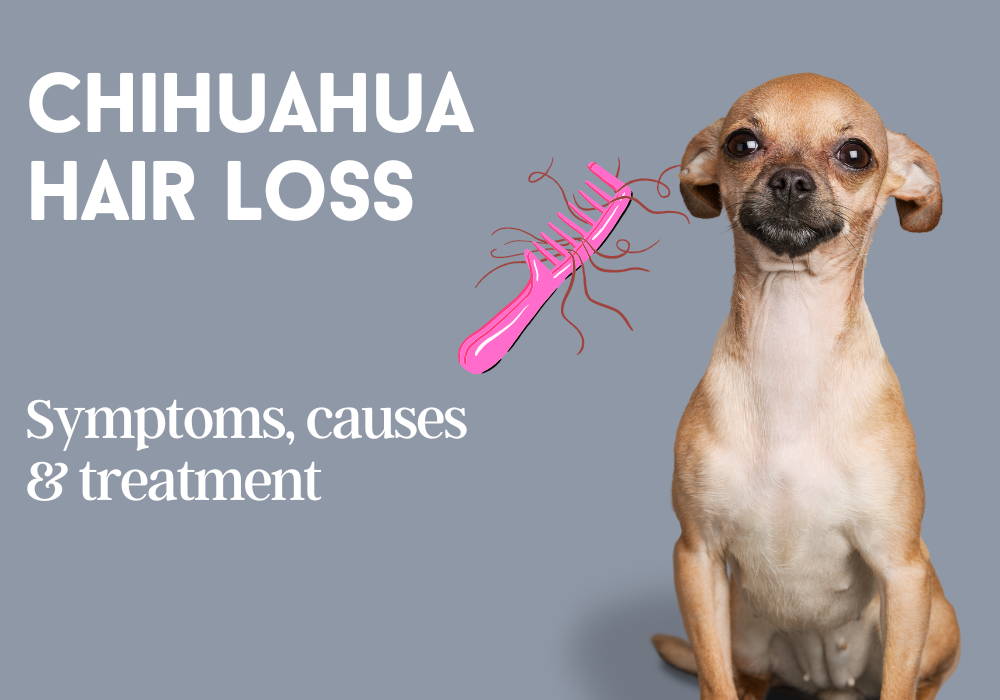 Chiuahuas are adorable dogs that come in two coat types: long-haired and short/smooth-haired. Unfortunately, both coat types are prone to unexplained skin problems, resulting in unsightly bald patches.
Although this issue can be resolved through improved skin and coat care in some cases, it can also indicate a more severe underlying problem. Thus, Chihuahua owners should be vigilant for any unusual balding patterns.
Although this issue can be resolved through improved skin and coat care in some cases, it can also indicate a more severe underlying problem. Thus, Chihuahua owners should be vigilant for any unusual balding patterns.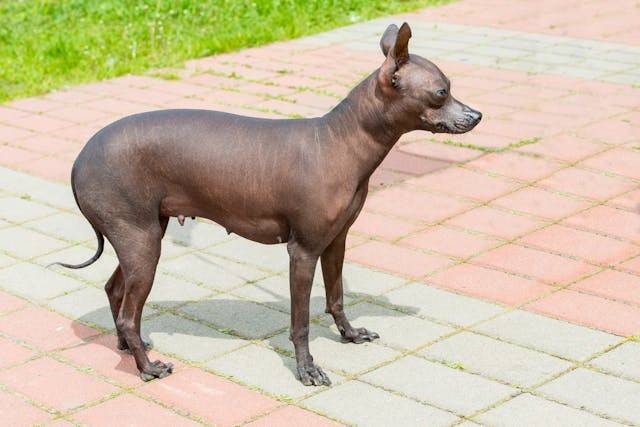 Why is my Chihuahua going bald?
Chihuahuas may lose their hair due to various reasons, ranging from mild to severe. Understand the common causes that could affect your beloved Chi's fur.
Hair loss in Chihuahuas is commonly caused by allergies. These allergies cause irritation on the Chihuahua's skin, resulting in itchiness and soreness similar to human allergic reactions.
Chihuahuas may resort to licking, biting, and scratching to alleviate the discomfort caused by allergies to certain foods, pollen, environmental triggers, or insect bites. This persistent scratching can lead to hair loss in the affected areas.
To prevent itching and effectively manage allergies, remove the allergy trigger and ensure your Chihuahua is vaccinated against any known allergens.
Cushing's Disease, triggered by excessive cortisol hormone levels, can result in hair loss among Chihuahuas, particularly those in their later years.
This condition can be managed with medication or surgery. Keep an eye out for symptoms like a swollen belly, increased thirst or hunger, and frequent urination, and schedule a vet checkup if you suspect your Chihuahua may be suffering from Cushing's.
Alopecia stops hair growth, but it is a harmless condition with purely aesthetic symptoms. Chihuahuas can also experience temporary alopecia after a clip, resulting in bald patches.
However, the hair will grow back, and with some patience, owners can rest assured their Chihuahua will be back to normal in no time.
Chihuahuas might experience hair loss that is genetic and unavoidable. Typically, this type of hair loss shows up in the first year of their life. Knowing your Chihuahuas' genetic history can help you determine whether or not they are likely to experience this.
While genetic hair loss may not harm your Chihuahua's overall health, it can be concerning to see your Chi losing their hair. It is recommended that owners take their Chihuahuas to the vet to rule out any other potential causes.
Chihuahuas can develop external injuries or irritations from thorns, ticks, glass, or even their own fur which can cause inflammation and lead to hair loss.
Licking and scratching the affected area, as a reaction to swelling and irritation, can worsen the condition. This makes the area susceptible to hair loss, similar to how allergies can affect the skin.
If you can't fix your Chihuahua's injury, seek professional help. The vet might opt for surgery or a swift, painless procedure. If the injury has resulted in an infection, your Chihuahua may be prescribed antibiotics. Don't worry though, hair should grow back in the injured area in due time.
Chihuahuas may develop bald spots due to infections caused by bacteria, ringworm, and parasites like mange mites and flea bites.
These can cause skin sores and irritation. If your Chihuahua is experiencing hair loss around the eyes, ears, or mouth, it might be an indication of mites. Mange mites can cause oily, thick, inflamed, and itchy skin. Treatment for severe cases requires antibiotics.
Ringworm, a contagious infection, results in hair loss and crusts forming around the affected area. Inflammation and infection can occur in any area with fur, including the skin and claws. Treating ringworm requires antifungal medication.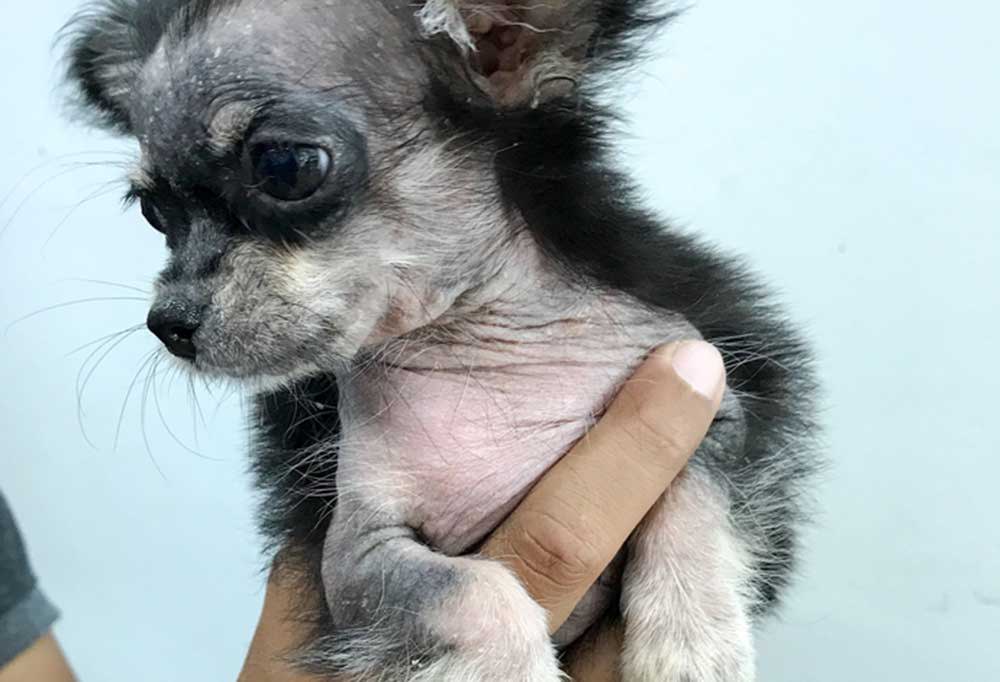 Exposure of a Chihuahua's joints to hard surfaces can cause pressure sores leading to baldness. This is not just restricted to larger breeds; older Chihuahuas are also at risk. If your senior Chihuahua is experiencing hair loss on their bony joints, it may be due to this reason.
For your Chihuahua's well-being, give them a comfy bed or something that can guard their joints against hard surfaces to avoid pressure sores. If your dog already has pressure sores, a prescribed course of antibiotics and moisturizers can aid in their treatment.
Chihuahuas can develop hypothyroidism if their thyroid gland fails to produce enough thyroxine hormone. This hormone plays a crucial role in regulating metabolism and a deficiency can lead to poor coat quality and hair loss in Chihuahuas.
While hypothyroidism is more prevalent in middle-aged and larger dog breeds, it's still worth consulting a veterinarian to rule out this condition as a possible cause of hair loss in Chihuahuas.
Rashes or hives caused by allergic reactions can create bald patches in Chihuahuas. Unlike itchy allergic reactions caused by scratching or licking, rashes and hives require additional treatment to prevent further hair loss.
When your Chihuahua skin breaks out in hives or rashes due to a bite, food, plant, chemical, or medication, it's crucial to book a consultation with a vet without delay.
These conditions manifest rapidly, typically within a few minutes (or up to an hour) of exposure. Further, lethargy, fever, loss of appetite, and vomiting are potential side effects that your Chihuahua may experience.
How to treat my Chihuahua's hair loss?
If your Chihuahua experiences fur loss due to a medical condition, recommended treatment often results in the affected area returning to normal.
However, if health issues are not the cause and you're unsure why your Chihuahua is losing fur, at-home treatments can improve the quality of their skin and fur.
Omega supplements can revive your Chihuahua's skin and fur health. Accompanying it with a nutritious diet containing all the essential nutrients and minerals is crucial.
Insufficient diet may lead to unhealthy skin and hair, causing hair loss in some Chihuahuas.
Adding Melatonin to your Chihuahua's diet can enhance the quality and growth of their fur, but first, consult with a vet.
To boost the fur health of your Chihuahua, try 1mg per day of Melatonin.
If your Chihuahua is experiencing hair loss and sore skin, there are various skin products and shampoos available in the market to treat these issues.
Additionally, you can try natural remedies like coconut oil and oatmeal (if your Chihuahua is not allergic). These topical products will alleviate discomfort and aid in having a better coat.
When to see a vet about your Chihuahua's hair loss?
If your Chihuahua has bald spots and you're unsure of the cause or if the spots coincide with other symptoms, it's recommended to seek advice from your vet:
- Irritation and a desire to scratch
- Foul odor from the skin
- Skin irritation or infection
- Behavioral shifts
- Check for any skin growth in other pets or people living in the house.
Can fleas cause hair loss in Chihuahuas?
Yes, fleas can cause hair loss in Chihuahuas. Flea bites result in inflammation which causes allergic reactions and hair loss. If your Chihuahua is scratching excessively, it may be due to fleas. As a solution, you should use treatments designed explicitly for fleas on Chihuahuas, such as a topical spot-on solution or an oral medication.
Can worms cause hair loss in Chihuahuas?
Yes, worms can cause hair loss in Chihuahuas. Worms such as roundworms and tapeworms can lead to poor fur growth due to the worms consuming essential nutrients needed for a healthy coat. If you notice your Chihuahua's coat is dull or patchy, it may be a sign of worm infestation. To treat this, you should take your Chihuahua.
My Chihuahua is going bald. Should I shave them?
Shaving your Chihuahua should be avoided unless medically necessary. Shaving can cause sunburns and skin irritation for your Chihuahua due to the lack of fur protection against the elements. Additionally, hair may grow back in an abnormal pattern if the wrong blade is used or if it's shaved too short.
Is there a cure for Chihuahua baldness?
The most effective way to treat Chihuahua baldness is to identify the underlying cause. If a medical condition is causing the hair loss, then treating it will be necessary. However, if the problem is due to poor nutrition or skin product allergy, then changing your Chihuahua's diet and using appropriate topical treatments may help.