Why does my Chihuahua have Floppy Ears?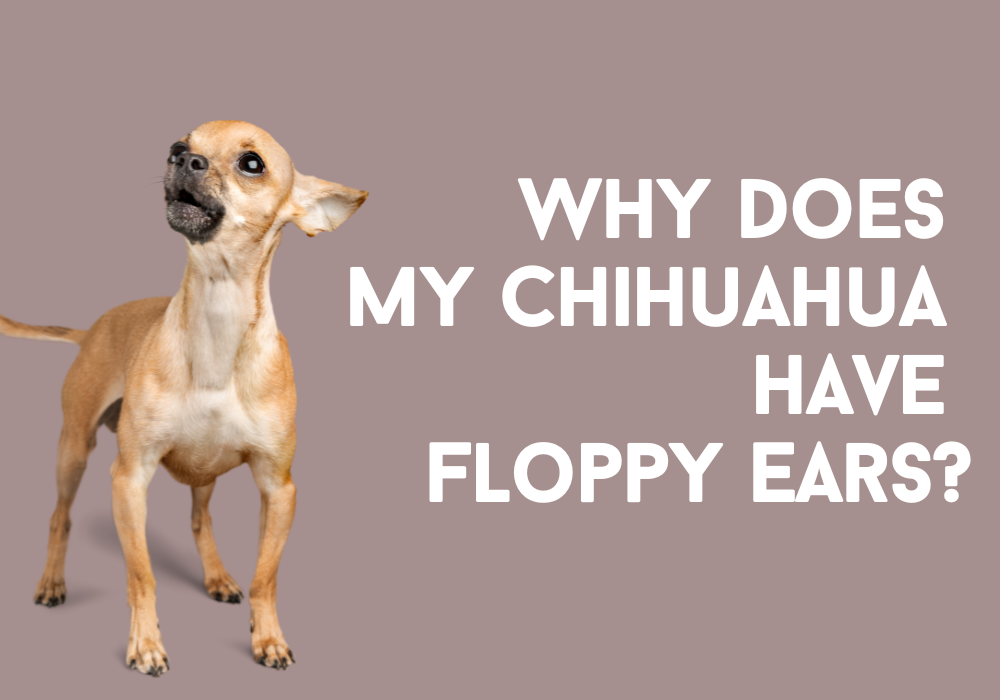 Many dog owners are familiar with the signature pointy ears of breeds such as the Chiwawa dog, but have you ever noticed your own pup's ears looking unusually floppy? As a Chi parent, it can be worrying to find out that something isn't quite right with your Chihuahua.
In this blog post, we will walk you through what could be causing your Chihuahua's floppy ears and provide helpful tips on how to address the issue. From hereditary conditions to health issues, keep reading to learn more about why your Chihuahua has floppy ears.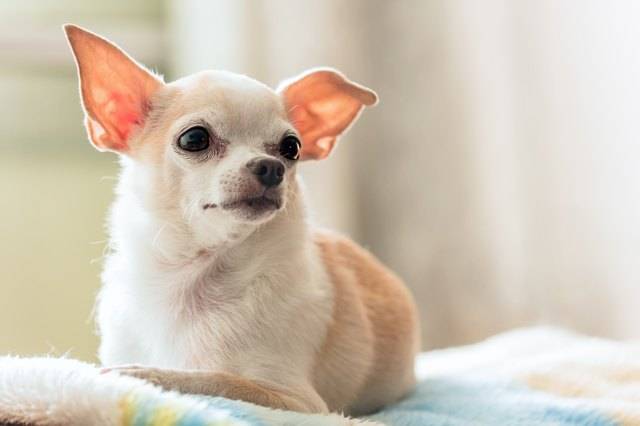 Reasons why your Chihuahua's ears are floppy
Despite the breed standard stating that Chihuahuas' ears should be upright, many have floppy ears.
This isn't necessarily a cause for concern, but it's best to take your Chihuahua to a vet to determine the cause if you notice any accompanying signs of illness. Possible reasons for your Chihuahua's floppy ears include:
All Chi puppies have floppy ears due to weak muscles at the base. But don't worry, their ears will eventually stand up as the muscles strengthen - it just takes some time.
It's normal for Chihuahua owners to wonder when their Chi's ears will stand up. However, it's important to know that this can be an unpredictable process. The muscles at the base of the ears need time to develop and grow strong enough to hold them permanently upright. So, don't worry if your Chihuahua's ears drop or stand erratically for a while.
Most Chihuahua puppies' ears will stand up by the age of 8-12 weeks, so new owners typically don't have to worry about training them to stand. However, some may curl back slightly at the tips. For Chihuahuas, good ear standing at this age usually indicates that they will remain erect after teething.
Puppies start losing their milk teeth between 4 to 6 months of age. This is called teething and can cause discomfort and an urge to chew. Chihuahua puppies might also experience ear issues during this process.
In this stage, a Chihuahua puppy's ears may start to droop, possibly affecting one or both of them. Why does this occur? The reason is that the jaw muscles, which are in overdrive due to the pup's chewing habits, are linked to the muscles at the base of the ear.
This connection is also evident in humans, as demonstrated by placing your fingers on your temple and opening and closing your mouth. Can you sense the connection?
Frequent chewing can strain a Chihuahua's muscles, leading to weakened ear muscles and loss of shape. This is usually temporary and resolves once the puppy phase ends and adult teeth come in.
It's common to see daily changes in a Chihuahua's floppy ears during this time. One day one ear may droop, and the next day the other one might follow suit. But don't worry, it's just part of the process.
While it can be a bit of a roller coaster ride, eventually the ears will settle into their proper position. Keep in mind that long-haired Chihuahuas may take longer to reach fully erect ears compared to short-haired ones.
Genetics influence canine morphology despite strict breed standards for competitions. If a Chihuahua's parents had floppy ears, the likelihood of their ears being floppy as adults is significantly higher.
A Chihuahua with floppy ears may be a mixed breed. Even if we believe our Chihuahua is purebred, they may have inherited genes from a non-Chihuahua parent. However, it's important to mention that purebred Chihuahuas can also have naturally floppy ears.
A poor diet can cause Chihuahuas to exhibit symptoms of nutrient deficiency. A Chihuahua puppy's floppy ears may be affected by malnutrition, which can have serious consequences.
If your pup has one floppy ear and the other is upright, it may be due to otitis. It's a medical term for inflammation in Chihuahuas' ears. External otitis has many causes, such as parasites, bacterial infections, or injuries. If both ears become droopy, it means the condition has spread.
Ear mites are a common cause of ear problems in Chihuahuas. They are parasites that can result from poor hygiene or contact with another Chihuahua that has them. Ear mites may cause your Chihuahua to tilt their head or scratch their ear more than usual.
An otohematoma is a condition where blood accumulates under a Chihuahua's ear skin due to intense scratching or head shaking.
Ignoring it can cause the ear to shrink, deform or bend permanently. To avoid this, we must take our Chihuahuas to a vet as soon as we notice these symptoms.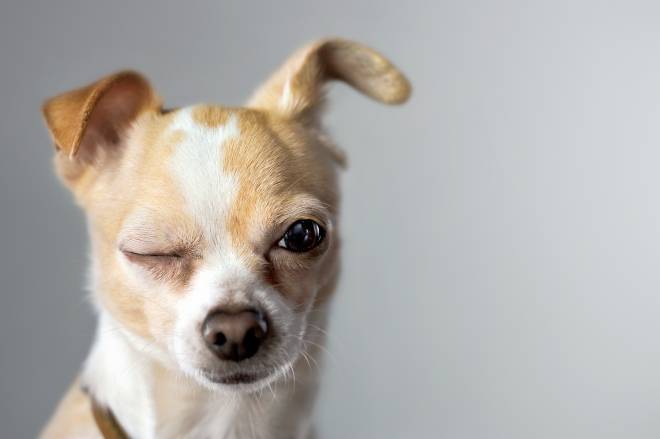 Chihuahuas are small but mighty fighters. Don't underestimate these brave pups; they will defend themselves against larger dogs if attacked. However, due to their size, injuries sustained in fights can result in droopy ears.
Chihuahuas can naturally have floppy ears. But if their ears suddenly become floppy, it could indicate a problem that requires immediate veterinary attention. So, pay attention to your Chi's ears.
What should I do if my Chihuahua has floppy ears?
If your Chihuahua's ears droop due to a pathological issue, a veterinarian should be consulted promptly to diagnose the cause and provide proper treatment. Depending on the underlying cause, antibiotics may be necessary for bacterial-induced droopy ears while deworming treatment may be required to address ear mites.
If your Chihuahua has naturally floppy ears, don't fret. While breed standards call for erect ears, it's just an ideal. Your pup is still perfect, and you can love and care for them without any worries.
Despite there being no medical need for it, some Chihuahua owners prefer the appearance of erect ears, especially for competition purposes. However, using splints or bandages to achieve this or even resorting to surgery can cause unnecessary discomfort for the Chihuahua. On the other hand, taping a Chihuahua's ears down is also an unproductive pursuit.
Binding a Chihuahua's ears should only be done when deemed necessary by a veterinarian for health reasons. If it's solely for aesthetic purposes with a Chihuahua, it's best to leave them as is. Both erect and floppy-eared Chihuahuas are equally charming and should be appreciated for their beauty.
How to read your Chihuahua's ears?
Reading your Chihuahuas' ears is simple and more reliable than divination. No crystal ball is required - you can easily discern your Chihuahuas' thoughts through their body language.
Your Chihuahua's ears will be in a resting position when he is calm and there are no distracting noises. This could mean their ears are standing up or floppy, but it's their usual position.
A Chihuahua with ears slightly back and an open mouth is a friendly and joyful one. Seeing them bow and approach you means they're happy to play and greet you.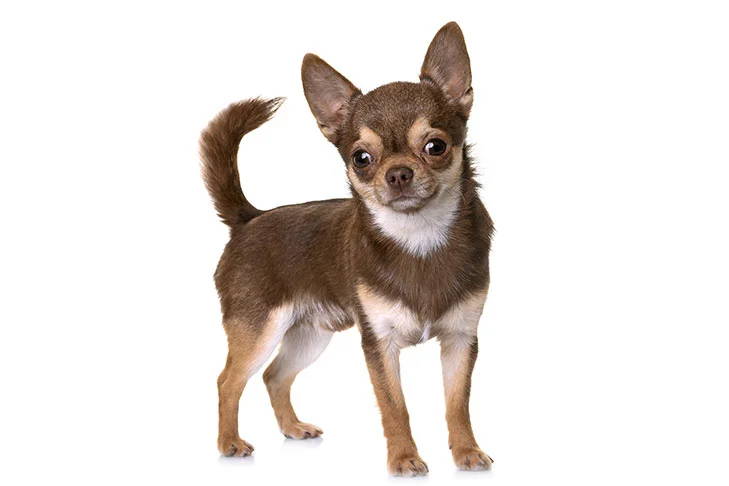 When your Chihuahua exhibits signs of anxiety like ears pinned back, a stiff face, and a tucked tail, it's best to approach with caution. Assessing the underlying cause of their discomfort can aid in calming them down, ensuring the safety of all involved.
If you notice that your Chihuahua's ears are pinned back, they may attempt to flee. This behavior is a sign of fear and insecurity, so it's important to ensure your Chi's safety when you observe this ear position. Keep an eye out for exit routes to prevent your Chihuahua from escaping.
If your Chihuahua's ears are back and pointed down, it's a sign of submission. This is common when your Chihuahua acknowledges a 'pack leader', which can be you or a bigger Chihuahua while on a walk. It means they understand authority, not necessarily that they're afraid.
Chihuahuas Floppy Ears FAQs
Should I straighten a Chihuahua's floppy ears?
No, unless the vet recommends it. There is no need to try and straighten your Chihuahua's ears as this could cause them pain or discomfort.
Do all Chihuahuas' ears stand Up?
No, not all Chihuahuas' ears stand up. Some Chihuahuas have naturally floppier ears which is perfectly normal.
Are Chihuahuas born with floppy ears?
Yes, some Chihuahuas are born with floppy ears. Breeding standards call for erect ears, however, this is just an ideal and there is no medical need to try to straighten them.
Are Chihuahuas' ears sensitive?
Yes, Chihuahua's ears are very sensitive due to their large surface area and thin skin. Therefore, it is important to handle them with care when cleaning or playing with your pup.
What does it mean when my Chihuahua ears are down?
This could mean that your Chihuahua is feeling submissive, scared, or defensive. Pay attention to their body language and assess the underlying causes of discomfort to ensure their safety.