Chihuahua Collapsed Trachea: How To Treat It?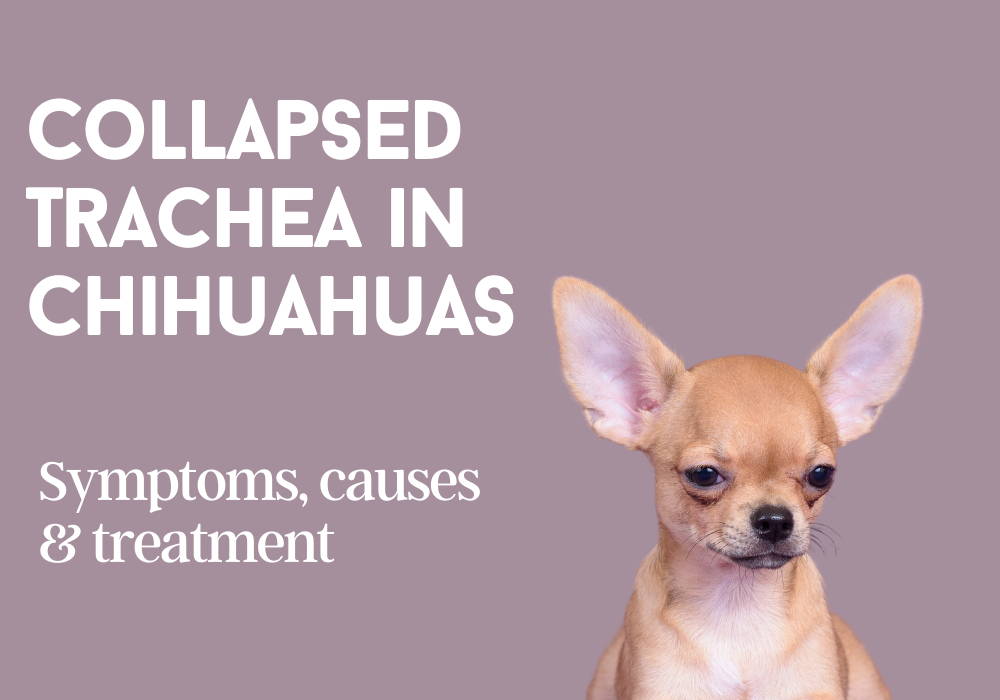 Chihuahua owners frequently express concern about their Chis' persistent coughing. The most probable cause is reverse sneezing, a common occurrence in Chihuahuas.
However, there is also a chance that it could be Kennel Cough, a contagious condition. In the worst-case scenario, it could indicate Tracheal Collapse, which requires immediate intervention.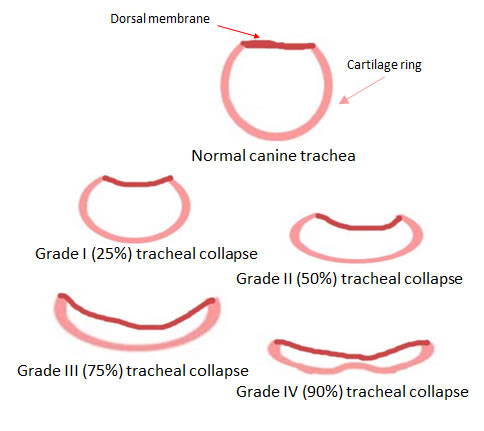 What is Collapsed Trachea in Chihuahuas?
The trachea is a tube supported by tough and flexible cartilage rings that enable air to travel to and from the lungs.
However, tracheal collapse is a respiratory ailment that leads to the weakening and collapse of these cartilage rings. This can create breathing difficulties and a chronic, dry cough in your Chihuahua.
What are the signs of Collapsed Trachea in Chihuahuas?
Aside from a loud cough, several other symptoms suggest a tracheal collapse.
These include:
- Your Chihuaha has breathing problems.
- Your Chihuahua starts coughing when you lift them up or put pressure on their neck
- Your Chihuahua is vomiting, gagging, or retching.
- Your Chihuahua has episodes where their skin turns blue or notice blue coloring on their mucous membranes
- Your Chihuahua is wheezing
Tracheal collapse coughs are usually unproductive and don't involve fever. Activities like drinking water, exercising or exposure to excessive temperatures may cause respiratory distress.
Chihuahuas with tracheal collapse have trouble breathing, causing alarming episodes of respiratory distress that can last up to a few minutes. Apart from this, obesity and humid weather can trigger these signs.
What are the causes of Collapsed Trachea in Chihuahuas?
Chihuahuas suffering from tracheal collapse have abnormal tracheas that flatten, leading to respiratory distress.
Chihuahuas can be born with or develop this defect. These factors are known to cause it:
- Cushing's disease
- Heart condition
- Chronic bronchitis
- Injury to the throat
- Bacterial or viral infections
- Obesity
- Second-hand cigarette smoke
- Congenital birth defect
The different classifications of Tracheal Collapse in Chihuahuas
There are four grades to categorize tracheal collapse in Chihuahuas:
The cells that create the tracheal lumen, which holds up your Chihuahua's windpipe, decrease in number by about 25%, but the cartilage remains unaltered in shape.
The airway passage shrinks by 50%, with compression of the supporting cartilage.
The tracheal opening is seriously constricted by about 75% and the supporting cartilage is almost completely flattened.
The tracheal passage is completely blocked (100%) and the supporting cartilage is flattened.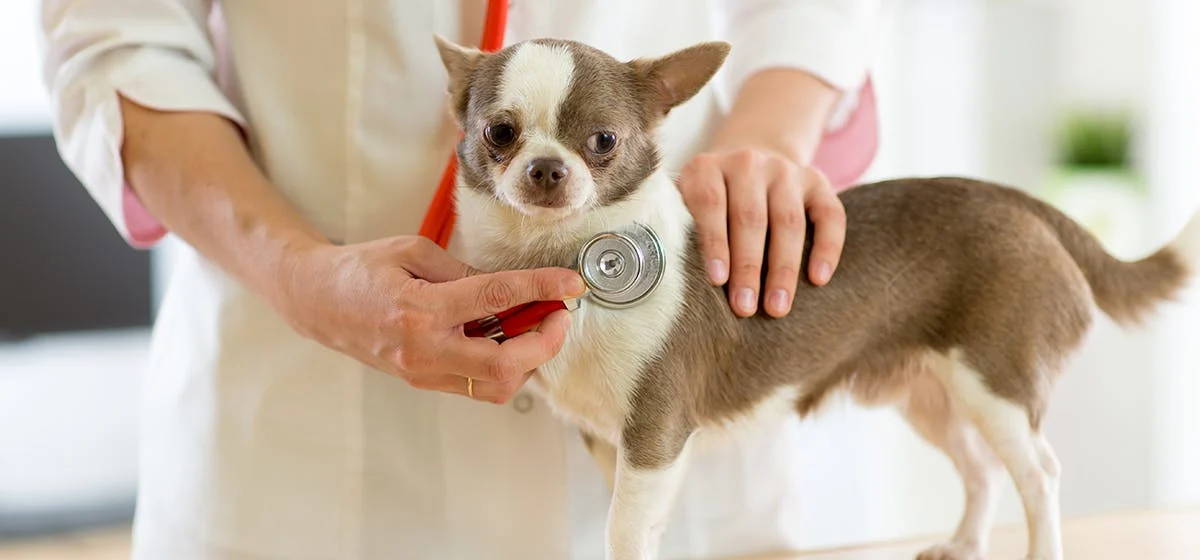 How is Tracheal Collapse in Chihuahuas diagnosed?
To understand what's wrong with your Chihuahua, your vet will gather a detailed medical history and conduct a physical exam. With this information and what you share, your vet will make a diagnosis and identify the most effective treatment plan.
Your vet will likely perform tests to accurately diagnose the condition.
These tests may include:
This technique helps identify the location of the collapse - whether it's in the chest or closer to the throat - by eliminating other medical conditions.
Tracheoscopy or bronchoscopy
Typically done under general anesthesia in a clinic or specialty hospital, this procedure involves inserting an instrument equipped with a camera into your trachea for inspection.
Fluoroscopy is a dynamic medical imaging technique that captures real-time moving images while your Chihuahua inhales and exhales.
You may need a blood test or a check-up involving urinalysis, blood count, chemistry panel, and/or heartworm testing to identify illnesses that might trigger coughing.
How is Tracheal Collapse in Chihuahuas treated?
If your Chi has tracheal collapse, don't worry - it's a common health problem in Chihuahuas that can usually be treated with medication and a few preventative measures.
These may include weight loss, using a harness for walks, and staying away from irritants that could inflame their airways.
Your vet may prescribe medication to help manage coughing and inflammation, which can help your Chihuahua feel more comfortable.
Your vet may prescribe one or more of these medications for mild to moderate cases.
- Antibiotics
- Cough suppressants
- Steroids
- Bronchodilators
- Sedatives
If your Chihuahua is plagued with a persistent cough, sedatives can help minimize it and reduce any associated anxiety. Your vet may resort to stronger sedation to end the coughing cycle; each cough increases irritation and leads to more coughing.
Expect your vet to recommend Maropitant (Cerenia®) as a medication of choice to reduce inflammation in the airways.
To avoid annoying your Chihuahua's airways, avoid smoke and impurities. Additionally, trading a collar for a chest harness can boost your Chihuahua's breathing capabilities.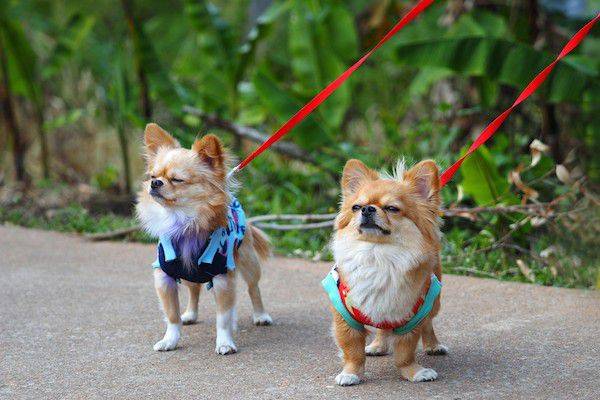 If the symptoms are severe and interfere with basic functions, you may need to consider surgery by an American College of Veterinary Surgeons board-certified surgeon.
This procedure involves placing extraluminal tracheal rings or intraluminal stents around the trachea to prevent collapse.
Can you prevent Tracheal Collapse in Chihuahuas?
Tracheal collapse is unfortunately not preventable since it is genetic and linked to predisposition.
However, for Chihuahuas who are prone to this condition, there are management techniques that may slow its progression.
Try implementing the methods outlined above to lessen the severity of the tracheal collapse.
Chihuahuas Collapsed Trachea FAQs
How long can a Chihuahua live with a Collapsed Trachea?
Most Chihuahuas with tracheal collapse can continue living a normal lifespan with the proper care and treatment. However, if your Chihuahua experiences severe symptoms, their life expectancy may be shortened.
Is Collapsed Trachea in Chihuahuas serious?
Yes, a collapsed trachea can be serious. If left untreated, it can lead to more severe respiratory difficulties. If your Chihuahua is having difficulty breathing or coughing constantly, consult with your vet right away.