Chihuahua Breed | Description, Temperament, Images, & Facts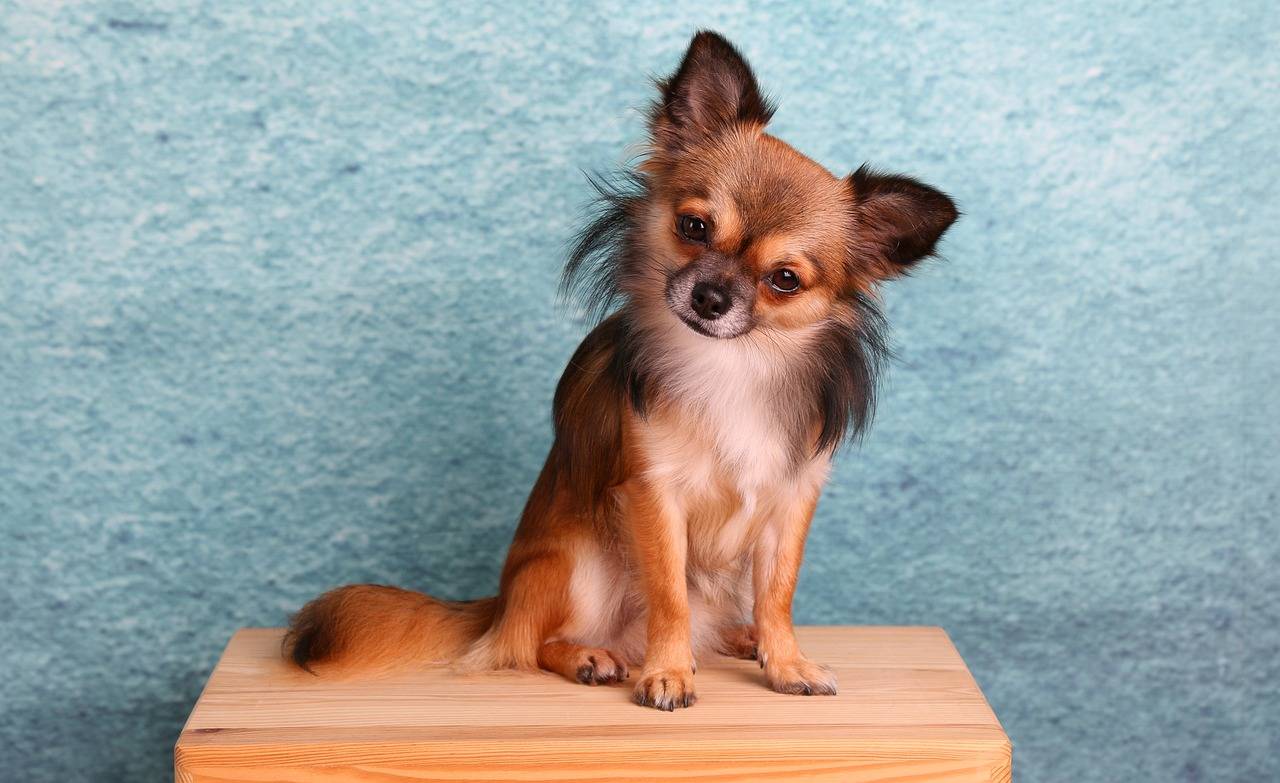 The Chihuahua breed is simply captivating. From their small size and vibrant personalities to the wide range of coat types and colors, they have it all.
These pint-sized pups are not to be underestimated. They excel in dog sports like agility and obedience, earning prestigious ranks among the top ten watchdogs recommended by experts.
But what truly sets Chihuahuas apart is their unwavering devotion to their human companions. They shower love on everyone - even those new to pet parenting.
Plus, they require minimal grooming and exercise, making them perfect for apartment living. You'll be amazed at how effortlessly they blend in with the whole family.
Just a gentle reminder though, young ones should be taught how to interact kindly with these small bundles of joy.
Black, white, brown, blue, brown, chocolate, grey, fawn
Seniors, families with older children, apartment dwellers
Luxating patellas, collapsed trachea, hydrocephalus
Discover the amazing qualities of raising a Chihuahua on our paw-rating scale from 1 (low) to 5 (high).
Our team of pet experts, including a dog trainer, veterinarian, and behaviorist, carefully evaluated these attributes.
Remember, every Chihuahua, even within the same breed, is wonderfully unique and might surprise you!
CHIHUAHUA BREED
PRESENTATION VIDEO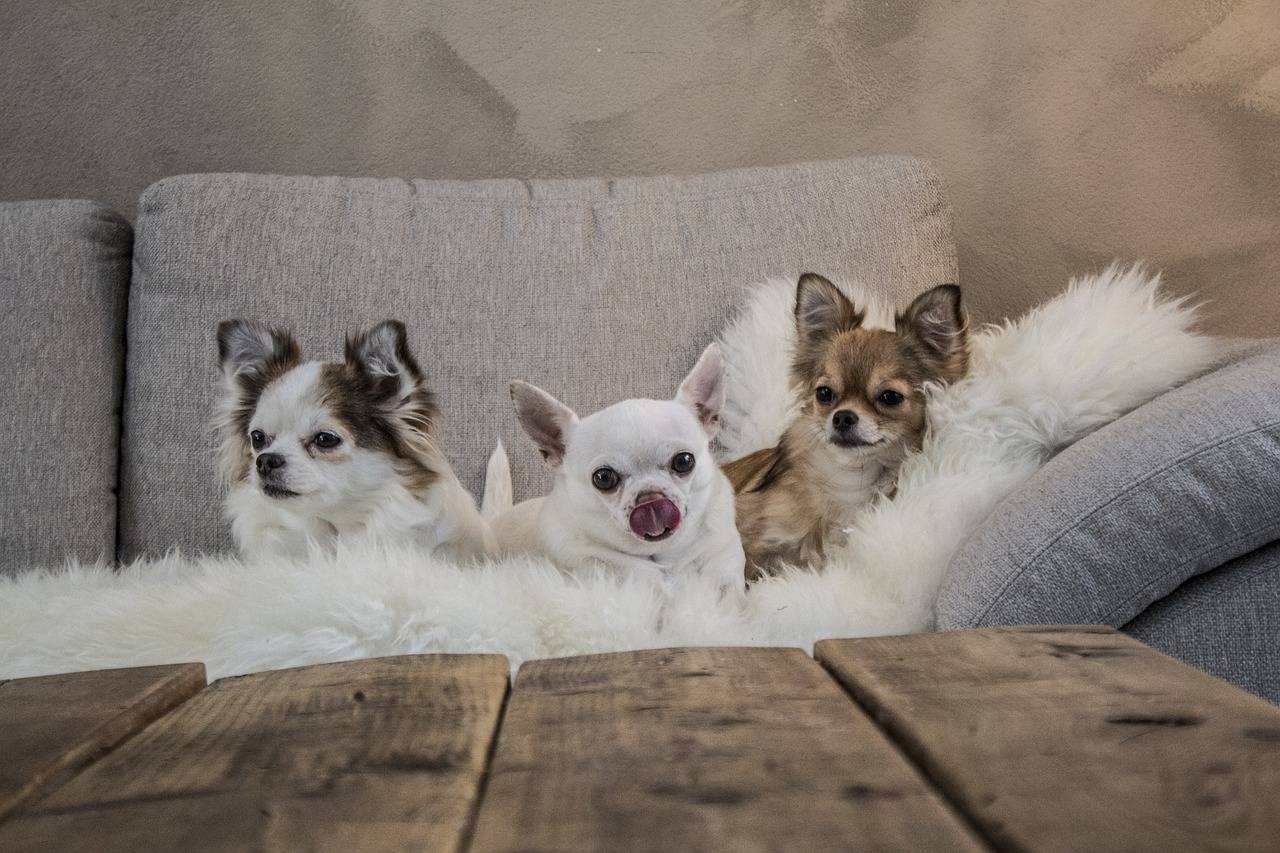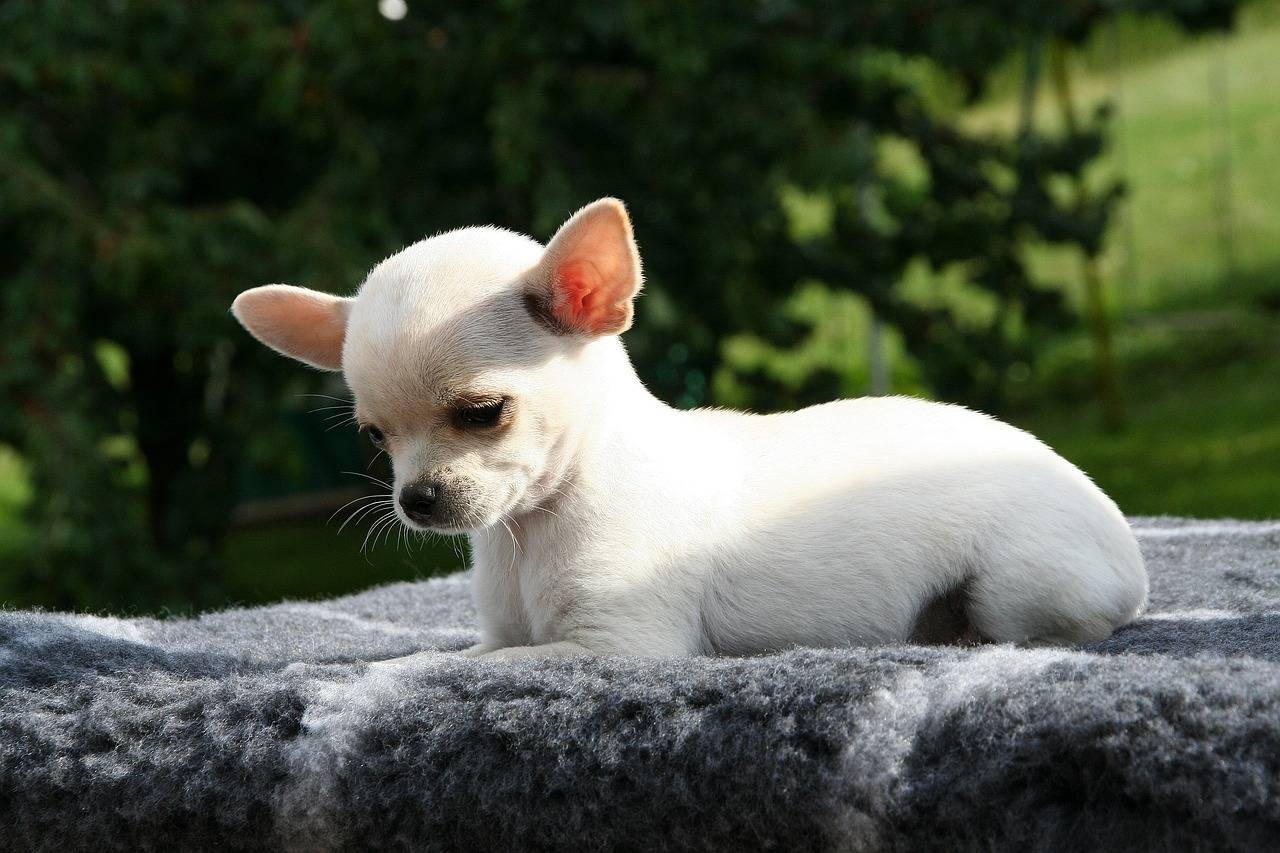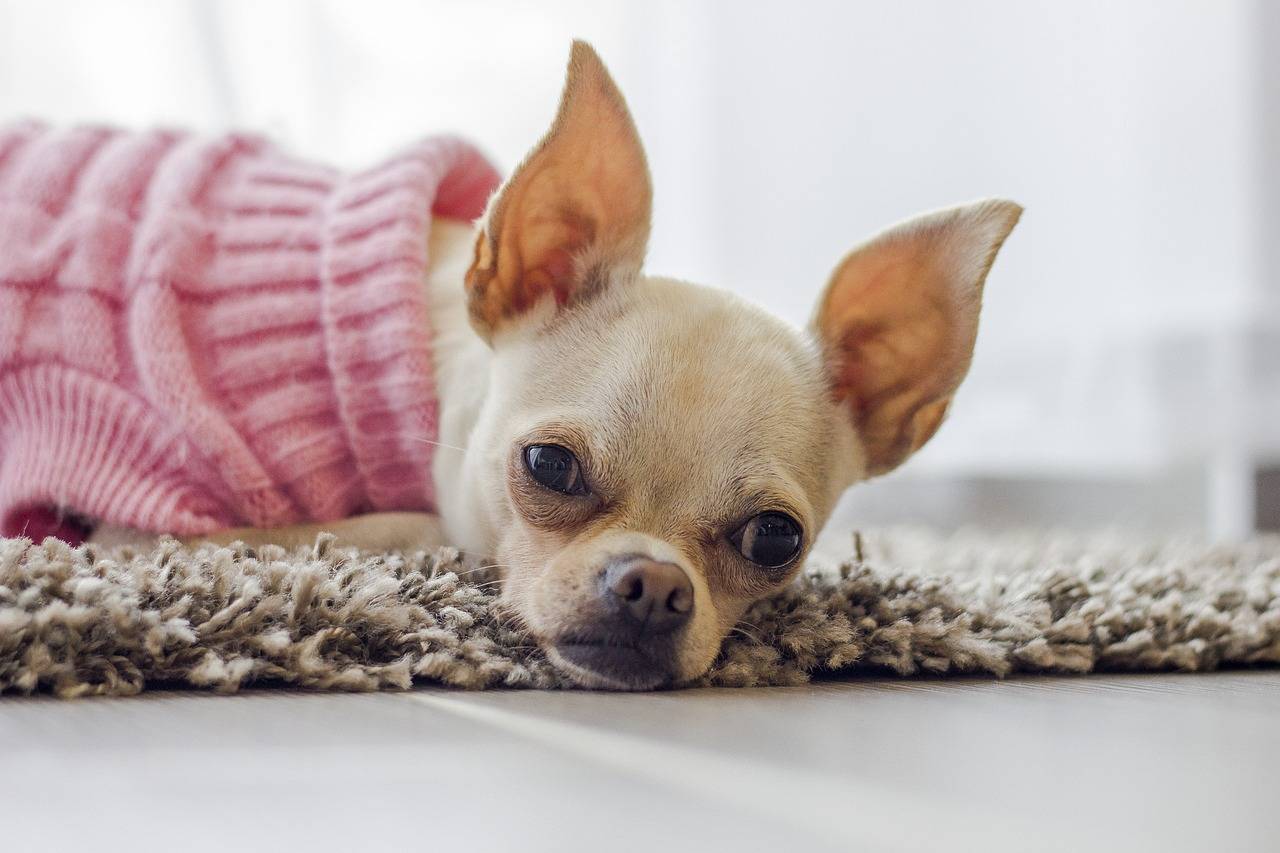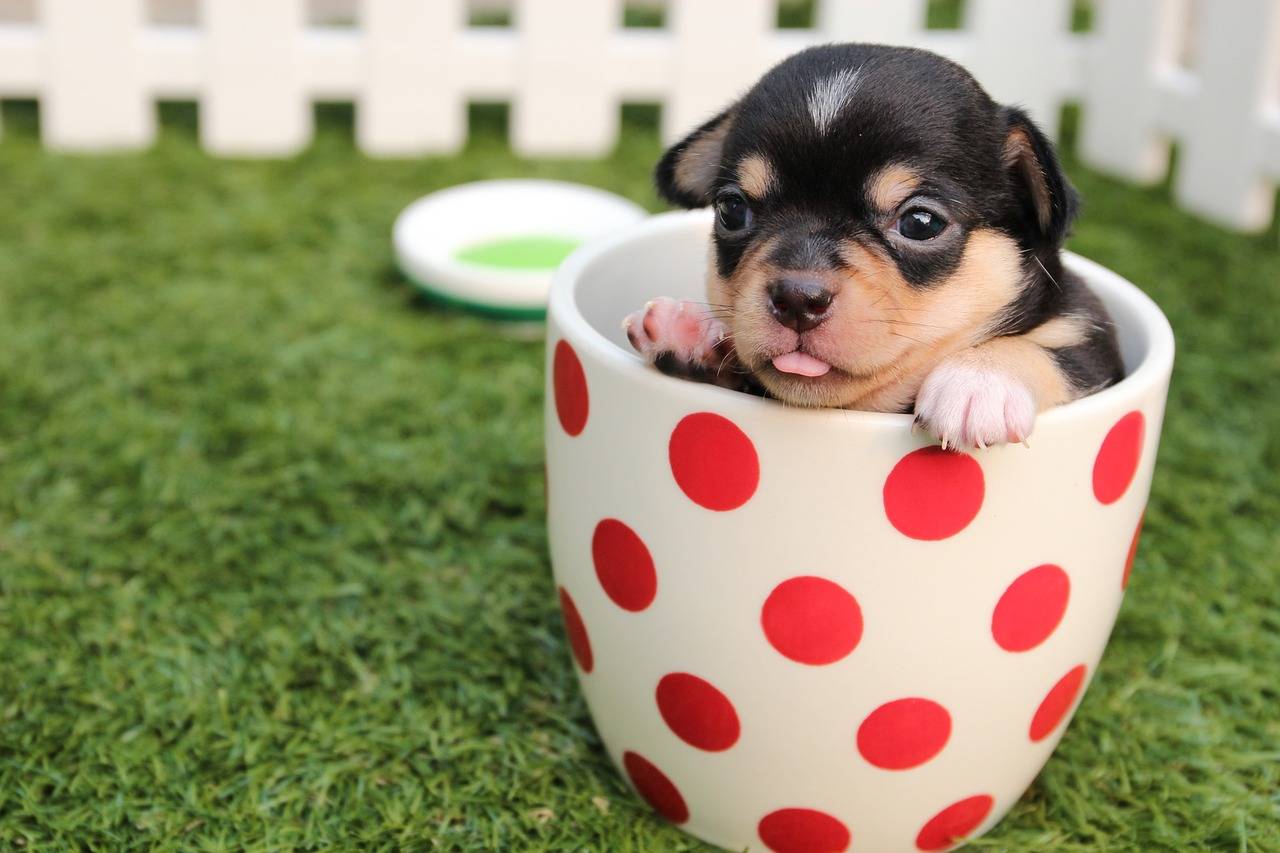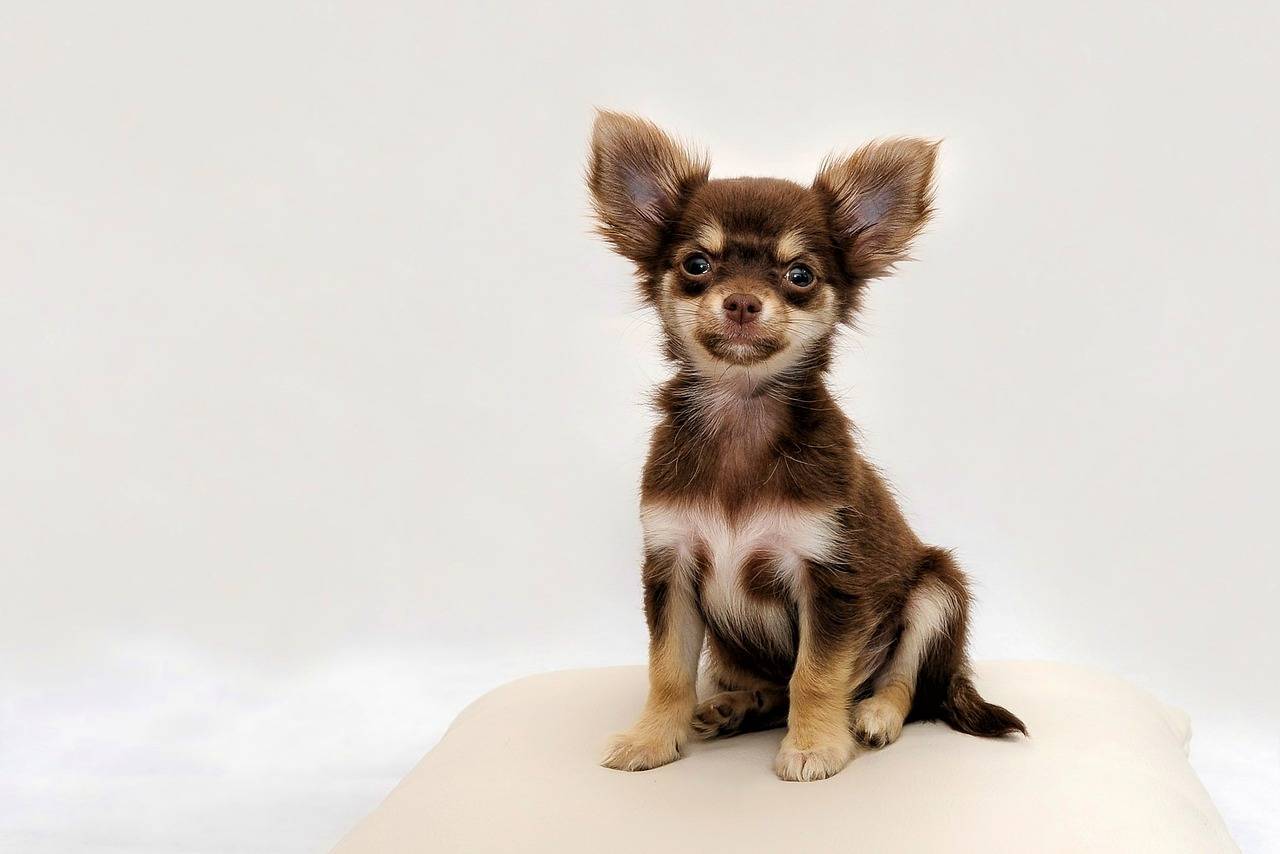 Chihuahuas are one of the most unique looking dog breeds out there. Despite their small size, their big, luminous eyes and expressive ears make them impossible to miss.
Their heads are shaped like apples, which gives them a cute and welcoming appearance. Chihuahuas are surprisingly sturdy for their size and can have either short or long hair, which comes in 30 different colors and 11 types of markings.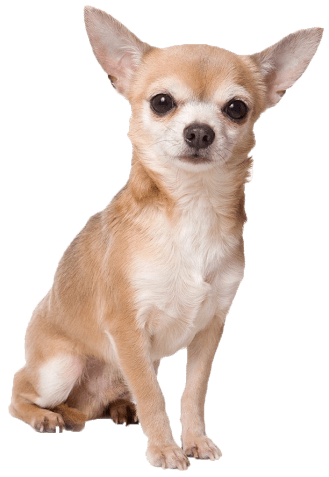 🐾 Ears: When a Chihuahua is alert, their ears stand tall and proud. In moments of relaxation, their ears have a bit more space between them. But when feeling fearful or submissive, those ears droop down.
🐾 Nose: Did you know that Chihuahuas have a nose that can either be black or match the color of their coat? For blonds, reds, blues, and chocolates, the nose blends right in. But for light-colored Chihuahuas, you might find a cute pink or tan nose!
🐾 Height: Male: 6-9 inches, Female: 6-9 inches
🐾 Weight: Male: 3-6 pounds, Female: 3-6 pounds
🐾 Coat lenght: The Chihuahua boasts two delightful coat variants. The smooth coat, with its short, glossy fur and a dainty ruff around the neck, exudes elegance. Meanwhile, the long coat entices with its wavy, silky texture, complete with a fluffy ruff, "pants" adorning their hind legs, and an irresistibly soft undercoat.
🐾 Coat color: Chihuahuas are the ultimate fashionistas, boasting over 30 dazzling coat colors and combinations. From classic Black and Tan to trendy Blue Brindled Fawn, they showcase a vibrant palette that includes Chocolate, Cream, Fawn, Red, Blue, and Black. These adorable Chichis can sport solid, marked, brindled, sabled, or even splashed coats, making them truly unique and stylish companions.
🐾 Tail: For Chi dogs with short coats, a furry tail is the go-to preference. But if they have long coats, get ready for a plumed tail complete with enchanting feathering.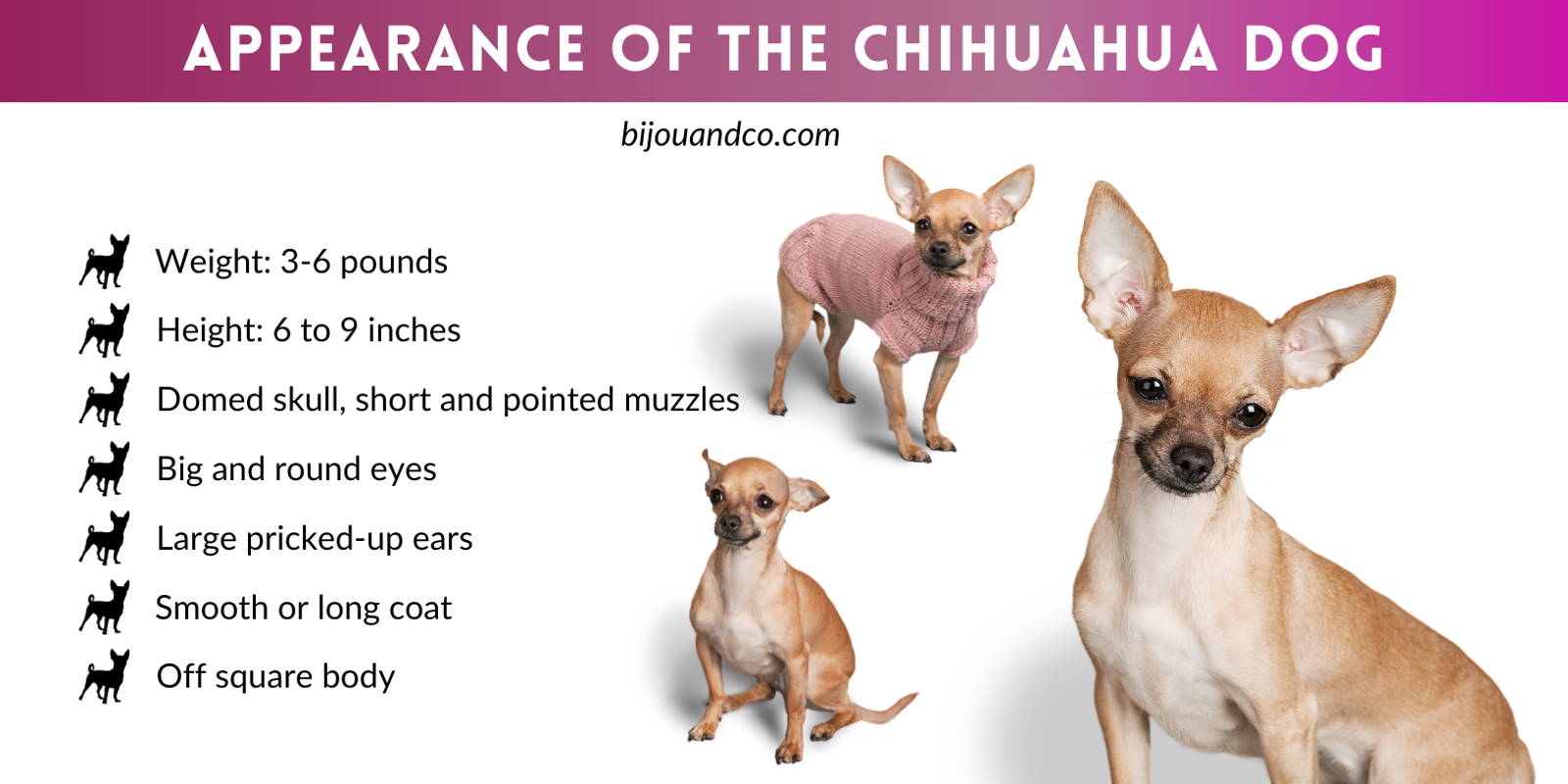 Chihuahuas, those charming little scamps, possess mischief and braver that surpass their petite frames. They delight in playful romps and games, even if their energy levels dictate the duration. When the time for relaxation comes, they adore snoozing on laps and cuddling, as if it were their true purpose in life.
Chihuahuas crave attention and have an excellent portability factor. However, bear in mind that they still need to learn to walk independently and enjoy typical dog behaviors: sniffing, exploring, and playing. So, refrain from constantly carrying them in purses or strollers, unless it's a precarious environment like a busy airport or bustling street festival where their tiny paws might be at risk.
The Chihuahua breed is often likened to Terriers for their demeanor and has the potential to become feisty if they feel threatened. Now, there's a common misconception that Chihuahuas have a bite force of 3,900 pounds per square inch (psi), supposedly stronger than a lion's 600 psi. But let's debunk those wildly inaccurate claims. In reality, their bites usually range from a Level 1 to 3 severity, with no punctures deeper than half the length of one of their canine teeth.
To nurture a well-mannered Chihuahua puppy who may have a tendency to nip or be protective, focus on socialization from the start. Safely and gradually introduce them to new people and places, while initiating training at an early age. These efforts will not only foster their friendliness but also help them develop a positive rapport with every family member, including other furry companions.
Also read: Chihuahua personality explained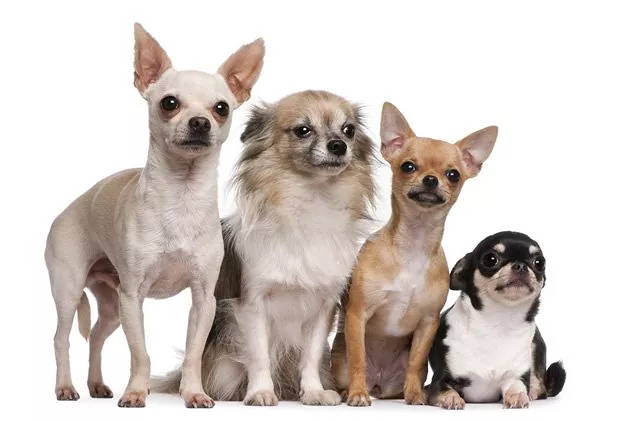 Chihuahuas are generally a healthy breed. They can live impressively long lives, up to 18 years! However, as they age, it's important to be aware of potential health issues.
According to the Chihuahua Club of America, some of these issues include folic acid, heart disease, loose kneecaps (patellar luxation), hypoglycemia, and epilepsy. Besides, Chihuahuas may also deal with earwax build-up and dry skin. So, before bringing home a Chihuahua, make sure the breeder completes all recommended health tests by the OFA. And if you're adopting, don't forget to ask for any available medical information.
Now, let's talk about something interesting! Have you ever noticed that some Chihuahuas have a small hole, like a pencil eraser, on the top of their skull? It's called molera, and historically, it was considered a sign of breed purity.
But here's the catch—having molera doesn't mean they'll have health problems later in life. Whether they keep their soft spot or not depends on their size, genetics, and skeletal structure. Fascinating, isn't it?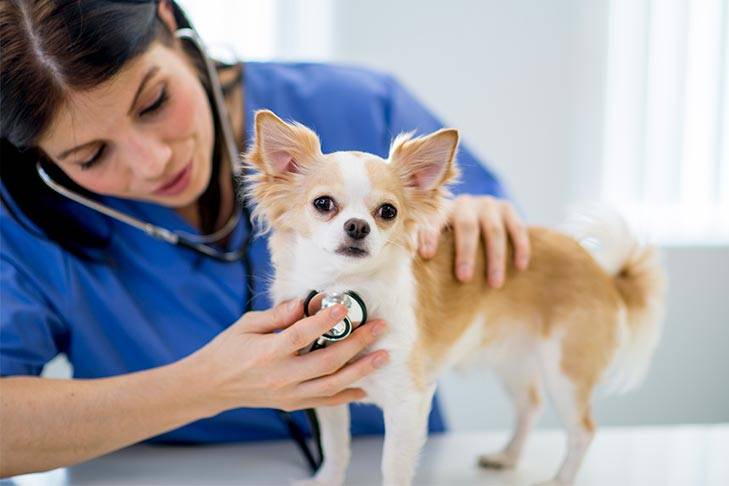 When bringing a Chihuahua into your life, preparation is key! Getting a Chihuahua is easy, but being ready is crucial. Dedicate time to teach basic obedience, socialize your adorable puppy with humans and furry pals, and master important skills like peaceful slumbers and potty training outdoors.
Let's discuss finding the perfect Chihuahua puppy or adult dog. Thanks to the internet, discovering one is just a click away. However, be cautious to avoid puppy mills and internet scams. Research reputable breeders, seek recommendations, visit before committing to payment, and trust your instincts.
Attention pet parents! If you're considering welcoming a delightful chihuahua into your family, it's important to take into account all the associated expenses. According to Rover's Cost of Pet Parenthood Survey, 33% of chihuahua owners anticipated spending between $250 and $500 upfront.
Surprisingly, 42% reported that the actual costs aligned with their budget, while 40% encountered higher expenses. In summary, a whopping 82% of proud pet parents spend less than $100 per month on their cherished chihuahuas.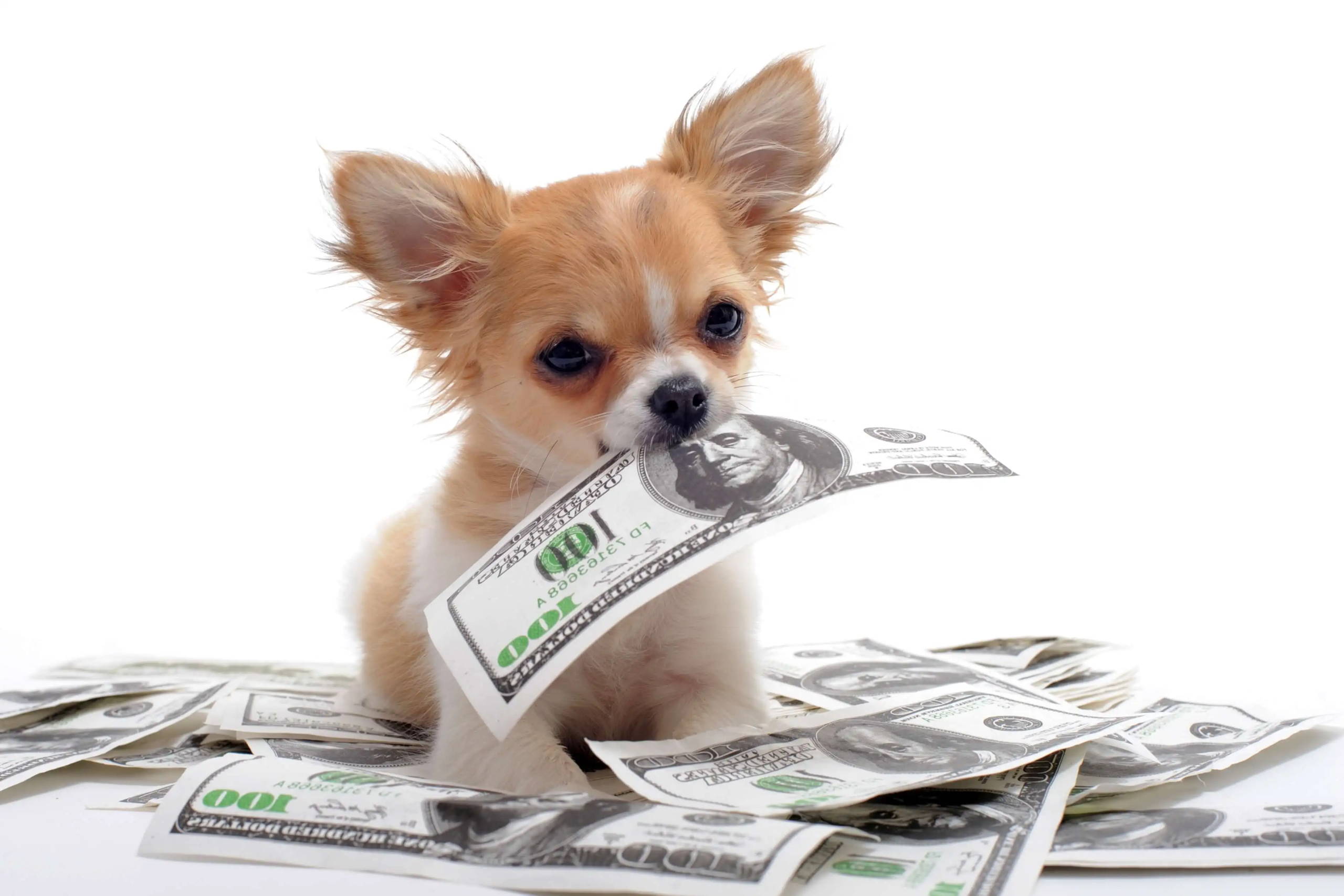 Looking for Chihuahua breeders who meet strict requirements? Utilize the AKC search tool to locate a trusted Chihuahua breeder nearby. During your visit, don't forget to inquire about any health concerns in the dog's bloodline and discuss potential genetic tests you'd like to conduct.
Finding a Chihuahua can be a rewarding journey. Did you know that 61% of Chihuahua owners found their furry friends through adoption? Rescue pups come spayed, neutered, and up-to-date with shots, making them an excellent choice.
Many Chihuahua rescues are surrendered by caring owners, so they often know basic commands and are well-socialized. But don't worry if they need a little extra TLC! Reach out to a trusted dog trainer for helpful advice on teaching a dog who hasn't experienced much structure or providing support to a pup who may have been through tough times.
Looking to find the perfect Chihuahua rescue? We've got you covered! Check out our hand-picked favorites known for their friendliness and reliability. Making your search easier than ever!
Chihuahua Rescue and Transport (Several States):
- Website: Chihuahua Rescue and Transport (CRT)
- Emails: dfcoordinator@chihuhua-rescue.com (DFW Region), carolinascoordinator@chihuahua-rescue.com (Southeast Region), and crtmidwestcoordinator@gmail.com (Midwest Region)
- Socials: Facebook pages: DFW Region, Southeast Region, and Midwest Region.
Texas Chihuahua Rescue (TXCR) – Texas:
- Website: Texas Chihuahua Rescue (TXCR)
- Socials: Facebook page, Twitter, and Instagram
Ay Chihuahua Rescue – Texas:
- Website: Ay Chihuahua Rescue
- Phone: 512-360-0850
- Email: admin@aychihuahuarescue.org
- Socials: Facebook page

Enchantment Chihuahua Rescue, LTD – New Mexico:
- Website: Enchantment Chihuahua Rescue
- Phone: 505-275-7283
- Email: info@enchantmentrescuelts.com
- Socials: Facebook page
Chihuahua Rescue of San Diego County – California:
- Website: Chihuahua Rescue of San Diego County – California
- Phone: 858-256-9479
- Email: rescueachi@gmail.com
- Socials: Facebook page
Limbo Chihuahuas – Florida:
- Website: Limbo Chihuahuas
- Phone: 727-423-0226
- Email: volunteer.limbochi@gmail.com
- Socials: Facebook page
When it comes to Chihuahuas, whether a playful puppy or a captivating adult, it's easy to assume that their small size and portability means they're low maintenance.
However, these delightful dogs require daily exercise, regular grooming with particular focus on dental and eye care, as well as early socialization and training.
Let's not forget, they're dogs - not toys! The great news is that their petite nature makes grooming a breeze. Plus, they're clever little canines who thrive with proper training and socialization.
🐾 Grooming : Taking care of your Chihuahua involves regular grooming routines. Brushing and bathing are important, regardless of their coat length. Short-haired Chihuahuas need weekly brushing, while long-haired Chihuahuas require extra attention to prevent matting. Don't forget dental care - brush their teeth daily and schedule professional cleanings. Pay close attention to their eyes for signs of any issues.
🐾 Training: Chihuahuas are intelligent and trainable dogs that benefit from early training and socialization. They have a tendency to bark, but with the help of a certified trainer or behaviorist, their reactivity can be reduced.
🐾 Diet: To provide your Chihuahua with optimal nutrition, feed them high-quality dog food that meets AAFCO standards. Choose smaller-sized kibble for their tiny mouths and consider a food specifically formulated for Chihuahuas or small-breed dogs. Be mindful of portion sizes and avoid overfeeding or excessive treats. Consult with your veterinarian to determine the most suitable food, portion size, and feeding schedule based on factors like weight, activity level, and age.
🐾 Exercise: Chihuahuas need regular exercise, such as daily short walks and playtime in the backyard. Avoid strenuous activities to prevent fatigue and knee problems. Many Chihuahuas don't get enough exercise, so let them have their freedom to move and consider interactive toys for extra stimulation.
You want a very small dog

You want a dog that doesn't shed a lot
You don't want a yappy dog
What are the most common Chihuahua mixes?
How long do Chihuahuas live?
Despite their size, Chihuahuas can live a long time, with an expected lifespan of 10 to 18 years.
Chihuahuas shake for various reasons, including cold or fear, but there are other factors as well. Nervousness, anxiety, natural instincts, and excitement can all contribute to this curious canine quirk.
How do you spell Chihuahua?
Despite only being two word Chihuahua can be tricky to spell. It's not uncommon to see misspellings such as "cheewawa" or "chewawa." But fear not, for anyone struggling with the spelling, the correct way to spell Chihuahua is with a "u" after the "h" and two "a's" at the end.
Chihuahuas do shed. However, their short hair doesn't require as much grooming as some other breeds. It's important to brush them regularly and, if you're sensitive to allergies, keep in mind that even though their shedding is minimal, they still have dander.
Chihuahuas are often underestimated, but they are actually intelligent and full of personality. They are quick learners, excelling in agility, obedience, and search and rescue. While they can be stubborn, consistent training brings out their full potential. If you want a smart and spunky companion, a Chihuahua is a great choice!
What were Chihuahuas bred for?
Chihuahuas, one of the smallest and oldest dog breeds, have captured the hearts of dog lovers worldwide. Originally bred by the Aztecs in Mexico, they were primarily used as companions and lap dogs. Today, Chihuahuas remain popular for their feisty nature and adorable looks, continuing to be cherished as loyal companions.
How much does a Chihuahua cost?
Chihuahuas are generally affordable to purchase, but the cost can vary based on factors like pedigree, breeder, and location. Prices range from $400 to over $2,000. Additionally, consider ongoing expenses like food, medical care, and toys. Research can help find the perfect Chihuahua without overspending.
What do Chihuahuas usually die from?
Some of the most common causes of death in Chihuahuas include heart disease, liver failure, cancer, and kidney disease. In addition, these pups are prone to develop dental issues, respiratory problems, and joint pain as they age, which can exacerbate any pre-existing health conditions.