Treating And Preventing Cherry Eye In Chihuahuas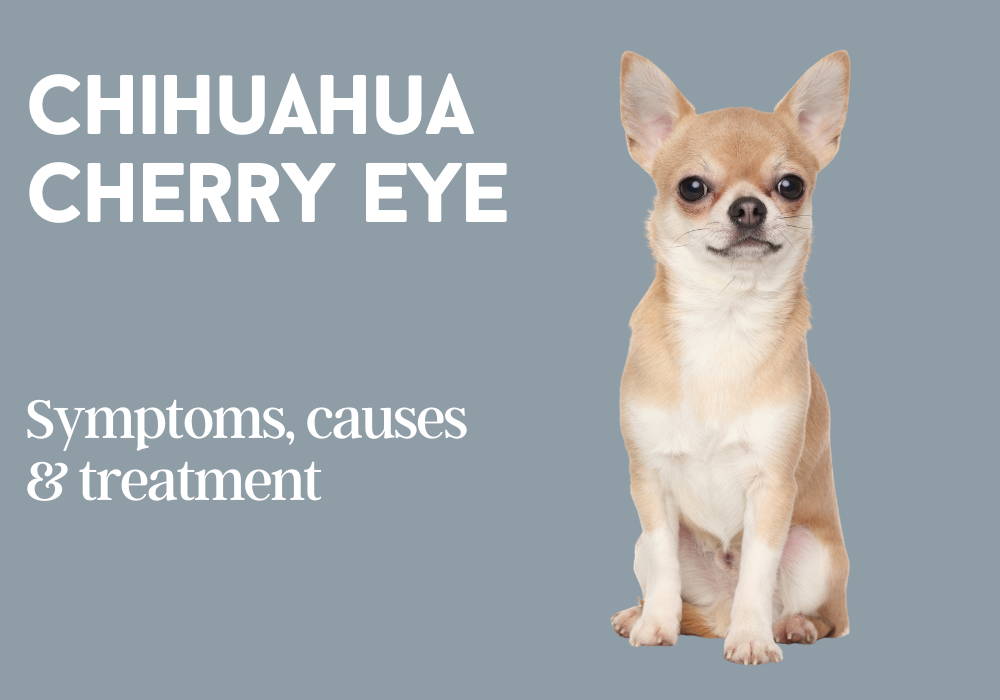 Cherry eye is a frustrating eye issue that can affect Chihuahuas, causing their third eyelid to become visible and swollen.
Aside from the unsightly appearance it can give your Chihuahua dog, cherry eye can also lead to discomfort or loss of vision if left untreated.
In this blog post, we will cover everything you need to know about treating and preventing cherry eye in Chihuahuas – so keep reading on!
What is cherry eye in Chihuahuas?
"Cherry eye" refers to a condition where the gland in the third eyelid of many mammals, including Chihuahuas, pops out of place.
The third eyelid, also known as the nictitating membrane, is located inside the lower eyelid and serves as an additional layer of protection for the eye.
This is especially important during activities like hunting or fighting. Additionally, the third eyelid gland produces a significant amount of the eye's protective tear film.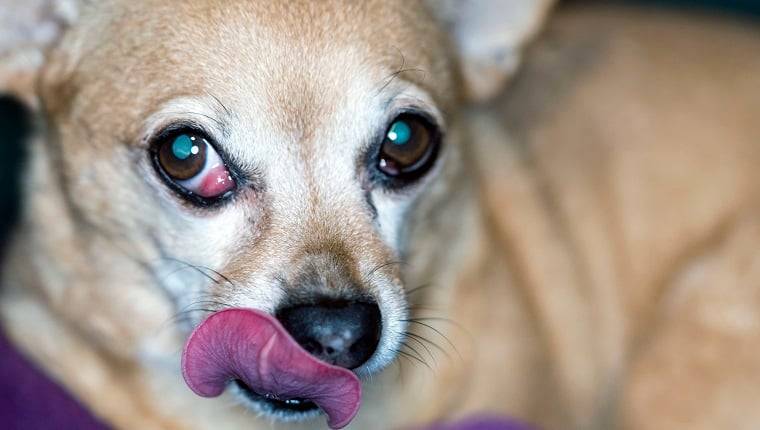 What are the causes of cherry eye in Chihuahuas?
Cherry Eye is a concerning condition that affects young Chihuahuas. The small ligament responsible for holding the third eyelid gland in place can unexpectedly stretch or break, resulting in a gland prolapse.
While the root cause is still unclear, the solution is clear - surgery is typically required to effectively treat the condition.
As a loving and responsible pet parent, it's essential to monitor your Chihuahua's eye health diligently, especially if they're under a year old. Catching any potential issues early on can help ensure the best possible outcome for your furry friend.
Some common causes of Cherry Eye in Chihuahuas include:
- Genetic factors
- Breed predisposition
- Trauma
- Weak connective tissue attachment between the third eyelid and eye tissues
- Inflammation in the mucous membrane of the eye
If your Chihuahua is showing symptoms of cherry eye, it's important to take them to a veterinarian as soon as possible. With prompt treatment, most Chihuahuas recover well and can resume their normal activities.
What are the symptoms of cherry eye in Chihuahuas?
Cherry eye in Chihuahuas is characterized by a distinctive "cherry pit" appearance in the corner of the eye closest to the nose. While the swelling may come and go, it often becomes permanent and can lead to complications if left untreated.
Symptoms to watch out for include:
- A small, circular, red, or pink bump, commonly known as a "cherry pit," appears in the corner of the eye.
- Swelling in the tear gland or third eyelid
- An oval-shaped mass can be observed on the eye.
- A thick discharge in the eye
- Your Chihuahua is trying to touch his eye with his paw.
It's not only allergies that can cause eye-related symptoms in your Chihuahua. More serious conditions such as eye trauma or foreign objects can result in vision loss or even the loss of your Chihuahua's eye.
If you see any unusual changes in your Chihuahua's eyes, it's best to contact your veterinarian as soon as possible for a proper diagnosis. Remember, the earlier you seek professional help, the better the chances for a positive outcome.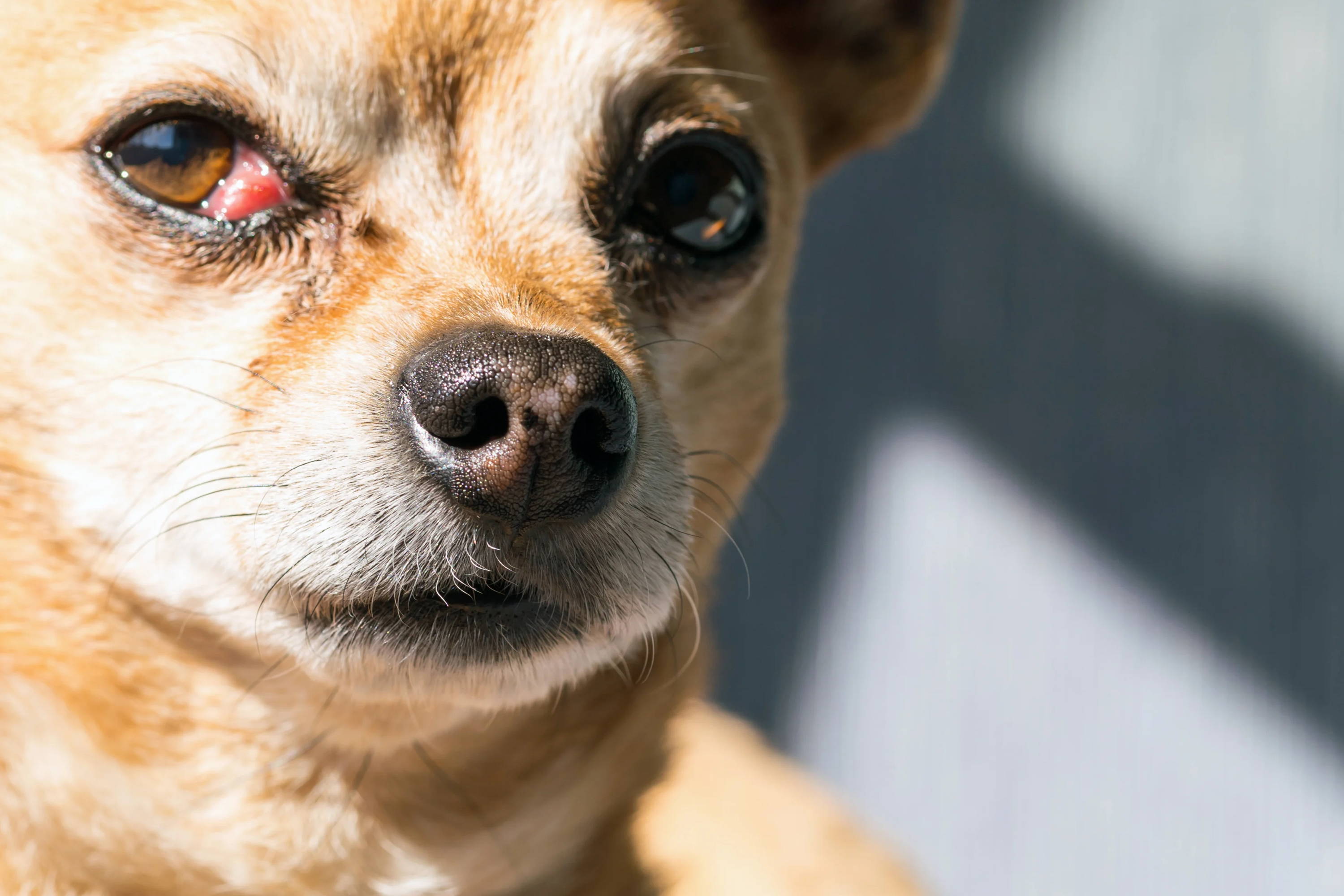 How is cherry eye in Chihuahuas diagnosed?
Diagnosing cherry eye is pretty easy for vets because it's obvious. There are no other eye conditions that resemble cherry eye. Therefore, vets can easily determine whether a Chihuahua has cherry eye by looking at their eye.
In addition, vets may run some tests to evaluate the overall health of the Chihuahuas' eye. If the eye hasn't become infected, most Chihuahuas shouldn't feel any pain or experience blindness unless the condition was left untreated.
How is cherry eye in Chihuahuas treated?
Before treating cherry eye in Chihuahuas, it's vital to confirm whether your Chihuahua is suffering from it. Although observing the Chihuahua can give some direction, consulting a veterinarian is crucial for accurate diagnosis and treatment suggestions.
Anti-inflammatory medication usually handles early-stage cherry eye in Chihuahuas. However, surgical interventions to reposition the gland are necessary in most cases. Your vet can advise you about the various surgery options and recommend the best one for your Chihuahua.
Your Chihuahua's third eyelid and tear gland work together to shield and moisturize the eye. When undergoing surgery, it is important for the vet to preserve as much of the gland as possible. In most cases, the gland can be sewn to the connective tissue to ensure tear production and prevent future blindness.
Surgery is an option only when your Chihuahua's tear gland has fully prolapsed. If not, your vet may wait until it does. To manage pain and inflammation and prevent infection, your vet may prescribe medications and itch relief for Chihuahuas.
If you notice cherry eye in your Chihuahua, schedule a vet appointment as soon as possible. Although it's not a medical emergency, early detection enables the design of an optimal treatment plan. Your vet may schedule immediate surgery to prevent further eyelid damage.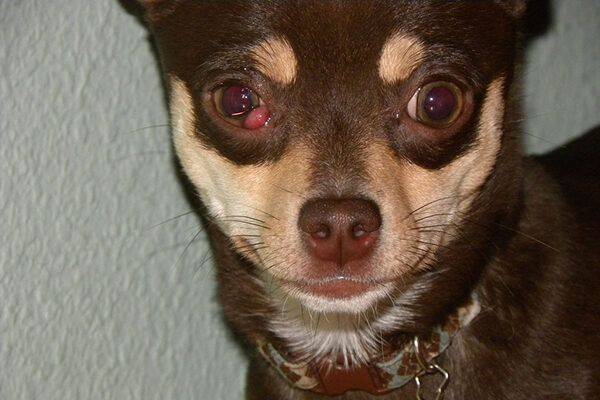 How to prevent cherry eye in Chihuahuas?
While cherry eye in Chihuahuas may be difficult to prevent, knowing if your Chihuahua is predisposed to it can help you prevent other ocular issues.
Certain dog breeds prone to cherry eye are also more likely to develop entropion, distichia, and dry eye. By regularly examining your Chihuahua's eyes for signs of irritation, redness, or unusual swelling, you may be able to detect other conditions before they become problematic.
So, take a moment to check on your Chihuahua's peepers frequently, and keep them in top shape!
What happens if cherry eye in Chihuahuas is left untreated?
If cherry eye in Chihuahua is ignored, the gland can grow bigger, causing less production of tears and more irritation and swelling, which can result in dry eye.
This can eventually lead to the inability to close your Chihuahua's eye. Furthermore, failing to treat cherry eye in Chihuahuas can also cause pink eye and a discharge of mucus.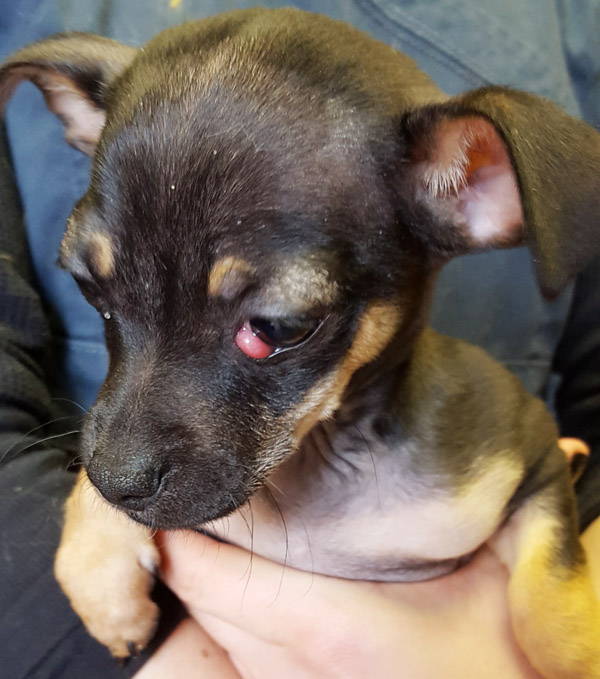 What is the prognosis of cherry eye in Chihuahuas?
In most cases, the third eyelid gland returns to normal within a few weeks after surgery. However, 5-20% of Chihuahuas may require additional surgerydue to re-prolapse.
It is also common for Chihuahuas with prolapse in one eye to experience it in the other eye eventually. The replacement of the gland is the preferred treatment option to avoid the risk of developing dry eye from surgical removal.
However, in severe or chronic cases, or if there is a tumor, the gland may need to be removed even if the function is severely diminished or absent.
Chihuahua cherry eye FAQs
Is there a vaccine for cherry eye in Chihuahuas?
No. Cherry eye in Chihuahuas is not caused by a virus or bacteria and therefore, no vaccine exists to prevent it.
How long does it take for cherry eye in Chihuahuas to heal?
The healing time after surgery is generally within a few weeks.
How much does cherry eye treatment in Chihuahuas cost?
The cost of treatment depends on the severity of the condition and the type of surgery performed. Generally, it can range from $100 to $1000.
Will cherry eye in Chihuahuas go away on its own?
In some cases, cherry eye in Chihuahuas may resolve on its own. However, it is best to seek medical advice and undergo surgery if the prolapsed gland does not return to its normal position within a few days.