Treating And Preventing Cataracts in Chihuahuas (Cloudy Eyes)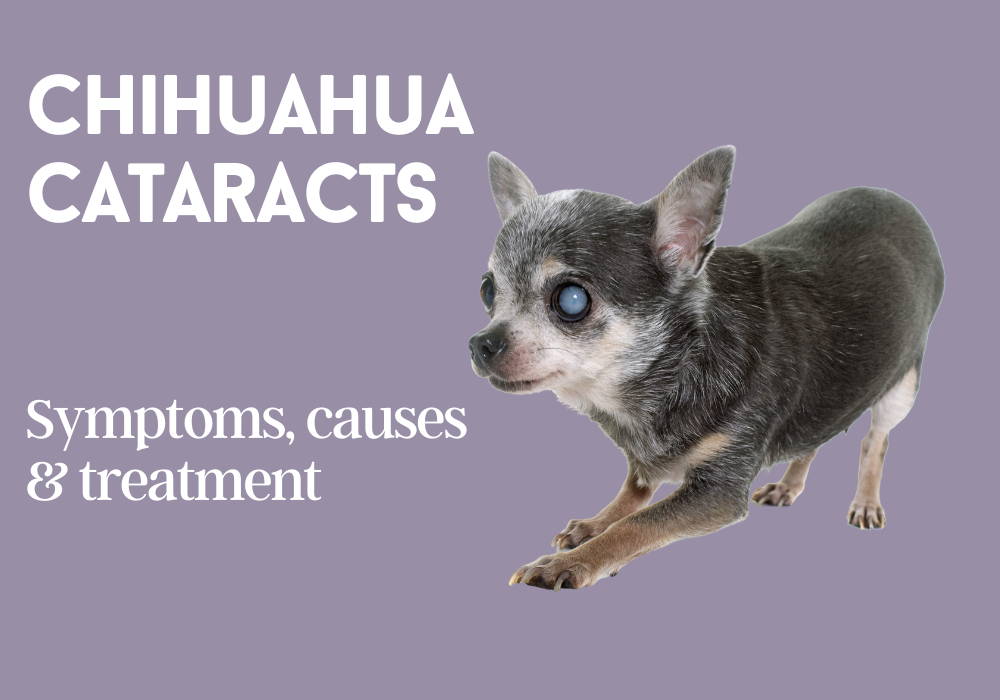 As a Chiuaua owner, you may become concerned if you notice your Chihuahua has cloudy eyes or cataracts. This can lead to visibility issues that could cause increased anxiety levels in your Chihuahua as they navigate their environment.
Fortunately, there are steps you can take to treat and possibly even prevent the onset of that condition, so if your Chihuahua has clouded eyes please read on for information on prevention and treatment for cataracts.
What are cataracts in Chihuahuas?
As your Chihuahua ages, you may start to notice a cloudy film forming over his eyes. This is a common symptom of cataracts, a condition that affects both humans and animals alike.
Cataracts occur when proteins in the eye begin to clump together, creating a cloud-like substance that obstructs the passage of light.
Over time, this cloud can grow larger and eventually cover the entire lens, causing vision loss in your Chihuahua.
It's important to keep an eye on your Chihuahua's eyesight as they age, as cataracts can appear suddenly and without warning, leaving your Chi completely blind.
If you suspect your Chihuahua may be developing cataracts, it's best to consult with a veterinarian as soon as possible.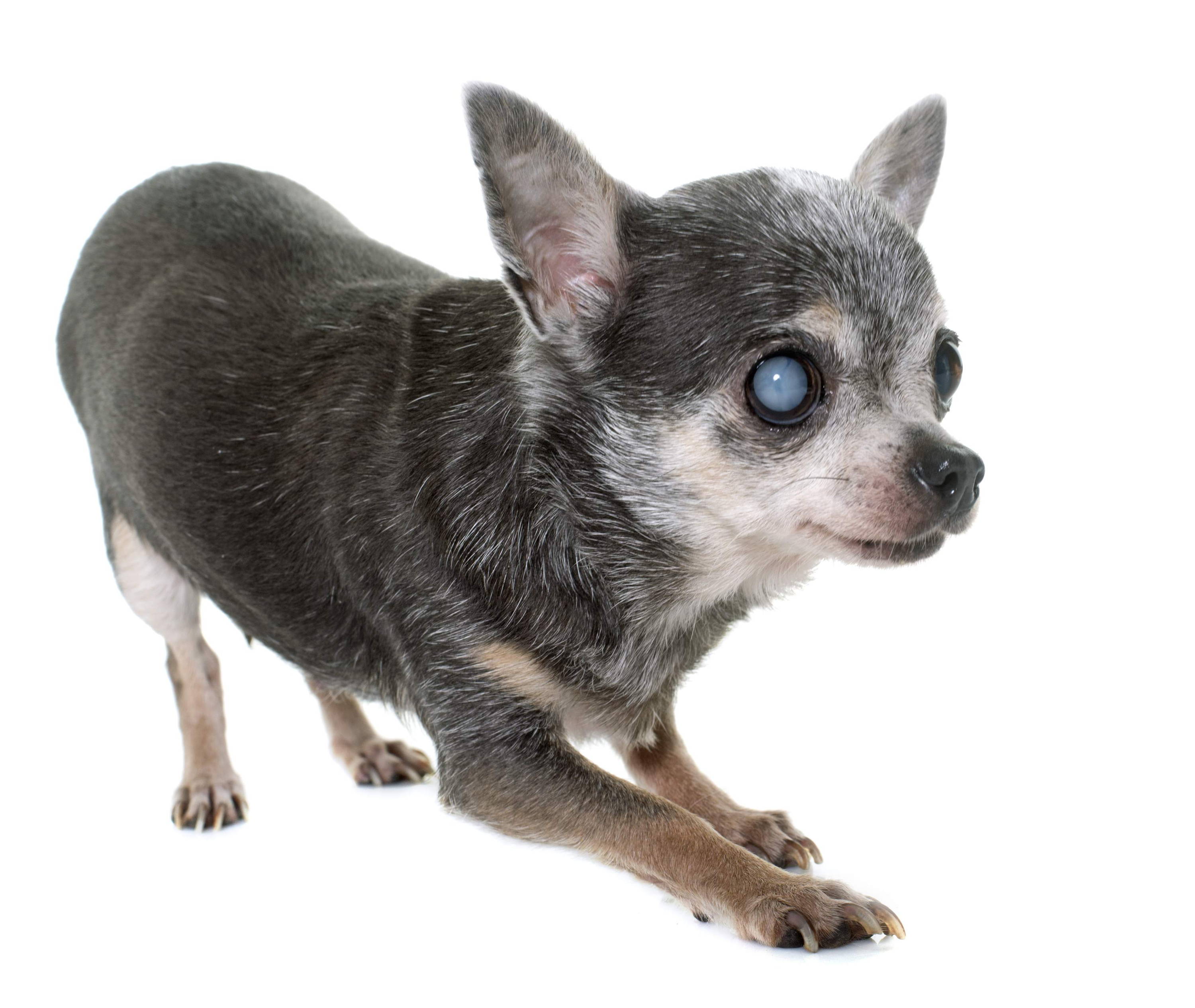 What are the causes of cataracts in Chihuahuas?
Cataracts in Chihuahuas are an health issue often caused by genetic/hereditary factors or as a complication of diabetes mellitus.
While other causes exist, they are much less frequent:
- Aging
- Trauma to the eyes
- Uveitis: Inflammation in the eye's uvea
- Low calcium levels in the blood that can be caused by hypocalcemia or hyperparathyroidism.
- Nutritional deficiencies. Cataracts in puppies fed commercial milk-replacer supplements may be caused by a lack of important amino acids like Tryptophan. Nutritional deficiencies are often overlooked in understanding this issue.
- UV-Light Exposure
Cataracts from diabetes are becoming more common in Chihuahuas. High blood sugar levels cause sugar buildup in the eye lens, leading to fast cataract development and potential ruptures.
However, you can slow down the progression by adjusting your Chihuahua's diet and insulin intake. However, in severe cases, surgery may still be necessary.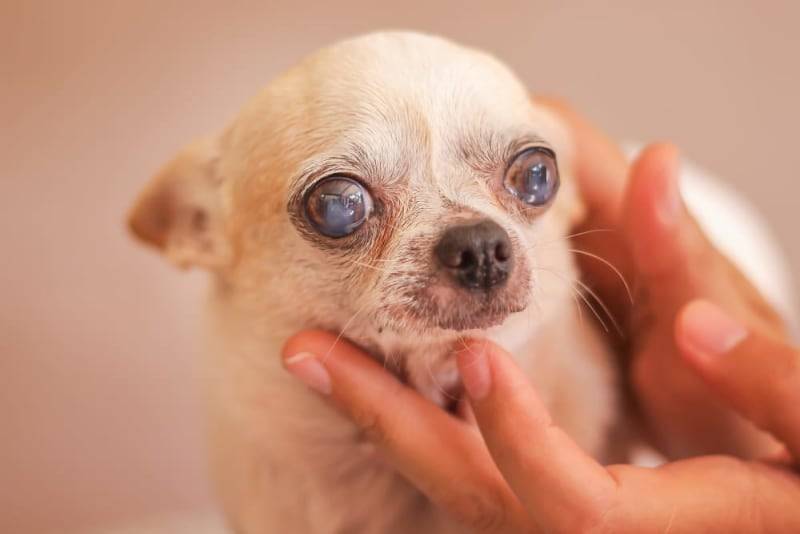 What are the symptoms of cataracts in Chihuahuas?
In the early stages, cataracts don't show many symptoms. One of the most noticeable signs is a change in the eye's appearance. Normally, the pupil is clear, but cataracts create a cloudy, grayish-blue texture over it.
Additionally, the pupil may look cracked or uneven. As Chihuahua ages, these changes may also be caused by nuclear sclerosis or glaucoma. However, only a veterinary ophthalmologist can make a definitive diagnosis and advise on the best course of action.
A Chihuahua with cataracts experiences sight loss and displays a range of related symptoms:
- Your Chihuahua seems clumsy
- Your Chihuahua struggles to find his food and water bowls.
- Your Chihuahua is hesitant on stairs.
- Your Chihuahua is barking at things that don't move.
- Your Chihuahua is experiencing a weeping eye or a change in blinking pattern
Pay attention to behavioral changes and any changes in your Chihuahua's eye appearance as they age. These signs may indicate cataracts or other vision issues. Keep in mind that few symptoms are present in the early stages of cataracts, making them easy to miss.
How are cataracts in Chihuahuas diagnosed?
Cataracts can be easily spotted in a Chihuahua's eyes, but a veterinary ophthalmologist can provide an accurate diagnosis. To do so, they may conduct a physical exam to assess walking ability, focus, and external eye changes, such as foreign objects that may pose a risk.
There are additional tests that may be required, such as:
- Eye pressure test
- Internal examination of the eye lens
- Complete blood count test
- Electroretinography
- Ophthalmic ultrasounds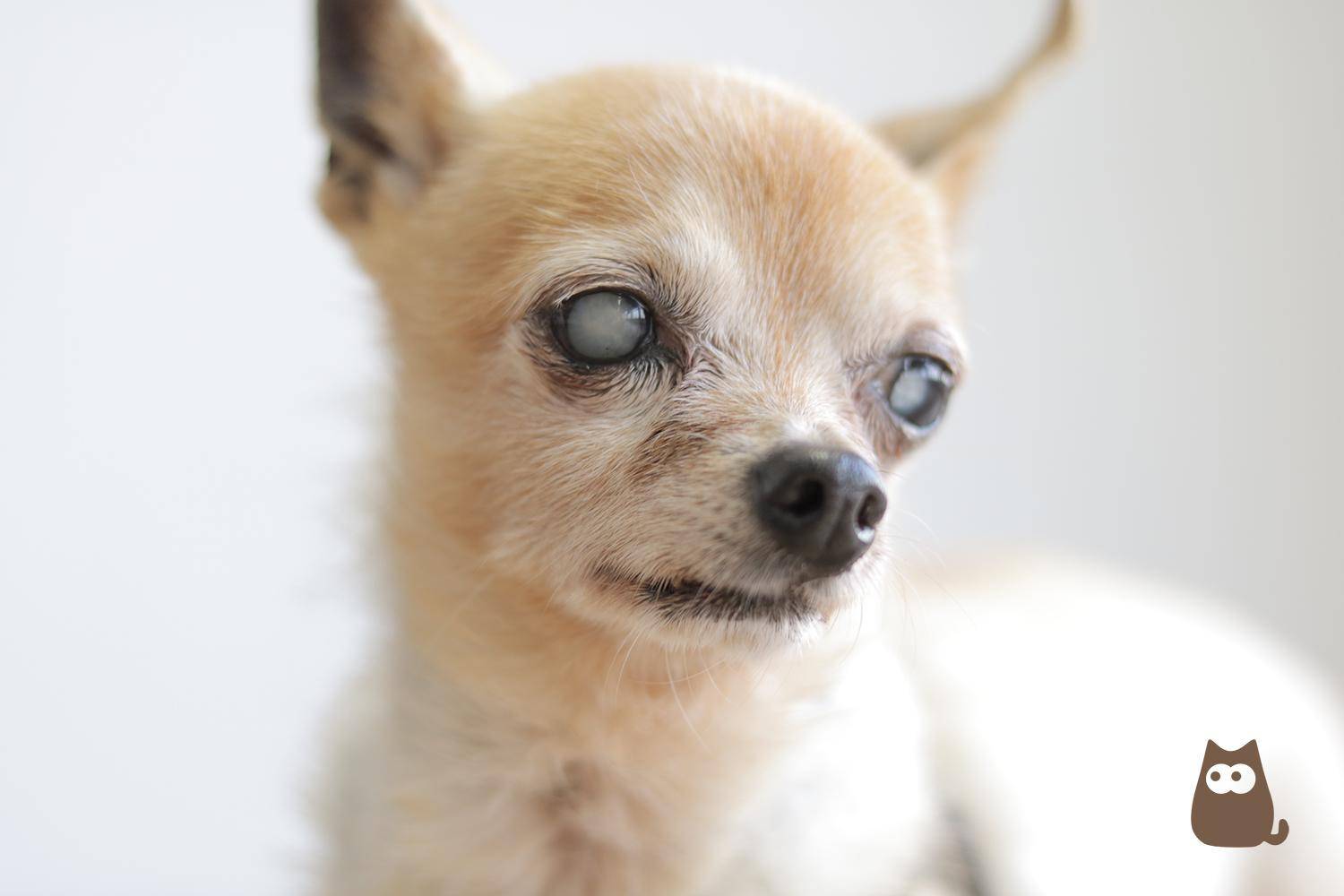 How are cataracts in Chihuahuas treated?
Cataracts in Chihuahuas can often be treated with surgery, but it's not always an option. If your Chihuahua has pre-existing eye conditions, they may not be a candidate.
Detecting cataracts early is crucial, so make sure to schedule twice-yearly wellness exams for your Chihuahua. If surgery is an option, prompt treatment is recommended for the best results.
How are cataracts in Chihuahuas treated?
When taking your Chihuahua to the vet for surgery, you'll typically drop them off the day before or the morning of.
If your Chihuahua has diabetes, additional attention is needed. Your veterinarian will provide clear guidance on feeding and care prior to surgery. Adhering to their instructions is crucial for a successful operation.
Prior to the procedure, your Chihuahua will receive sedation and undergo an ultrasound to detect any possible retinal detachment or lens rupture.
Additionally, an electroretinogram will verify the proper function of the retina. If unforeseen problems arise during these evaluations, your Chihuahua may not be a viable candidate for cataract surgery.
When a Chihuahua requires cataract surgery, it is done with a general anesthetic, and a muscle relaxant is also given to ensure the eye is positioned properly.
The procedure used is phacoemulsification, which employs ultrasound to break up and remove the cloudy lens from the eye. An artificial lens implant (IOL) is then inserted to improve vision. This is the same approach used for cataract surgery in humans.
After your Chihuahua's cataract surgery, the vet will suggest an overnight stay for monitoring. Afterward, you'll need to provide diligent aftercare at home, including administering multiple eye drops throughout the day.
How to prevent cataracts in Chihuahuas?
While cataracts are usually unavoidable for Chihuahuas, there are steps you can take to protect their eyesight if they have a condition like diabetes. Here's what you can do to safeguard their vision:
- Regularly inspect your Chihuahua's eyes.
- Bring your Chihuahua to the vet if you notice cloudy or bluish-gray eyes.
- If your Chihuahua's eyes appear cloudy or bluish-gray, it's crucial to take them to the vet.
- Learn about the medical history of its parents whenever possible
- Know if your Chihuahua has conditions like diabetes or eye trauma that could lead to cataracts. Stay vigilant.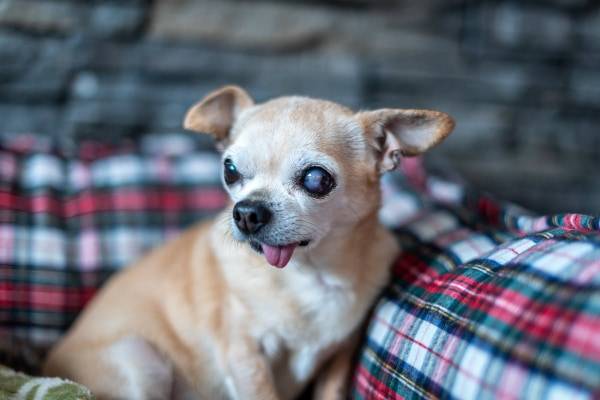 What happens if cataracts in Chihuahuas are left untreated?
When a Chihuahua is diagnosed with cataracts, it's important not to ignore it. If left untreated, cataracts can worsen and lead to blindness in your Chihuahua. Once the cataract progresses, it can develop into glaucoma or lens luxation, which can cause permanent damage to your Chihuahua's eye.
While not all cataracts will lead to blindness, it's still critical to consult with your veterinarian and discuss proper treatment options to ensure your Chihuahua's vision remains intact. Remember, early detection and intervention can save your Chihuahua's sight and greatly improve their quality of life.
Will my Chihuahua be able to see after cataract surgery?
Yes, after their cataract surgery, your Chihuahua should have improved vision. It may take time for them to adjust and get used to the full scope of their new vision.
Are there risks with cataract surgery for Chihuahuas?
Yes, as with any surgery, there are risks associated with cataract surgery for Chihuahuas. These include retinal detachment and infection. Your veterinarian should be able to provide detailed information about the potential risks of your Chihuahua's particular situation.
How long will it take for my Chihuahua to recover from cataract surgery?
The recovery time for cataract surgery in Chihuahuas will vary depending on the individual case. Most Chihuahuas recover within two weeks, but it can be longer. Aftercare is key to a successful outcome, so make sure that you follow your vet's instructions closely.
How do I find an eye doctor for my Chihuahua?
You should start by consulting with your regular veterinarian. They may be able to refer you to an ophthalmologist that is qualified to perform cataract surgery. Additionally, you can search online for vets in your area that specialize in eye care.
What is the cost of cataract surgery in Chihuahuas?
The cost of cataract surgery in Chihuahuas will depend on the type of procedure, complexity, and severity. Generally, it can range from $2,000-$3,000. Your veterinarian should be able to provide more accurate estimates based on your Chihuahua's particular situation.