Can Chihuahuas Swim? (+ Tips to Teach a Chihuahua How to Swim)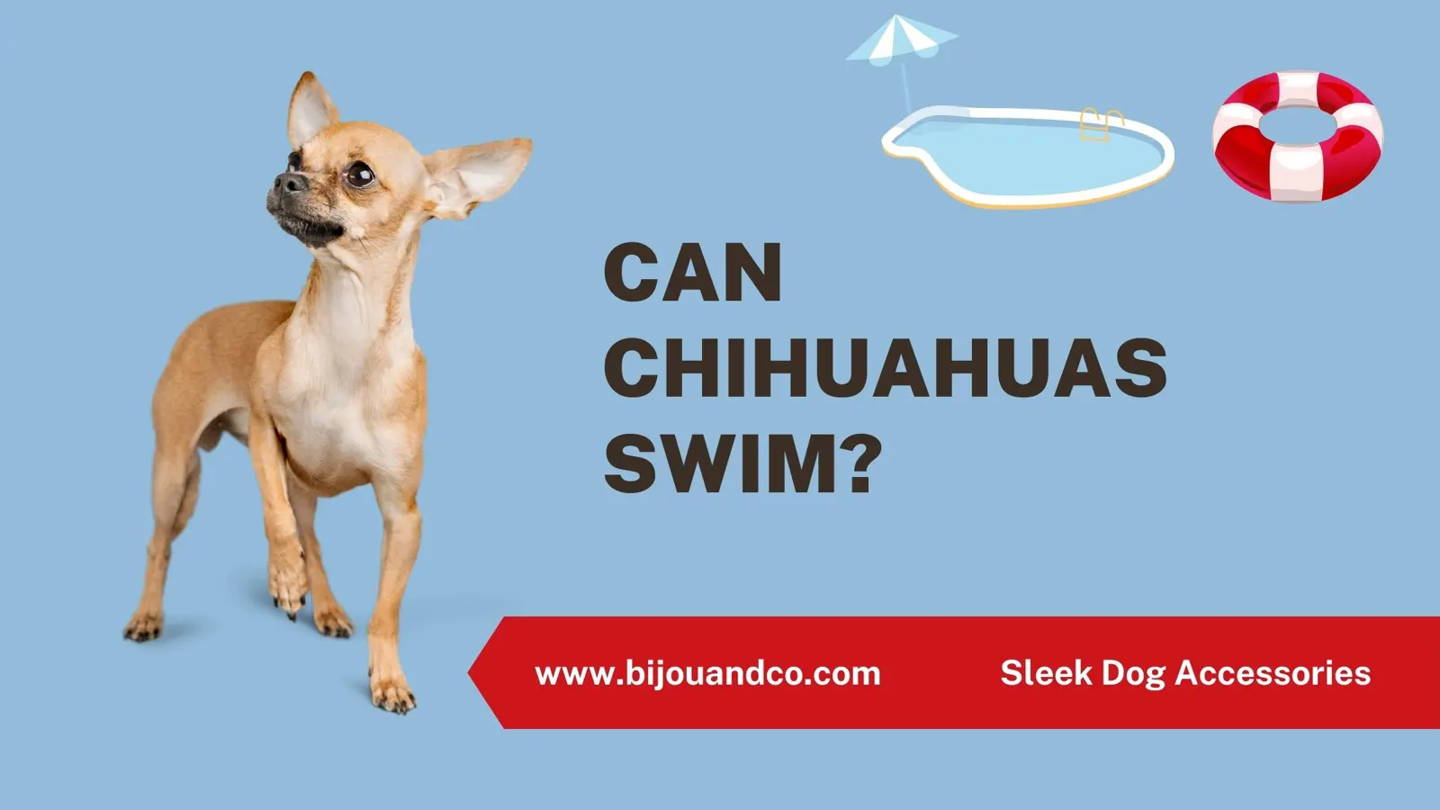 Chihuahuas are such delicate creatures that you may never think of letting one go for a swim. A lot of Chihuahua owners worry that their mini buddies could drown due to their tiny legs not being able to effectively push through the water.
However, that's not necessarily the case. It just comes down to providing the right training. Here is our advice on how best to go about teaching your Chihuahua to swim and encouraging some aquatic confidence.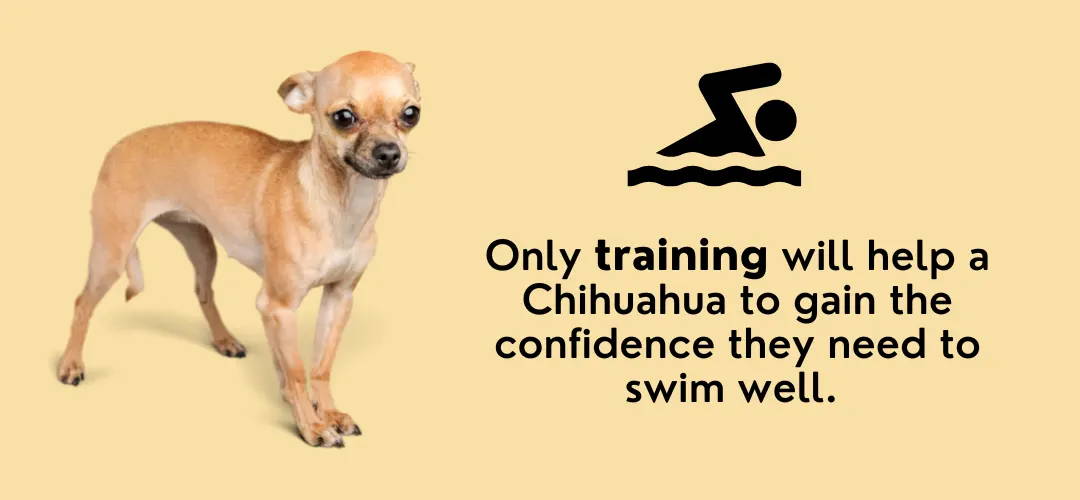 Absolutely, Chihuahuas can swim, but they're not always guaranteed to love it, or even take well to it. A Chihuahua in water is not natural when you consider their history as companion pets or rodent catchers as opposed to outdoor hunting dogs.
If you have a Chihuahua and are considering teaching them how to swim, you should stay aware of the fact that they don't always want to learn.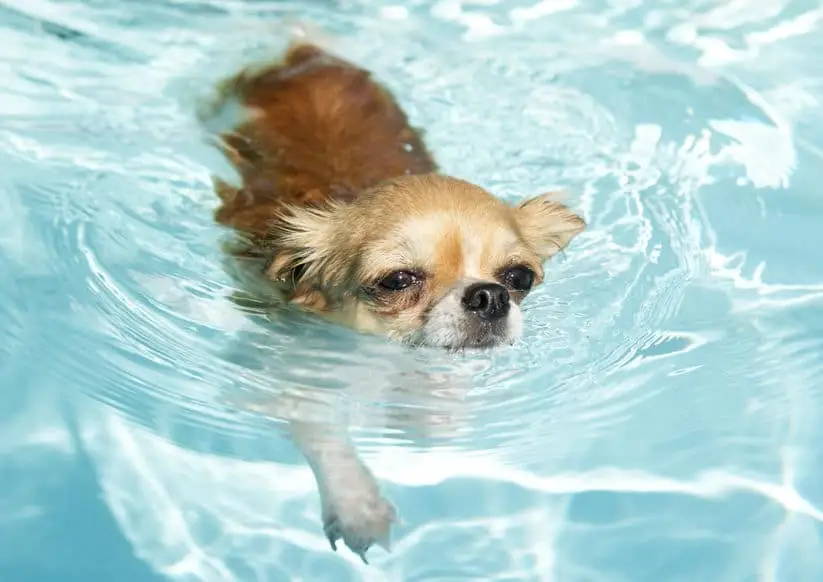 Do Chihuahuas like swimming?
They absolutely can if they're trained to enjoy it, though there's no guarantee that your Chihuahua will be all that eager to learn, so be sure to monitor their body language.
But for those Chihuahuas that enjoy swimming, they really do love it - they're able to play happily in watery environments (including the beach) with no problems at all, they may even seek out water when out on a walk to have a quick splash around.
We just advise that you keep a close eye on your Chihuahua near the ocean or other large bodies of water. They are still very small and very light creatures and a Chihuahua swimming can be easily swept away or carried out by the current.
Do Chihuahuas Like Water?
Chihuahuas are known as 'water-shy' dogs. They're not particularly eager to climb into the water and may even avoid puddles where possible - though this is perfectly understandable when a puddle that's only a few inches deep comes to their elbows. But can you train a Chihuahua to enjoy the water?
Why some Chihuahuas hate water
Chihuahuas are not very strong swimmers naturally, which can make them feel very vulnerable when they're out in the water where they feel their least confident - this can cause a Chihuahua to feel trapped.
Being stuck in water where they can't easily escape can cause significant stress and anxiety for a Chihuahua whilst they're swimming. The knock-on effect is that they could become panicked whilst swimming which can tire them out and make swimming even more difficult.
How to get my Chihuahua to like water
Positive reinforcement and a confident trainer. If you're not confident in your ability to introduce your Chihuahua to the water safely you should look to finding a puppy swimming class or a trainer who can teach your Chihuahua to swim with more ease.
Positive reinforcement requires patience but can be extremely rewarding. It's a case of introducing your Chihuahua to small bodies of water first (perhaps a puddle or very shallow paddling pool). You would then provide them with a reward when they engage with the water. They may be timid to start with, but by rewarding them when they engage with it you're teaching them that it's a good thing.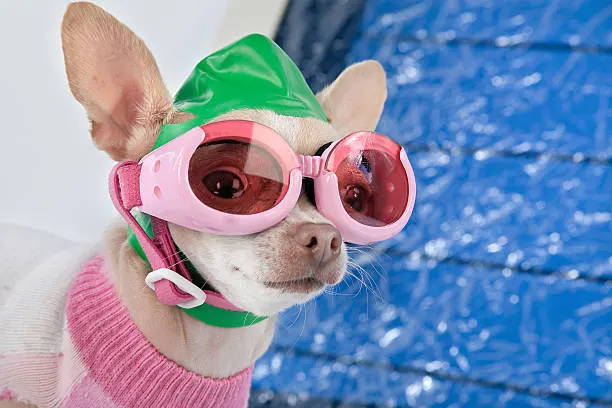 Where can Chihuahuas swim?
There is actually a wide range of places you can take your Chihuahua swimming. They range from small areas such as a kiddie pool in the yard to the largest body of water you can get (the ocean). However, it's worth noting the risks of each of these waters before taking your Chihuahua for a swim. Knowing these risks can save them from a potential disaster.
At the pool (chlorinated water)
Believe it or not, Chihuahuas CAN swim in a chlorinated swimming pool. This is because Chihuahuas have an extremely similar skin composition to humans, meaning they're able to comfortably be submerged in chlorinated without irritation to the skin.
This is, of course, so long as they're not suffering from any skin conditions that could be aggravated by the chlorine.
There are pros and cons to the use of each of the bodies of water in this list, with the pros to pool use being:
A structured environment (usually used for water therapy)

Clear water that can be seen through easily

Clean water that will not cause bacteria buildup in your Chihuahua's fur
However, there are also downsides to using a pool for your Chihuahua to swim in:
The chlorine can be irritating to Chihuahuas eyes

Seeing the depth below the clear water can make them nervous

Chlorine can dry out your Chihuahua's fur

Not all pools allow dogs to enter

Chlorine doesn't agree with delicate skin conditions

Ingested chlorine water can cause an upset stomach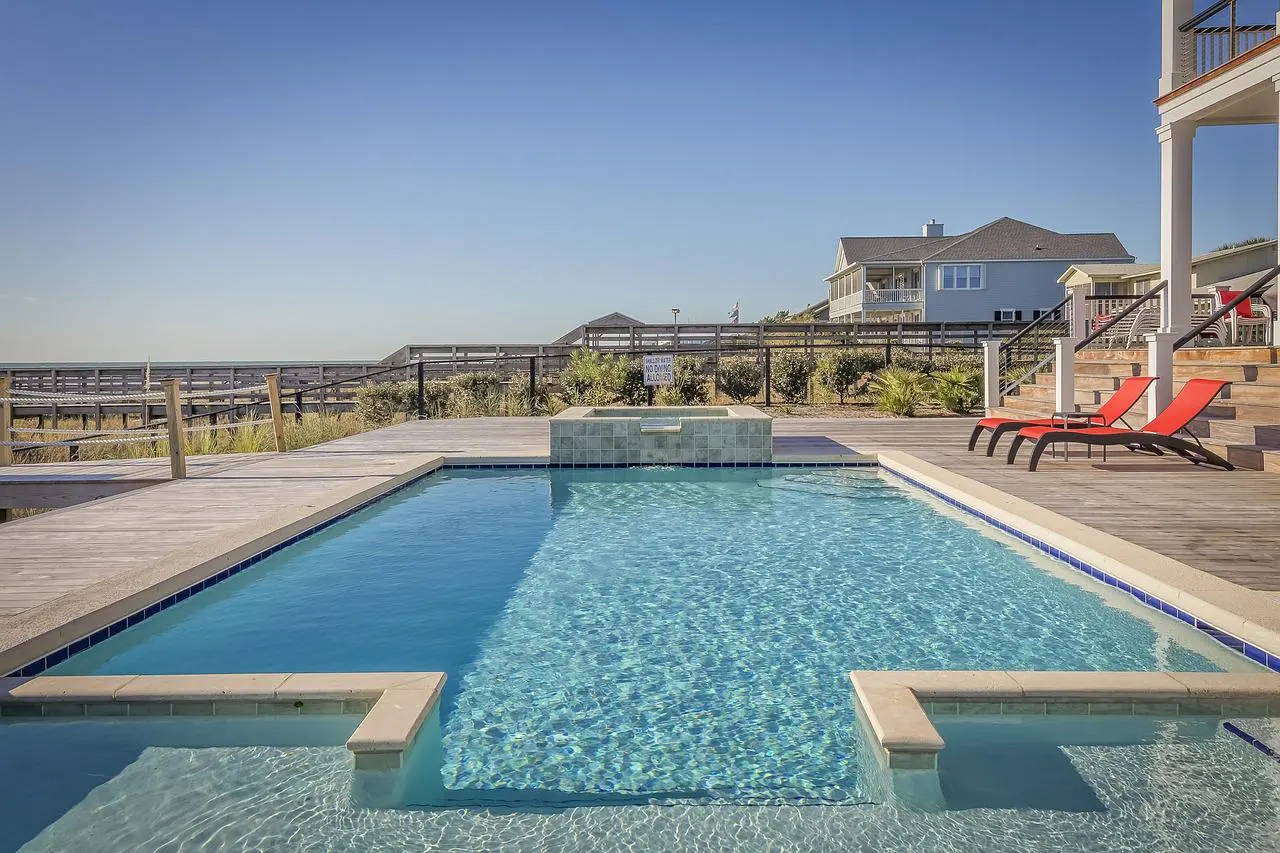 In lakes or rivers (freshwater)
Lakes are easily the most natural option for your Chihuahua to swim in, particularly if you happen to be situated near a lake to begin with. But like everything else, there are pros and cons to lake swimming. The pros include:
A beautiful environment for your Chihuahua to swim in

The water doesn't contain any harsh chemicals

A natural environment that may encourage your Chihuahua to use its instincts
However, there are also quite a few cons to using outdoor freshwater areas to let your Chihuahua swim, including:
Ear infections caused by water containing bacteria entering the ear canal

Skin irritation from bacteria getting trapped in their fur (always wash your dog after a swim)

Stagnant water tends to certain extremely harmful bacteria that can cause severe illness or even death.

The presence of water snakes

Dangerous debris in the water such as cans or glass

Blue-green algae bloom in hot weather and can be lethal to dogs

Murky water can be difficult to see through making it more dangerous

River currents can sweep small dogs away if they get caught in a rush
Now the beach is a fun place for anyone to visit, and a lot of Chihuahuua owners like to take their pups for a run in the sand. However, they're also the most dangerous place for your Chihuahua to go for a swim if you're not careful. That being said, the pros of taking your Chihuahua to the beach include:
The saltwater can help to restore damaged tissue

Seawater can help to improve the look of your Chihuahua's coat

Saltwater can relieve symptoms of dermatitis, dandruff, and psoriasis

The beach sun boosts your Chihuahua's vitamin D levels

The moving water can strengthen your Chihuahua's swimming technique

It is a natural environment than can be extremely enjoyable for your Chihuahua
Though the cons can outweigh the pros if you're not confident with a beach trip:
Ingested saltwater can rapidly dehydrate your Chihuahua

The saltwater can also cause an upset stomach

Jellyfish and other stinging creatures in the water can hurt your Chihuahua

The water can be difficult to see through

The water can enhance sun rays and cause your Chihuahua's skin to burn

The currents can be extremely strong and sweep them out to sea

It is more dangerous to play in the water when the tide is moving out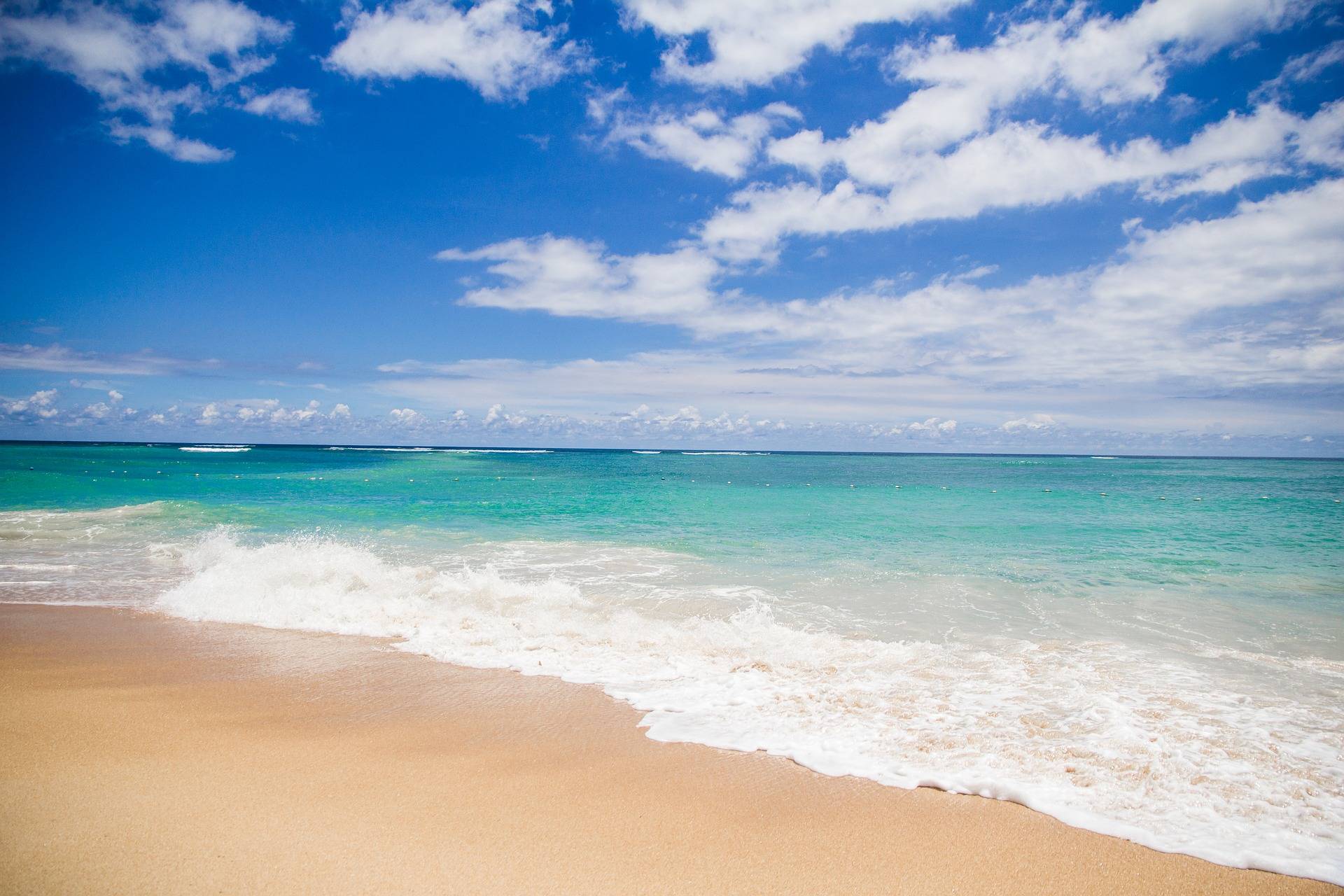 Kiddie pools (the safest option)
This is easily the safest option out of everything on this list. Many Chihuahua owners will stick to a kiddie pool when teaching their Chihuahua to swim as it is such an easy thing to control. It can also feel significantly less intimidating for a learning Chihuahua to be in as they won't be made to feel as small or vulnerable. The pros of a kiddie pool include:
The water level can be carefully controlled

The water temperature can be controlled

Your Chihuahua can be easily reached if they're struggling

The swimming area size can be controlled
Though there are a couple of reasons a kiddie pool may not be the perfect choice for swimming practice:
It doesn't necessarily allow much space to move around

Inflatable pools are completely unsuitable as they can be punctured

Chihuahuas can still drown in small pools ( but many owners make the mistake of leaving their dog unattended)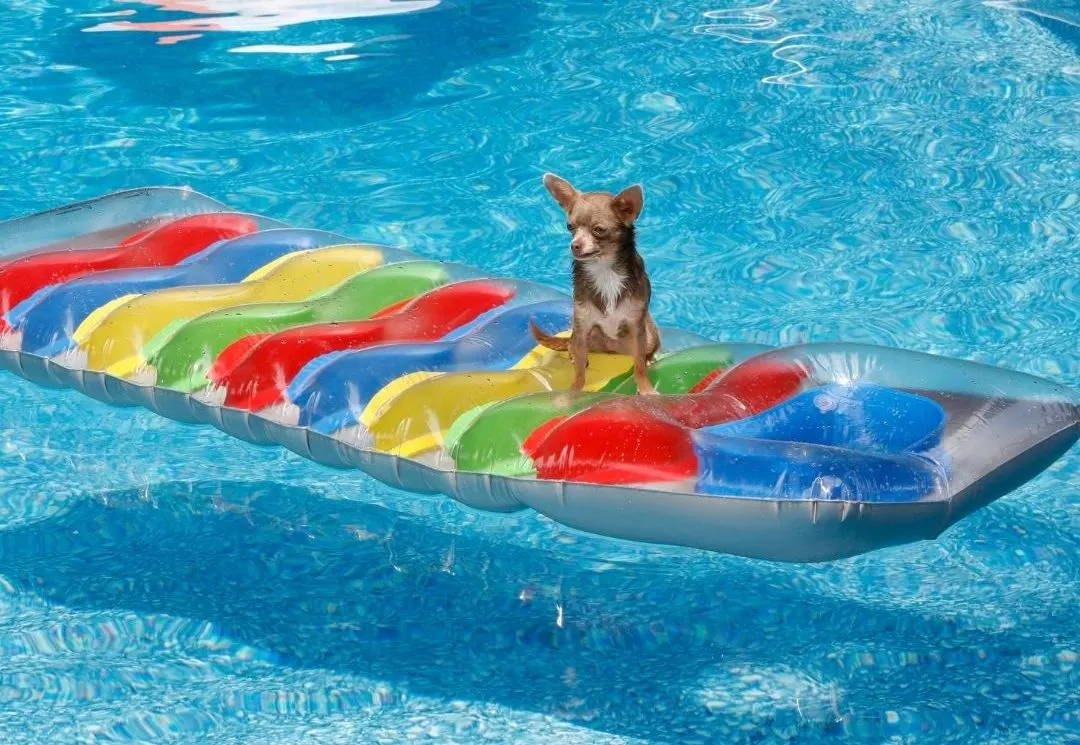 The dangers of swimming for Chihuahuas
As we've mentioned previously, the dangers of swimming for Chihuahuas can vary significantly depending on the confidence of the person training the Chihuahua to swim, the environment, and the water confidence of the Chihuahua themselves. However, there are more specific dangers that you should be aware of if you're thinking of teaching you pup how to swim.
Many people don't think of the dangers of over-consuming water. However, if your Chihuahua were to ingest too much water whilst out swimming they could experience water intoxication, also known as water poisoning, hyperhydration, water toxima, or overhydration.
Water intoxication can cause disturbances in brain function that could be potentially fatal. As a result, any swimming Chihuahua should be monitored at all times to ensure they're not drinking too much.
It is the biggest danger of swimming for both humans and Chihuahuas. There are many elements of swimming that can be out of the Chihuahua's control, with currents being one of the biggest problems. Drowning is the number one reason why Chihuahuas should not be left unattended while swimming.
If your Chihuahua loses control whilst out swimming, panics, or is swept up by a strong current there is a very real possibility they could drown if they become exhausted in the attempt to keep themselves afloat.
Swimmers syndrome, which also goes by twisted legs, flat-puppy syndrome, or swimming puppy syndrome, is a developmental deformity that affects newborn Chihuahuas. This syndrome causes the hind legs to be rotated outwards in a splayed fashion which means the puppy is unable to stand.
The major impact that swimmer syndrome has on young Chihuahua pups is that it prevents the Chihuahua from being able to paddle through water. Fortunately it can be rectified if caught early on, though if left for too long could prove to make swimming much more difficult to learn in later years.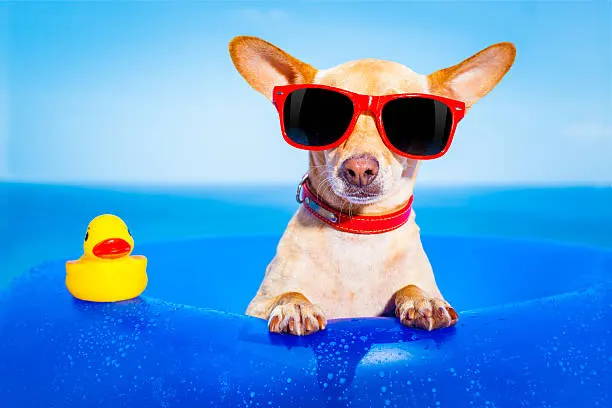 How to teach a Chihuahua to swim
So you're wanting to take the leap and teach your Chihuahua how to swim? Below we've listed some of the top tips for just such a task!
Before your Chihuahua starts swimming
Purchase any swimming aids you think you will need. Swimming aids are usually floatation devices used to provide buoyancy, such as:
A Chihuahua swimming board
Introducing your Chihuahua to water
This is where positive reinforcement really comes into play. You need to start your Chihuahua off with small bodies of water to keep them comfortable and reward them whenever they show interest. You're aiming to get them to submerge themselves upto their body comfortably before then moving on to floating.
If you try to throw your Chihuahua into deep water without conditioning them to appreciate the water you'll likely traumatise them and create a negative association with the water. Once a negative association has been established it can be extremely difficult to break it, so take it slow.
When your Chihuahua starts swimming
Swimming starts with floating practise. This means putting your pup into or onto their buoyancy aid. You're then going to guide your Chihuahua into the water with a firm grip on the handle of buoyancy aid in order to help them feel secure and stable. Gently go past the point where they can reach the floor with their feet and let them feel the sensation.
If you notice that your Chihuahua seems to be visibly distressed return them to an area of the water where they can comfortably reach the ground. Try not to remove them from the water unless you feel it absolutely necessary.
Swimming is much like introducing your Chihuahua to water, you have to take small steps in establishing the sensation of floating and allowing your dog's natural instinct to take over.
Once your Chihuahua starts kicking
Once your Chihuahua starts to kick its legs in the water you will see that they will begin to relax. The swimming response is there in all canines. They simply have to figure it out. Once your Chihuahua starts to kick and show more and more comfort in the water, you can begin to loosen your grip on the buoyancy aid and allow them to take their own weight.
As time goes on, you will continue this process of slowly removing yourself from the situation until your Chihuahua is swimming using only the buoyancy aid.
The more confident your Chihuahua becomes in the water, the more ready they will be to have the floatation device removed. Just be sure to read their body language when you take it away as it will tell you if they're comfortable with this next time. From then on its simply a case of practise makes perfect!
Important Notice: please keep in mind our advice regarding confidence and competence. If you are unsure of how to approach swimming lessons with your Chihuahua, or fear that you might not do it correctly, please seek the help of a trained professional.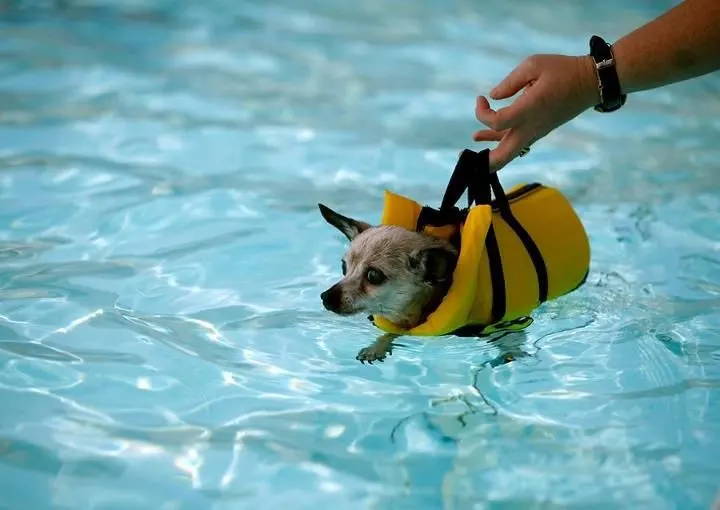 Buying a life jacket for your Chihuahua
Before you can even think of starting to teach your Chihuahua how to swim, you need to ensure you have a top quality floatation device that will ensure their safety as they learn. Here are the top criteria points you need to look for in a Chihuahua life jacket before you invest in one:
When you first start teaching your Chihuahua to swim, you will need to be able to handle them easily and guide their movements. The best way to do this is by handles attached to the top of the vest. Multiple handles are idea to controlling both the front and back if needs be.
A D-ring attachment will allow you to attach your Chihuahua's leash to them whilst they're swimming. This is great for dogs that swim in open water whilst out boating as it will prevent them from being swept away by the current. It can also help with when they are learning to swim as you can maintain a hold on them whilst staying out of the way and giving them the freedom to move around.
There is a slight difference between a life jacket and a life vest that you ought to know about. For Chihuahuas that swim in closed pools and more controlled areas, a vest would work perfectly well as it's more lightweight with slightly less coverage.
However, if your Chihuahua has taken to learning and swimming in open water then you should absolutely stick to using a life jacket that covers more of their tiny body and has a more heavy-duty design.
Visibility / Colour / Pattern / Material
All of these features fall under the category of safety. It's best to select a vest made of a particularly bright color that can be easily spotted from a distance, just in case they are unfortunately enough to get swept away whilst swimming.
Additionally, you should aim for a vest with plenty of reflective elements - that way if you Chihuahua does go missing in low light conditions they will be visible to searchers when a torch is shone onto them.
So, can Chihuahuas swim? Yes. Do Chihuahuas like to swim? Sometimes. Can you teach a Chihuahua to swim? Absolutely! Just remember to keep patient, provide them with plenty of possitive reinforcement and do everything you can to keep them safe in the process.
Chihuahuas may have big-dog personalities, but they are still fragile and require some extra love and care when it comes to learning a skill that they're perhaps not so adept at.
Chihuahua Swimming, the FAQs
Why should I teach my Chihuahua to swim?
Chihuahuas are a very vulnerable dog breed. They're dainty, weak, and fragile and don't have a natural affinity with the water. If a Chihuahua were to fall into a large body of water (like a lake or canal), they would be at a high risk of drowning without the proper training. Swimming also boosts their overall fitness and can help to alleviate pressure on the joints.
Do Chihuahuas like to swim?
They certainly can enjoy it if they're taught to have confidence in the water and provided with a solid technique that will keep them afloat with a real struggle. Though they don't naturally get drawn to water, so it may take some positive reinforcement to encourage them.
Why don't Chihuahuas like water?
Chihuahuas are not naturally strong swimmers. While they do possess the instinct to learn to swim, they are vulnerable, nervous dogs that feel very exposed when in water. As a result, they can become frightened or stressed which will tire them out more quickly and potentially cause them to panic. Only training will help a Chihuahua to gain the confidence they need to swim well.
Can Chiweenies swim as well as a Chihuahua?
Chiweenies (1Dachshund x Chihuahua) are capable of swimming if taught how. However, the Dachshund is not a natural swimmer and so they may have a harder time figuring out the logistics of floating and moving. As a result, you may find that your Chiweenie shares the Dachshund's natural aversion to water.