Boxer Chihuahua Mix (Boxachi) Breed information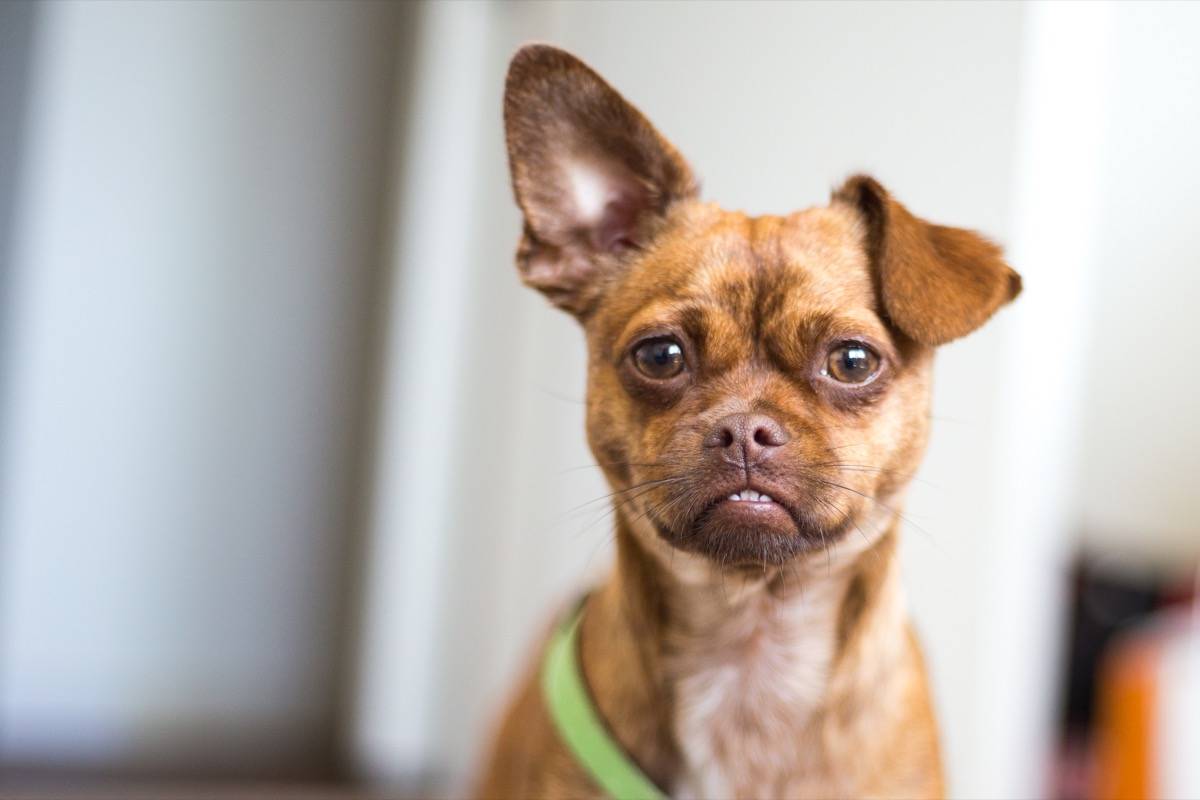 The Boxachi is a hybrid Chihuahua that combines the best of two popular breeds: the feisty Chihuahua and the playful Boxer. As a result, Boxachis are medium-sized dogs that are full of energy and love to play.
Chihuahua Boxer mixes also thrive on attention and are not afraid to vocalize their displeasure if they feel they are being ignored. However, despite their sometimes stubborn nature, Boxachis are generally good-natured dogs that get along well with older kids and pets.
black, blue, cream, fawn, white, red
first-time dog owners, families with older children
affectionate, loyal, playful, alert
Boxer Chihuahua Mix Origins
The origins of the Chiuahua dog are a bit of a mystery. Some believe that it descends from the Techichi, a small dog initially kept by the Toltec, in Mexico.
Others say that the Chihuahua is a cross between a small Terrier and a Chinese crested dog. However, the most likely explanation is that the breed is a mix of several different dogs from Mexico and Central America.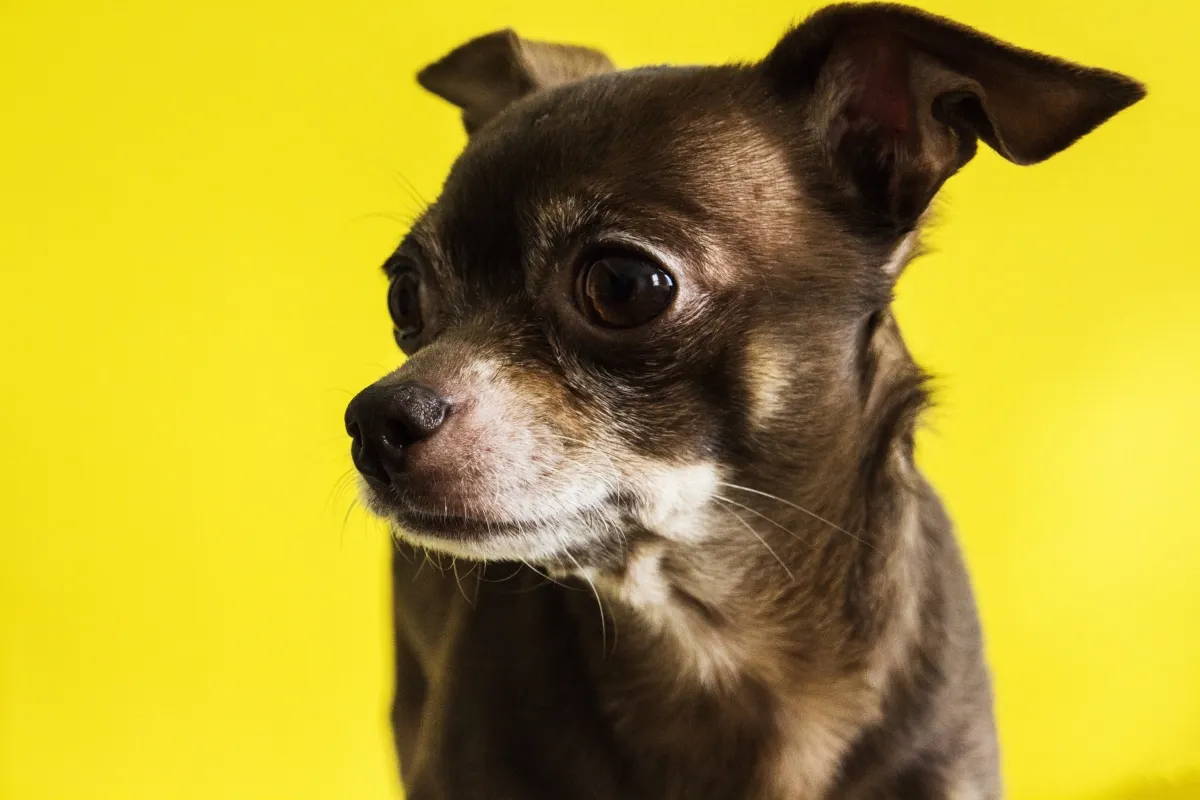 Originally bred in Germany, Boxers were used as working dogs on farms. However, they soon gained popularity as pets, thanks to their friendly dispositions and loyal nature. Over the years, Boxers have been used as guard dogs, police dogs, and even search-and-rescue dogs.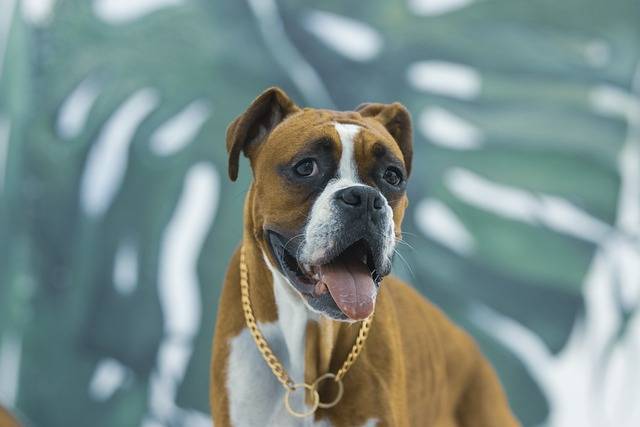 The Chihuahua Boxer mix, also known as the Boxachi, is a relatively new dog breed. It's believed that American breeders started breeding Boxachis in the 1990s, in order to reduce the brachycephalic features of the Boxer, which often lead the health complications. Unfortunately, not much is known about the history of this hybrid breed.
The Boxachi is not recognized by the A.K.C.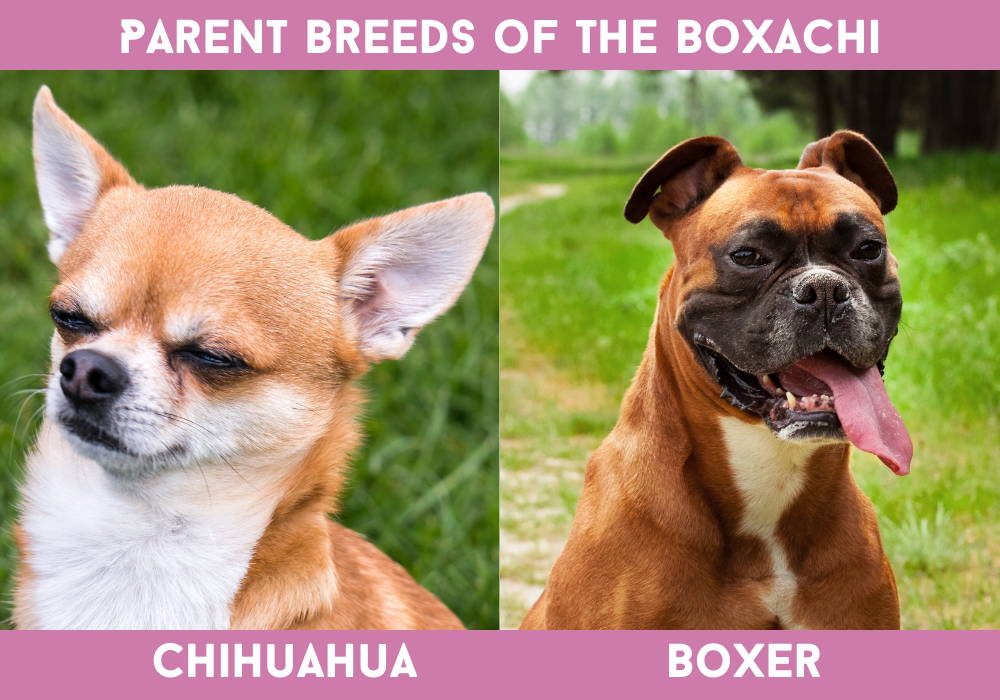 Boxer Chihuahua Mix Appearance
Boxachis inherit the Boxer's signature square jaw and muscular build, along with the Chihuahua's large ears and round eyes. They are muscular with a short coat, and their brown or black eyes are almond-shaped.
The Boxachi is a medium-sized dog that will weigh between 45 – 60 pounds, standing 18 to 25 inches at the shoulder.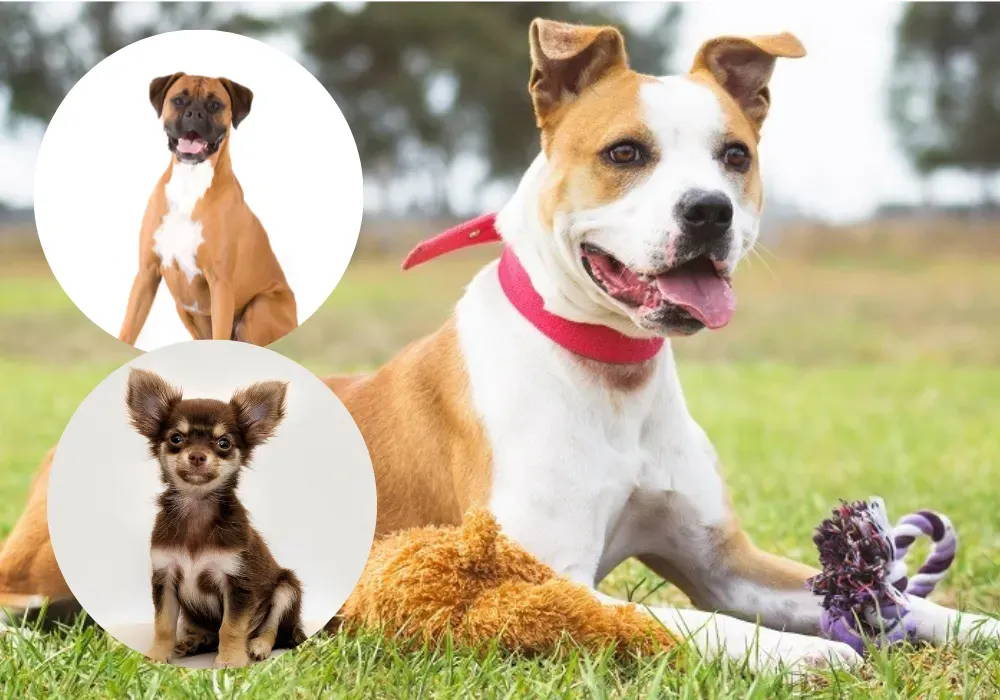 The Boxer Chihuahua mix is a highly intelligent dog. Boxachis are known for their loyalty to their owners and family members, and their clever and alert expression. If they are brought up together, Boxer Chihuahua mixes are good with older kids and other pets.
However, if you're looking for a quiet, lapdog-type companion, the Boxer Chihuahua mix is probably not the right breed for you. This active, high-energy breed needs plenty of exercise and stimulation, or they can become destructive.
Some say that Boxer Chihuahua mixes are too independent to get along with anyone else, while others believe that they have the perfect mix of energy and affection.
So, what's the verdict?
Well, it depends. Some Boxer Chihuahua mixes are perfectly happy living with other dogs, cats, and even rabbits. However, some Boxachis can be a bit too much for smaller pets, and some others can be very territorial. It really depends on the personality of the individual Boxachi.
Unfortunately, there is no easy answer to this question since it can vary from dog to dog. Some Boxers shed very little, while others may shed quite a bit. The same is true for Chihuahuas.
However, Boxer Chihuahua mixes tend to fall somewhere in between. They're moderate shedders with short coats, so they're easy to groom and don't require a lot of upkeep.
Chihuahua Boxer Mixes are not hypoallergenic.
Boxer Chihuahua Mix Health
Boxer Chihuahua mixes typically have a lifespan of between 10 and 15 years.
While Boxer Chihuahua mixes may inherit some of their physical and behavioral traits from their parent breeds, they also inherit the same health issues.
Chihuahua Boxer mixes are prone to patellar luxation, a condition in which the kneecap pops out of place. While this condition can be painful, it is typically not life-threatening and can be managed with medication and surgery.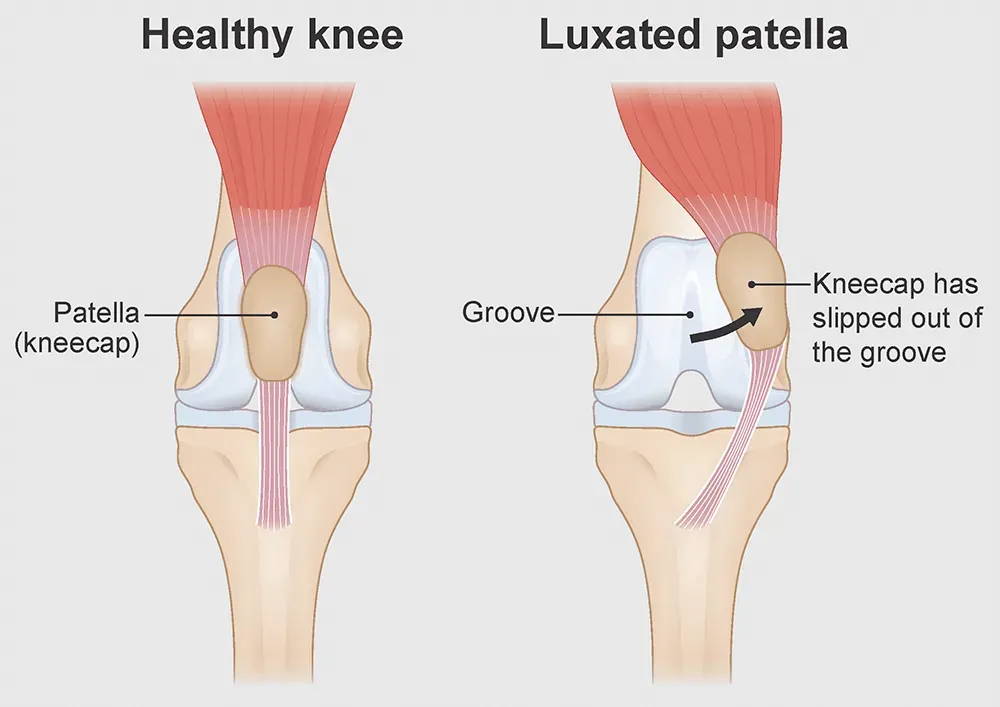 Chihuahuas and Boxers are both breeds that are predisposed to this condition, so it's no surprise that their offspring inherit the same risk. Hip dysplasia is a
degenerative joint disease
that can cause
pain, lameness, and even arthritis.
While it's not always possible to prevent hip dysplasia, there are some things you can do to reduce your Boxachi's risk. For example, make sure they get plenty of exercise to keep their joints healthy and avoid obesity.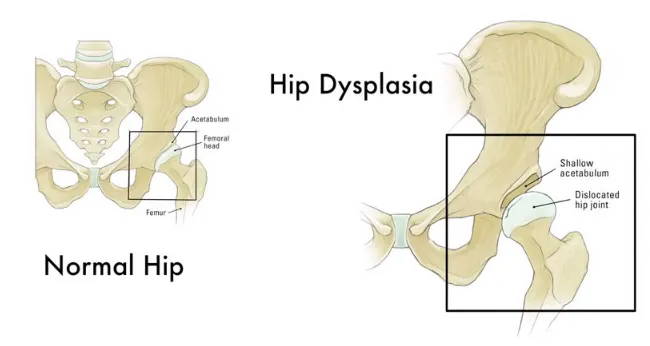 Degenerative myelopathy is a slowly progressive disease of the spinal cord in dogs. The most common breed affected is the Boxer, but the Boxer Chihuahua mixis also susceptible.
The telltale signs of degenerative myelopathy include weakness in the hind legs, difficulty rising, and eventually paralysis. The disease is caused by the degeneration of the white matter of the spinal cord, which leads to the loss of motor neurons.
When caring for a Chihuahua Boxer Mix, you must consider grooming, exercising, training, and feeding.
Chihuahua Boxer mixes are moderate shedders, so you'll need to brush their coat a couple times a week. But unlike some other breeds, you don't need to trim their coat - just give them a good brush and they'll be looking sharp.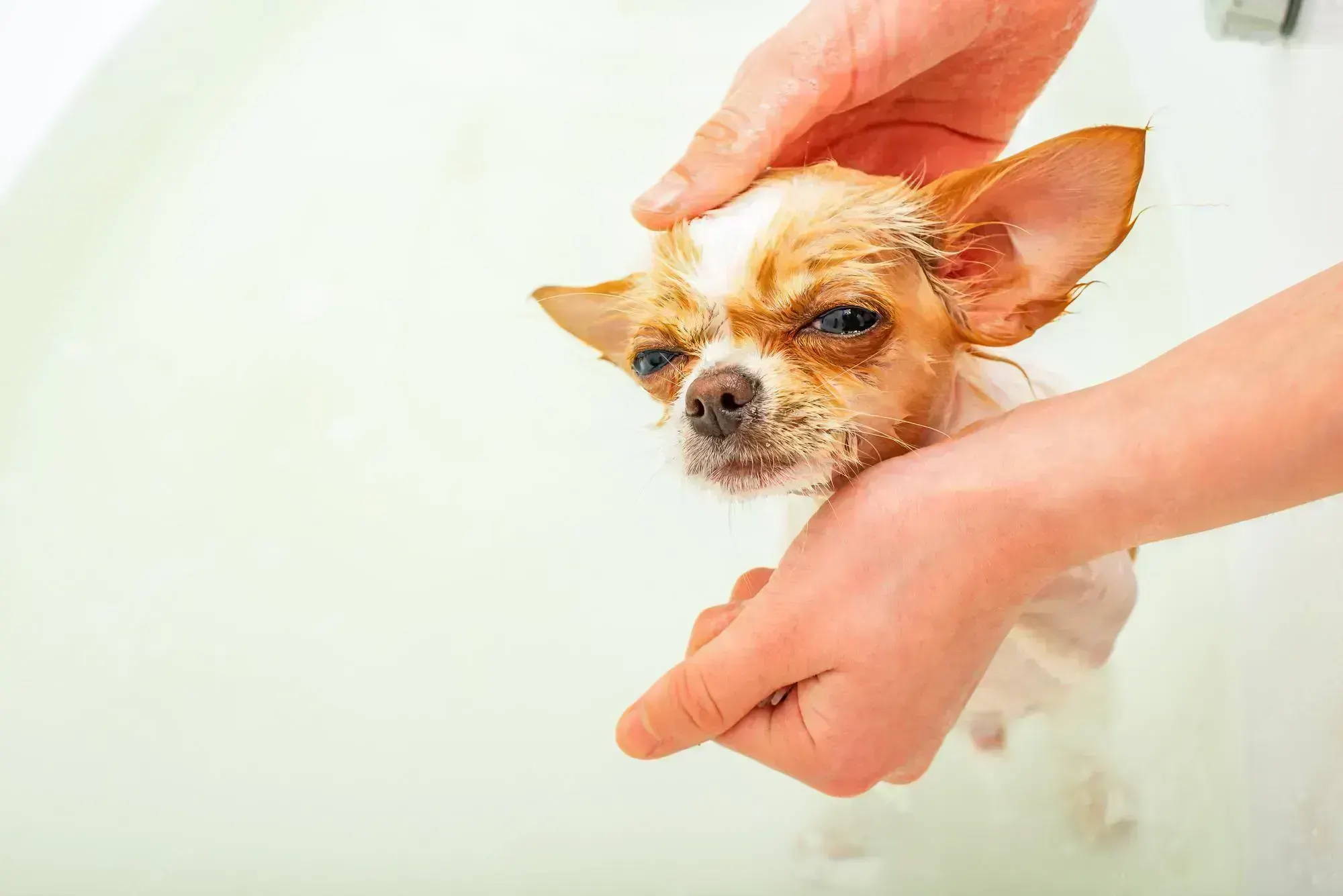 Training a Boxer Chihuahua mix can be a bit of a challenge.
These little dogs are full of energy and can be quite stubborn. However, with a bit of patience and consistency, it is possible to train them to be well-behaved companions.
One of the most important things to remember when training a Boxer Chihuahua mix is to be consistent. This means using the same commands and rewards every time. It can also be helpful to use positive reinforcement, such as treats or praise, to rewards good behavior.
Boxer Chihuahua mixes need on average 2½ to 3 cups of food per day. However, the exact amount will depend on factors such as the size and activity level of your Boxachi.
If you're looking for a dog that will be the life of the party, look no further than the Boxer Chihuahua mix. This hybrid is full of energy and loves to play. He'll thrive in an active household and will be your faithful hiking buddy - just be sure to bring a water bowl, as he's not one for long hikes in hot weather.
Male Boxer Chihuahua mixes are often larger and more muscular than females. They also tend to be more independent and less needy. On the downside, males can be more difficult to house-train and may be more prone to aggression.
Female Boxer Chihuahua mixes, on the other hand, are typically smaller and more delicate. They're also usually more affectionate and eager to please. However, females can be more prone to separation anxiety and may be more difficult to obedience train.
Is the Boxachi right for you?
Not great with small kids
Boxer Chihuahua mixes are not known for being great with young children.
Chihuahuas are already high-strung and prone to snapping, and Boxer's tend to be boisterous, so when you put the two together, you end up with a dog that is both easily startled and quick to anger.
Boxer Chihuahua mixes also tend to be very protective of their food and toys, which can lead to conflicts with kids who don't know how to approach them. If you're looking for a family-friendly dog, a Boxachi is probably not the right choice.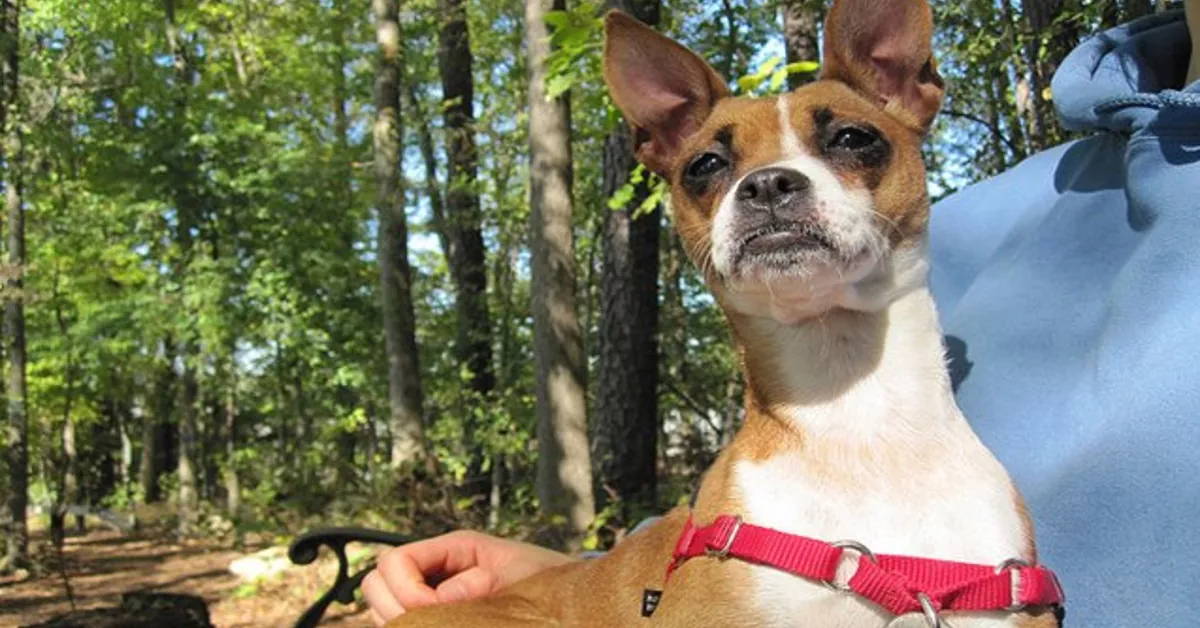 Great for apartment living
The Boxer Chihuahua mix is a popular choice for apartment dwellers.
This hybrid dog combines the best of both worlds, with the playful energy of a Boxer and the small size of a Chihuahua. Boxachis mixes are notoriously loyal, making them perfect companions for those who live alone.
They are also relatively low-maintenance dogs, requiring only moderate exercise and grooming. However, it is important to note that Boxachis can be prone to separation anxiety, so they may not be ideal for those who work long hours or travel frequently.
You want a low-maintenance dog

You have an active lifestyle
You have young children or toddlers

You don't have a lot of time to train a dog

You want a dog who doesn't bark
What is a Boxer Chihuahua Mix called?
A Boxer Chihuahua Mix is also commonly referred to as a Boxachi or a Boxerhuahua.
What does a Boxer Chihuahua Mix look like?
Boxer Chihuahua Mixes can inherit the physical traits of both their Boxer and Chihuahua parents. They typically have a short, smooth coat that is easy to groom. They may also have the characteristic "brachycephalic" face of a Boxer, with a short nose and wide-set eyes.
How long do Boxer Chihuahua Mixes live?
Boxer Chihuahua Mixes have a lifespan of between 10 and 15 years.