Blue Heeler Chihuahua Mix (Chi-Heeler) Breed information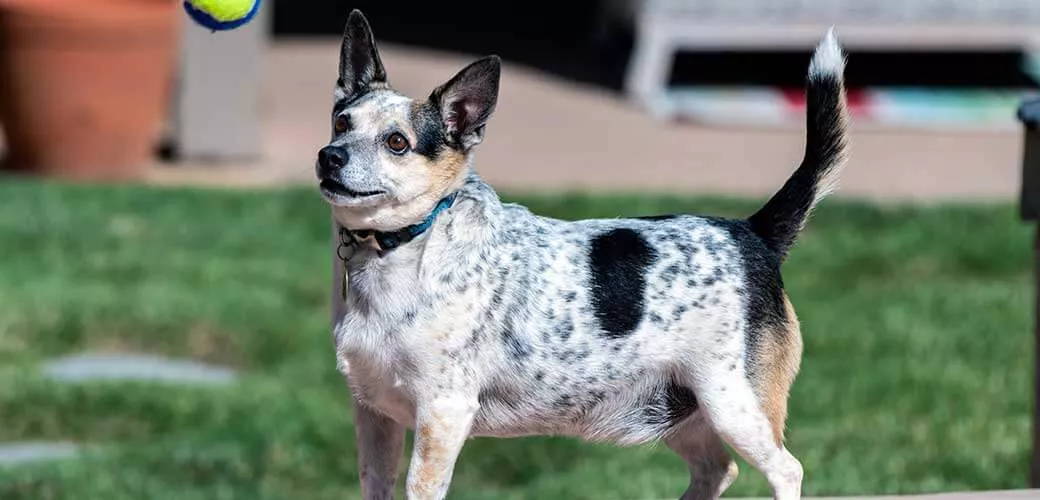 The Chi-Heeler is an unpredictable mix of two distinct breeds, the Chihuahua and the Blue Heeler or Australian Cattle Dog. It's often assumed that a hybrid averages out its parent breeds' traits but in reality, it could produce any outcome!
A cross between a Chihuahua and a Blue Heeler can be pretty adventurous, combining the Chihuahua's alertness with the Blue Heeler's innate drive and energy. Great for active families, this pup loves to romp around outside and explore - just make sure to keep it on a leash!
Blue Heeler Chihuahua Mix
a combination of black, white, grey, tan
active people, experienced dog owners
intelligent, highly trainable, energetic
The Chihuahua is a small, sprightly dog with a big attitude. They are known to be courageous and devoted companions, but their origins remain somewhat of a mystery.
While they were first seen as far back as the 1500s in Central and South America, some believe that the Chihuahua may have come from Asia alongside the wanderings of Spanish settlers.
It is possible that the Aztecs in Mexico may also have contributed to their development – though no one is certain of exactly how or when this happened. Whatever the truth may be about these feisty little dogs' beginnings, one thing is for sure – their popularity around the world continues to grow!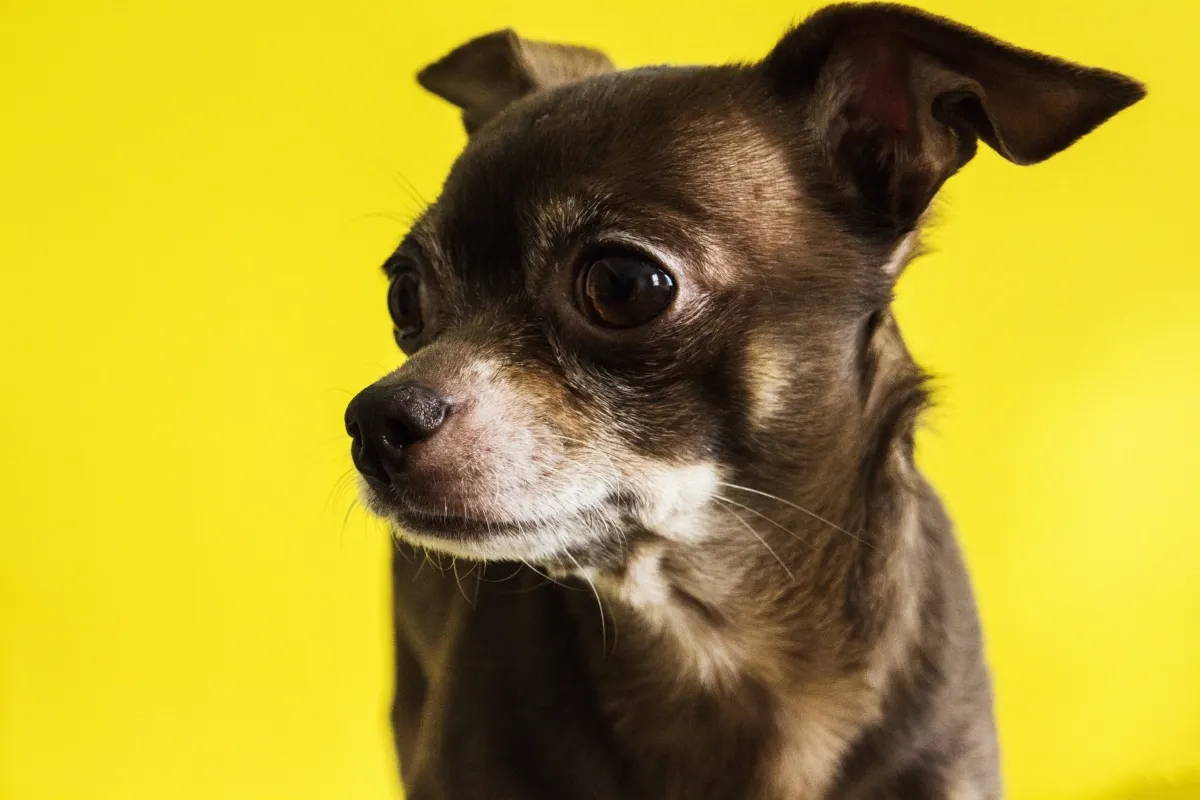 The Blue Heeler – also known by its more formal name, the Australian Cattle Dog – is one of Australia's most iconic dogs. First bred in 19th-century New South Wales, this loyal and hardworking canine was designed to herd cattle in hot and inhospitable fields.
The Blue Heeler is a mixed breed, thought to be a cross between a dingo, an English shepherd, and the now-extinct Smithfield Collie
It's no wonder that this unique combination has given us the wonderful temperaments associated with this breed: fearless, courageous, and whip-smart.
Blue Heelers make great family pets due to their intelligence and protective nature. Next time you see one out on a farm, spare a thought for their exciting origins!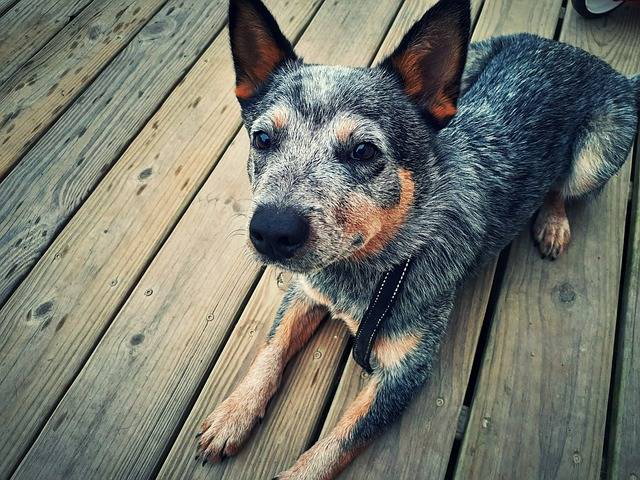 The Chi-heeler, what a unique combination! This spunky pup is a blend of the loyal and protective Blue Heeler and the feisty Chihuahua.
The result? A small dog with an enormous personality.
Chihuahua Cattle Dog mixes tend to be sociable with people they trust, and having a strong bond with their family. They often act as though they hold all the control, but they can't help wanting love and attention right back!
The Blue Heeler Chihuahua mix is not recognized by the A.K.C.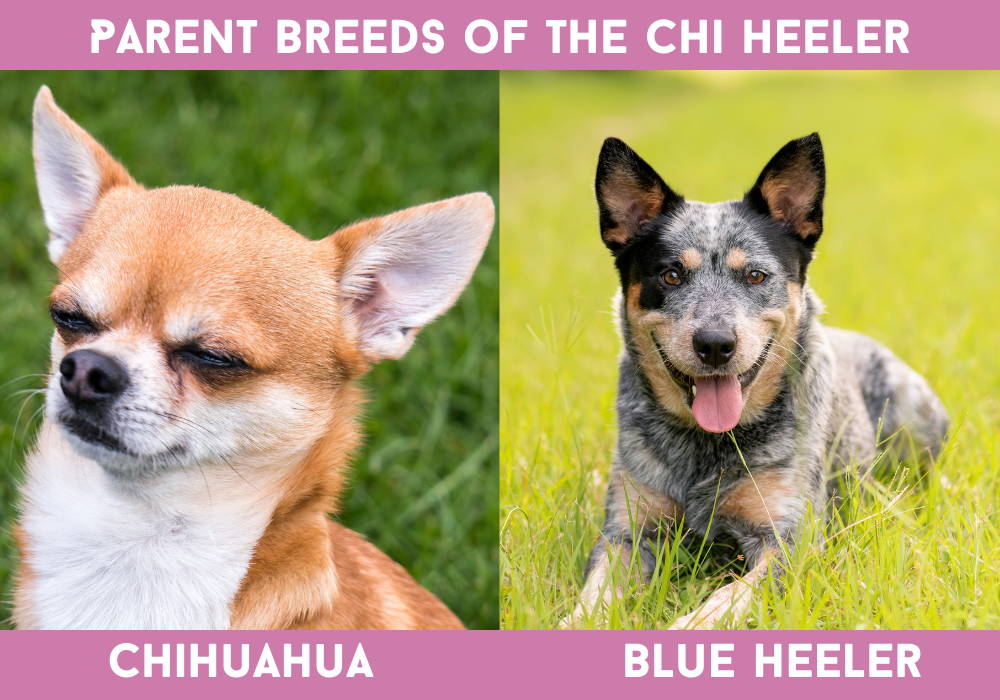 A full-grown Chihuahua will typically measure between 5 and 8 inches, whereas a Blue Heeler reaches anywhere from 15 to 19 inches in height.
Blue Heeler Chihuahua mixes strike a nice size balance – usually between 12 and 15 inches tall – which is obviously much smaller than the Blue Heeler but still boasts a bigger size when compared to its Chihuahua parent.
Due to the differences in parent breeds' size, the mature weight of Cattle Dog Chihuahua mixes can range from as small as 5 pounds all the way up to 45 or more pounds-- it really varies, so there's no one size fits all answer!
The combination of two different breeds can make for an interesting variation in appearance, with the pup's body being a bit more stocky and sturdier than a regular Chihuahua courtesy of its Blue Heeler genes.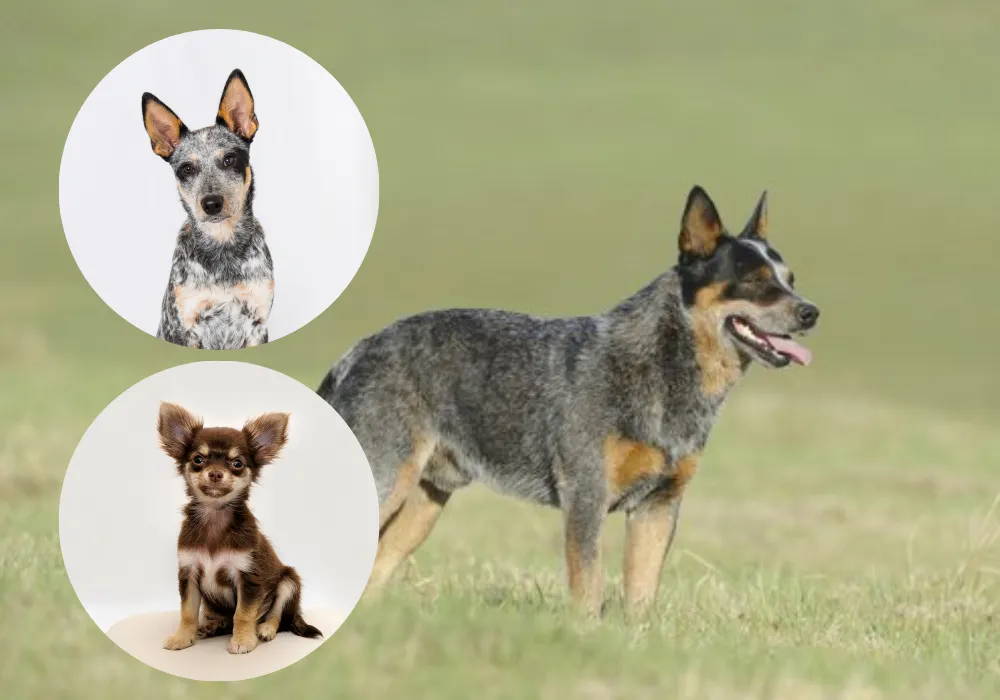 The Blue Heeler Chihuahua Mix is an intelligent breed with a lot of personality.
They are highly trainable and make great family pets. These little pups are focus-driven and often have a fearless attitude.
Despite their small size, they tend to guard those close to them vigilantly, making them ideal for protection training.
On the flip side, excellent socialization and plenty of playtime need to be part of any Chihuahua Blue Heeler Mix's routine in order for them to remain even-tempered and manageable as adults.
Chi-Heeler and other pets
Generally, Chihuahua Bluee Heeler mixes have a lot of energy and need to have plenty of exercise provided, which can become a bit overwhelming for smaller animals.
On the other hand, if socialized properly, Chi-Heelers can be quite playful and friendly with larger pets who have similarly boisterous personalities.
However, there is no guarantee that any particular puppy will like certain animals unless you make sure to introduce your pet gradually to new animals or people under controlled circumstances. Invariably gentle handling goes a long way in helping their socialization process!
If you're considering getting a Chihuahua Blue heeler mix and worrying about the amount of shedding that might be involved, you're in luck!
Chihuahua Blue Heeler mixes do not shed a lot. Even when they do shed, it's usually quite minimal and manageable.
Their shorter coats make brushing and grooming quick and easy - in fact, many owners recommend doing it only once per week. So if you'd rather spend more time playing and cuddling with your pup than chasing around fallen fur, then a Chihuahua Blue Heeler mix could be the right fit for you!
Chihuahua Cattle dog mixes are not hypoallergenic.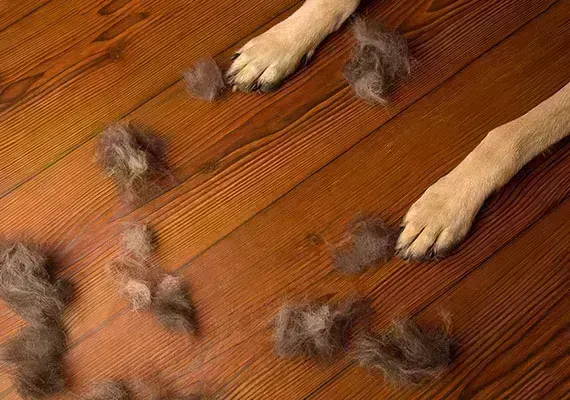 Blue Heeler Chihuahua Mixes typically have a lifespan of between 12 and 14 years.
While these Chi-Heelers may inherit some of their physical and behavioral traits from their parent breeds, they also inherit the same health issues.
Blue Heeler Chihuahua mixes can suffer from a potentially very painful condition known as patellar luxation or 'slipped kneecap.'
This condition causes the kneecap to slip out of place due to a shallow groove in either one or both the femur and tibia. While it's generally found in active small dogs, Blue Heelers have been known to be especially prone due to their long hind limbs and low center of gravity.
Fortunately, there are several treatments that vary depending on the severity; some range from simple physical therapy while others require more invasive measures like surgery.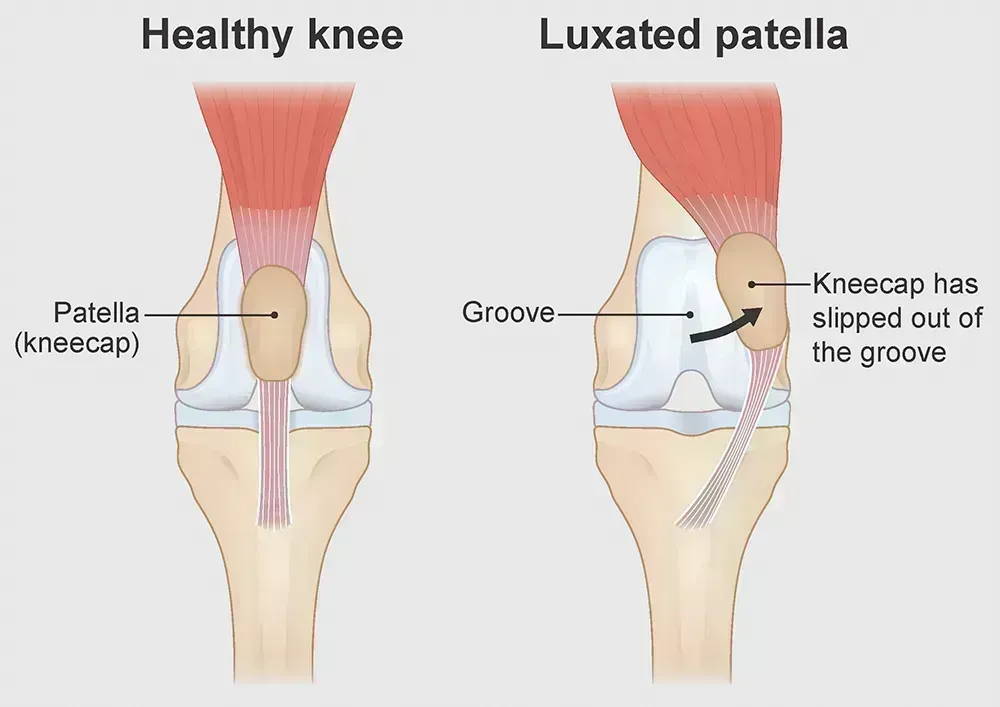 Chihuahua Blue Heeler mixes can suffer from a painful condition known as hip dysplasia. This is an inherited joint condition where
the hip socket does not form correctly
resulting in
pain
for the dog and
lameness.
It's important to get your Chi-Heeler from a reputable breeder who checks for any health conditions or genetic diseases.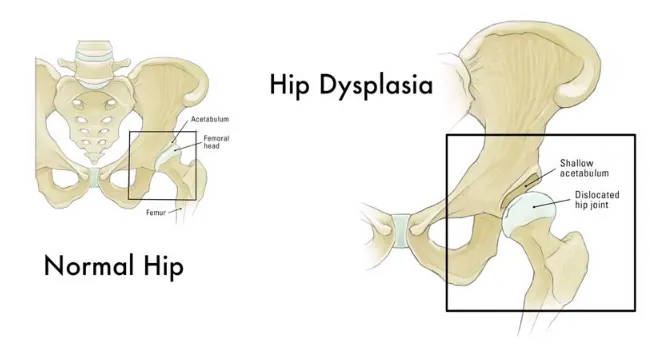 Often described as a "dry" form of retinitis pigmentosa, it's an eye disorder that causes the complete or mostly-complete degeneration of its sufferers' photoreceptor cells over time.
This means poor eyesight and eventual blindness. Progressive retinal atrophy can affect all dog breeds so owners should always be aware and look out for any signs - such as an increased aversion to light or difficulty seeing at night - that may indicate PRA.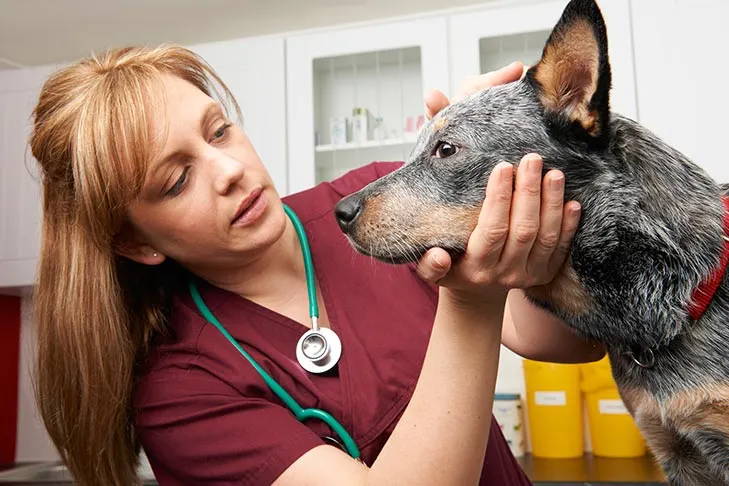 When caring for a Chihuahua Blue Heeler mix, you must consider grooming, exercising, training, and feeding.
Chihuahua Cattle dog mixes have long, silky fur that requires daily brushing, especially if they spend time outdoors. You should use a pin brush to remove any knots or tangles in the fur, followed by a slicker brush or metal comb to smooth it out and remove any remaining debris.
Additionally, you will need to bathe your Cattle Dog Chihuahua mix every few months using an appropriate dog shampoo formulated for their specific breed and skin type.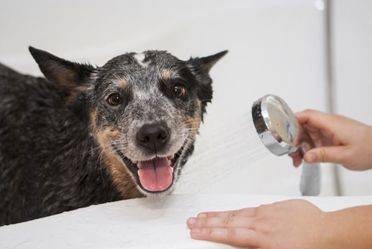 Training a Blue Heeler Chihuahua Mix can take some patience, but the results are well worth it!
This lovable and fun-loving bundle of energy is eager to please and can benefit from regular training. Start by teaching basic commands such as 'sit', 'down', and 'stay' while using positive reinforcement techniques, such as treats and verbal praise.
As your Blue Heeler Chihuahua mix becomes more confident in these commands, move on to more advanced skills like walking on a leash without pulling or coming when called.
Feeding a Blue Heeler Chihuahua Mix requires careful attention to breed-specific nutrition, as this unique combination of breeds comes with its own set of dietary needs. The Blue Heeler in the mix will usually require more of a high-protein diet than the Chihuahua, while the latter may need an increased portion of omega fatty acids.
For adults Chi-Heelers, 1 to 2 cups of dry kibble should be served twice daily under close supervision.
When it comes to treats, moderation is key. Healthy snacks such as boiled chicken, fruits and vegetables are all approved additions that can add nutritious value to your dog's diet.
The Blue Heeler Chihuahua mix is sure to have a whole lot of energy and need plenty of activity. If you're the lucky owner of this clever but energetic pup, then it's time to plan some fun activities that will keep them thriving.
The Chi-Heeler, blending the diminutive size of a Chihuahua with the rugged durability and athleticism of a Blue Heeler, requires an amount of physical stimulation somewhere in between those two breeds.
While they won't need the long exercise sessions that Blue Heelers thrive on, they'll still need plenty of ways to put their energy into good use. If a nice long walk isn't enough for your pup, creativity is key - think about fetching games in a large open area or puzzle-solving toys for mental stimulation as well.
Male vs Female Chi-Heeler
When considering a Blue Heeler Chihuahua Mix, there are some subtle differences between the genders. Male dogs tend to have more energy and drive and are sometimes more difficult to train; however, these same qualities often make them ideal for competitive sports like obedience or agility.
Female Blue Heeler Chihuahua mixes, on the other hand, tend to be calmer and less excitable. When trained properly, females are very loyal companions who can do well in active homes if given appropriate exercise.
Is it the Chi-Heeler right for you?
For experienced dog owners
Blue Heeler Chihuahua Mixes are not the perfect pick for first-time dog owners.
These pups have an incredibly high energy level and can be quite bossy—two things that might take some getting used to if you don't have previous experience with a pet.
Sure, they're beautiful and smart, but they require extra attention and patience to ensure they stay well-behaved. They're certainly not lazy dogs either; they love to go out on long walks almost as much as running in open fields with other four-legged friends.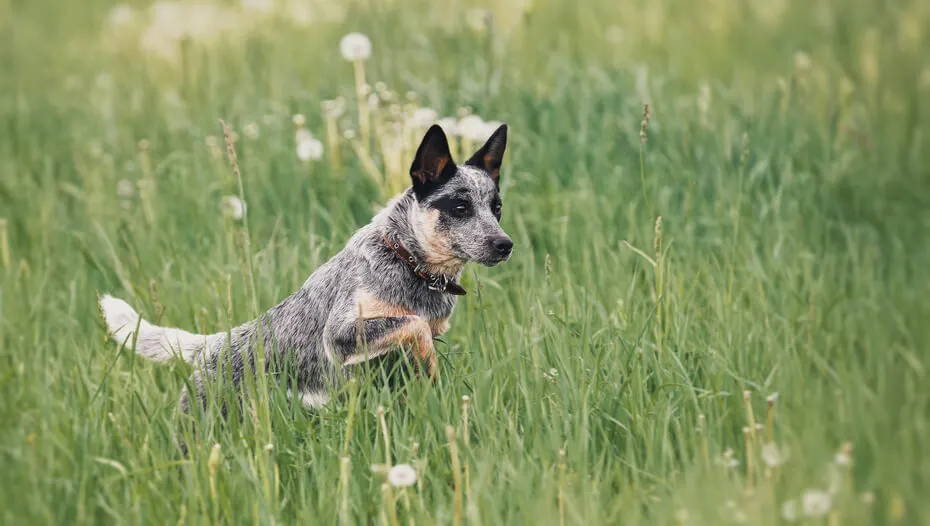 As we said before, owning a Blue Heeler Chihuahua Mix means that you need to be prepared to offer plenty of physical and mental stimulation.
Taking them on leisurely walks won't be enough; they need active moments in their life full of running, jumping, and playing around.
This can be especially challenging for those who live in small apartments since these high-energy pooches need a lot of space to burn off energy.
In a small apartment, you can expect from your Chi-Heeler bad behavior such as destructive tendencies or excessive barking.
You have a very active lifestyle

You want a dog that doesn't shed a lot

You want a dog that is highly trainable
You have young kids or toddlers

You live in a small place
What is a Blue Heeler Chihuahua Mix called?
A Blue Heeler Chihuahua mix is commonly known as a Chi-Heeler.
What does a Blue Heeler Chihuahua Mix look like?
Depending on which parent breeds the Chi-Heeler gets their traits from, they can have blue or blue-and-tan coats, long or short legs, and different body types. Generally, they will be small to medium in size with a strong athletic build.
How long do Blue Heeler Chihuahua Mixes live?
The average life expectancy of a Blue Heeler Chihuahua mix is around 12-14 years.