IVDD: The Most Common Cause Of Back Problems in Chihuahuas
If you are a Chihuahua owner, it is important to be aware of Intervertebral Disc Disease (IVDD).
IVDD affects the bones and discs between each vertebrae in the spine and is often seen in Chihuahuas as well as other small breeds.
Due to their very small stature, Chihuahuas may not display symptoms until the issue has become severe causing irreversible damage.
In this blog post, we'll cover what IVDD looks like, how you can prevent your Chihuahua from getting this serious back problem, and treatments available when needed.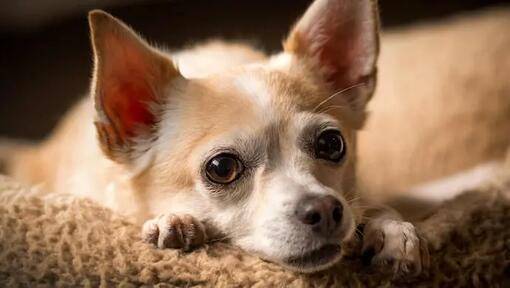 IVDD: the most common cause of back problems in Chihuahuas
Intervertebral Disk Disease is a condition that affects the interebral discs in a Chihuahua's spine. This commonly occurs in chondrodystrophic breeds such as the Dachshund, Shih Tzu and Bassett Hound, but even Chihuahuas can develop it.
While it can occur at any age, it is most commonly seen in adult Chihuahuas over the age of 7. It's important to note that all Chihuahuas have 34 bones in their spine, which are surrounded by nerves, muscles, ligaments, blood vessels, and interebral discs.
The spine safeguards the delicate spinal cord and maintains the Chihuahua's physical structure. Each of the 34 spine bones is separated by shock-absorbing disks. However, problems arise when these disks slip or burst, leading to discomfort, numbness, weakness, and even paralysis.
Chihuahuas have 2 distinct varieties of IVDD:
- It is uncommon for Chihuahuas to develop Type I IVDD, which typically starts at a young age.
- The Chihuahua breed is often affected by the second type of IVDD, which typically occurs during the 6 to 10-year age range.
Type I involves the hardening of the outer layer of the intervertebral discs, which increases the likelihood of damage during vigorous activity. Type II herniation occurs when the discs become fibrous and hardened over time, resulting in bulging and pressure on the spinal cord.
What are the causes of IVDD in Chihuahuas?
Discs can rupture or move abnormally in three ways.
The Chihuahua could be experiencing acute trauma, indicating a severe and sudden injury that may be caused by a motor vehicle, dog attack, or fall from a great height.
Natural disc degeneration
As Chihuahuas age, some may experience a common problem called natural disc degeneration.
This occurs when the discs in the spinal column become stiff and fibrous over time, eventually breaking down and pressing against the spinal cord.
Did you know that your Chihuahua's back can easily be affected by an unexpected jarring movement? Even everyday activities that you may not suspect can cause problems.
Keep an eye out for any sudden jerks or movements that your Chihuahua may make to avoid causing unnecessary discomfort.
What are the symptoms of IVDD in Chihuahuas?
Chihuahuas can covertly injure their backs, with symptoms appearing long after the incident. Owners may notice their Chihuahua becoming fidgety. As inflammation sets in, the pain intensifies.
Pain in Chihuahuas can spread to various body parts, impacting their behavior and appetite. Intervertebral Disc Disease can cause a range of symptoms, which may vary in severity. While some signs may not be noticeable, the pain can be intense for others.
If you have observed two or more of the following, it is possible that your Chihuahua is experiencing IVDD:
- Your Chihuahua is experiencing neck pain and stiffness, which hinders its ability to turn its head sideways.
- Your Chihuahua is holding their head down lower than usual.
- Your Chihuahua has been yelping when touched, picked up, or moving in a certain way.
- Your Chihuahua's belly might hurt when touched.
- Your Chihuahua's back is arched and in a hunched posture.
- It appears that your Chihuahua is exhibiting signs of restlessness or aggression, which may be due to pain.
- Your Chihuahua's hind leg is limping, causing hopping, favoring one leg, or dragging.
- Your Chihuahua seems weak
- Your Chihuahua is having difficulty getting up from a laying position.
- Your Chihuahua walks with stiffness, indicating a potential health concern.
- Your Chihuahua is shaking
- Your Chihuahua is experiencing a loss of coordination.
- Your Chihuahua is experiencing bladder control loss.
- Your Chihuahua is experiencing hind-leg paralysis.
How is IVDD diagnosed in Chihuahuas?
For Chihuahuas with back issues, it's best to go to a regular vet first. However, if the situation is complicated, it's advisable to consult a veterinary neurologist.
To diagnose IVDD in Chihuahuas, the following steps are necessary:
Full physical examination
During the vet's visit, they will check for shaking, faster heart and breathing rates, sensitivity in the abdominal area, weakness in the rear, and limb pain.
The vet will conduct a thorough blood analysis, including a complete blood count and serum biochemistry panel.
The Panniculus test is conducted with a small needle inserted into the Chihuahua's skin to test the Chihuahua's sensation in that area.
The skin will react if the Chihuahua can feel the needle. Moving the needle allows the veterinarian to identify which vertebrae may be affected. The test is non-invasive but informative.
Proprioceptive deficits testing
The Proprioceptive Deficits Test determines a Chihuahua's ability to perceive the position of their limbs without visual cues.
The Myostatic exam, also referred to as the Knee jerk reflex.
Deep pain / withdrawal reflex
When a Chihuahua's toe is pinched, they will typically withdraw their leg in response. However, Chihuahuas with IVDD may not have this reflex due to a back injury, which can cause deep pain and discomfort.
X-rays, also known as radiographs, are useful for veterinarians to diagnose slipped discs and other spinal issues in Chihuahuas.
X-rays can also reveal cysts, tumors, or infections. When investigating intervertebral disc disease (IVDD), calcified discs are a key indicator, but they are usually invisible on X-rays. While an X-ray is a noninvasive test, it can cause discomfort for a Chihuahua with severe back problems.
Therefore, sedation may be considered to ensure the Chihuahua's comfort during positioning.
The myelogram, also known as the 'dye test', involves safely injecting a dye into the Chihuahua's body. This allows the neurologist to see the spinal cord's outline and is a necessary pre-surgery procedure.
How is IVDD treated in Chihuahuas?
For most cases of IVDD in Chihuahuas, non-invasive treatment will be attempted first before resorting to more severe measures.
This treatment plan includes:
The prescribed rest for your Chihuahua is strict cage rest, meaning playpens and doorway gates are not suitable. Your Chihuahua must be in a small enough cage that prohibits jumping, running, and significant movement.
Consistency with this restriction is crucial, as Chihuahuas who do not improve may require surgery. Typically, limited movement is advised for up to 3 weeks.
Anti-inflammatory medication
Cortisone is a common anti-inflammatory medication that targets pain and swelling simultaneously.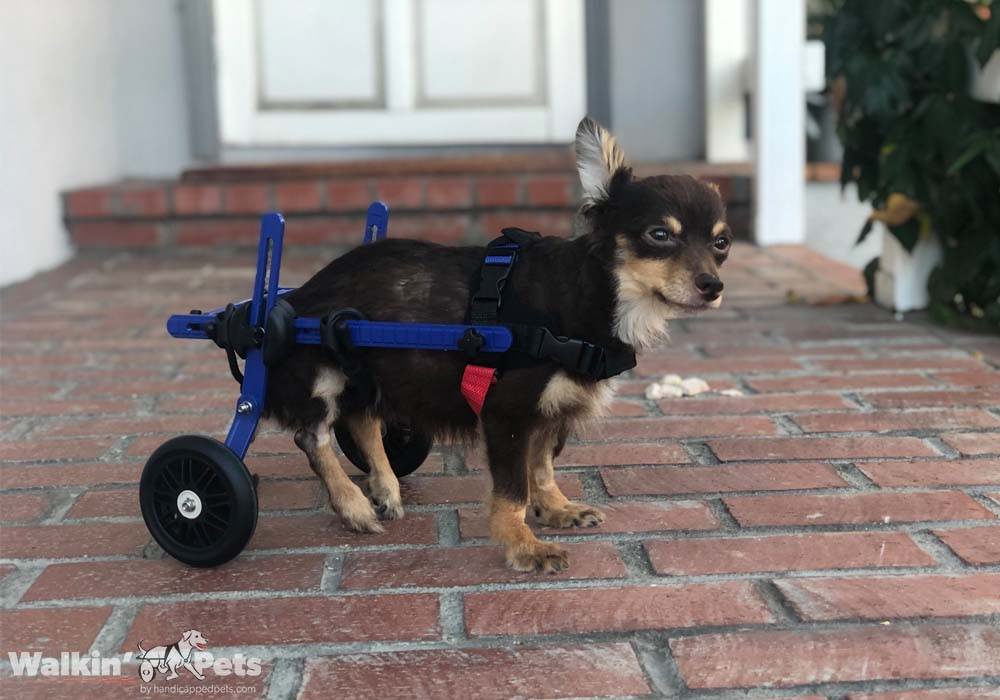 Muscle relaxants alleviate tension in the back and reduce spasms.
After 3 weeks of restricted movement and medication, it's crucial to continue limiting a Chihuahua's activity or exercise for another 3 weeks if it has helped them feel better.
Otherwise, the Chihuahua may experience another back injury. Anti-inflammatory medications can be administered during this period.
In the following cases, surgery is the recommended form of treatment:
- The Chihuahua is paralyzed.
- The Chihuahua is experiencing persistent issues with their back.
- The first attempt at treatment did not yield desired results.
The operation aims to alleviate pressure on the Chihuahua's spinal cord by removing a piece of the vertebral body or cleaning out the disc tissue.
This brings significant pain relief to Chihuahuas with back issues. The recovery from surgery may be challenging and includes hydrotherapy and physical therapy. Moreover, the procedure can relieve pain in the back area of even paralyzed Chihuahuas.
How to prevent IVDD in Chihuahuas?
Providing excellent care to your Chihuahua throughout their life can improve their chances of healthy senior years, despite uncontrollable aging effects.
Prevent your Chihuahua from regularly jumping off furniture to avoid back injuries. Place canine foam steps in areas your Chihuahua tends to jump down from to keep them safe and sound. Protect your Chihuahua's health and comfort with this simple solution.
It's important not to push your Chihuahua too hard during exercise to prevent over-exertion.
If you notice any indications of potential back issues in your Chihuahua, it's crucial to promptly take them to the vet for a comprehensive assessment.
How common is IVDD in Chihuahuas?
Intervertebral Disc Disease is the most common cause of spinal pain in Chihuahuas. The condition affects Chihuahuas of all ages, but is especially prevalent among older Chihuahuas due to wear and tear on their spines.
Does IVDD in Chihuahua always require surgery?
No, not always. Depending on the severity of a Chihuahua's back pain, surgery may not be necessary. Non-invasive treatments such as rest and medication can typically do the trick in mild cases. In more severe cases, however, surgery may be required for optimal recovery.
Is hydrotherapy beneficial for Chihuahuas with IVDD?
Yes, it is. Hydrotherapy, or aquatic therapy, is a great way to rehabilitate your pup if they have suffered from Intervertebral Disc Disease. It provides low-impact exercise and relaxation in the water that helps relieve pain and improve mobility.
Is IVDD in Chihuahuas painful?
Yes, it can be. Chihuahuas suffering from IVDD usually experience severe pain and discomfort in their back area. If left untreated, the condition can become even more painful as time passes by.