Australian Shepherd Chihuahua Mix (Aussie-Chi) Breed information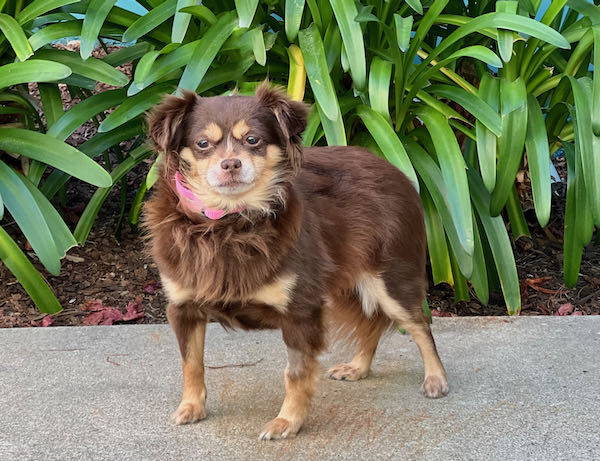 The Aussie Hua Hua (or Aussie Chi, if you prefer!) is an intriguing breed. This mix between an Australian Shepherd and a Chihuahua can have a variety of looks, sizes, and temperaments.
But don't worry - all that information can be found right here, so you can make an informed decision for yourself on whether or not this Chihuahua cross fits your lifestyle. We'll cover their traits like physical features, health issues to look out for, their personalities, how they respond to training, and more!
Australian Shepherd Chihuahua mix
Aussie Chi, Aussie Huahua
marbled, blue, tan, black, white
families with young children, active people
smart, energetic, territorial, loyal
The Chiwawa is one of the world's smallest and most popular dog breeds. These lively little pooches are known for their boundless energy, playful personalities, and unwavering loyalty.
Chihuahuas come in a wide range of colors, including white, fawn, black, and cream, as well as a variety of coat lengths from short to long.
Although they often act much larger than they are, these cuties only weigh between four to six pounds when fully grown! Chis love spending time with their owners, so if you're looking for a companion to keep you company you can't go wrong with one of these spunky little dogs.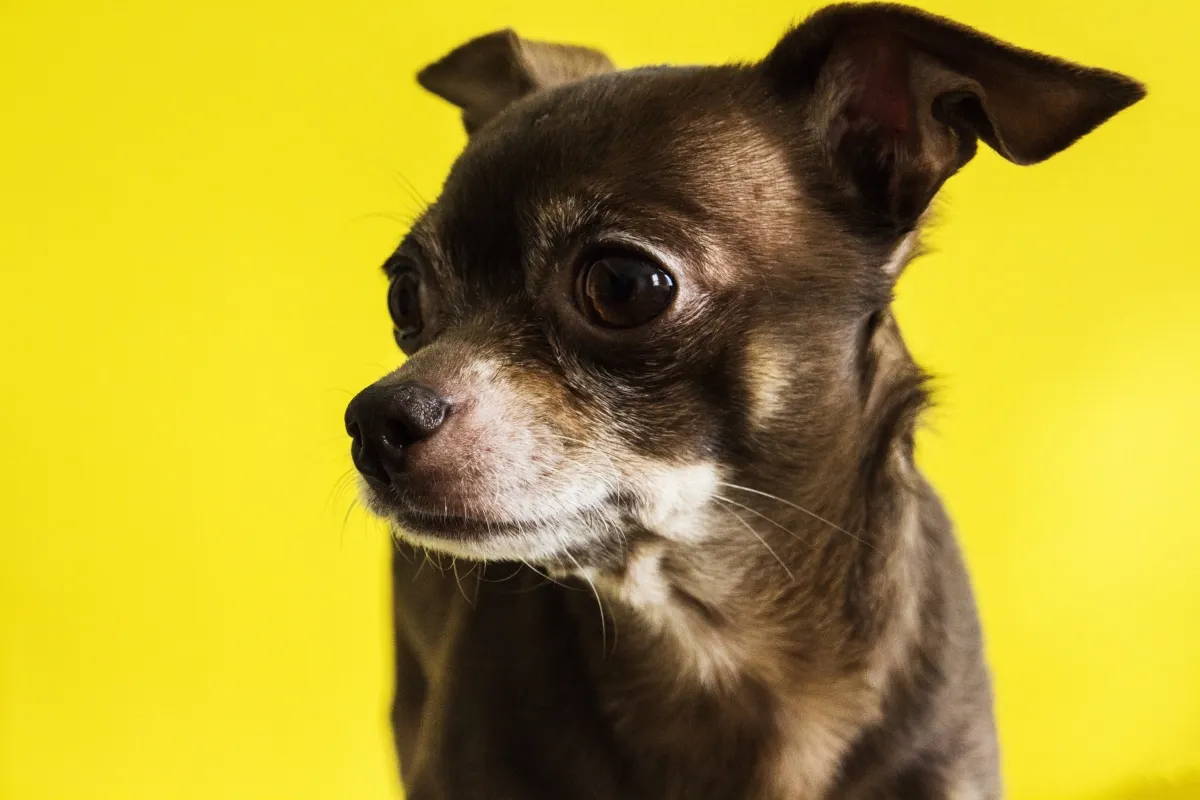 The Australian Shepherd Dog breed certainly lives up to its name. These intelligent, loyal dogs were initially bred in the United States to work on ranches and farms and are typically used as herding dogs.
They can often be seen exercising their natural herding ability by gently gathering family members together if they stray too far! Because of their high energy levels, these dogs need a lot of exercise and mental stimulation in order to thrive.
And luckily, they are a fun-loving breed that loves to play catch, run in the park, or go for a long walk. Australian Shepherds also have a remarkable ability to remember commands with very little repetition because they pick up information quickly.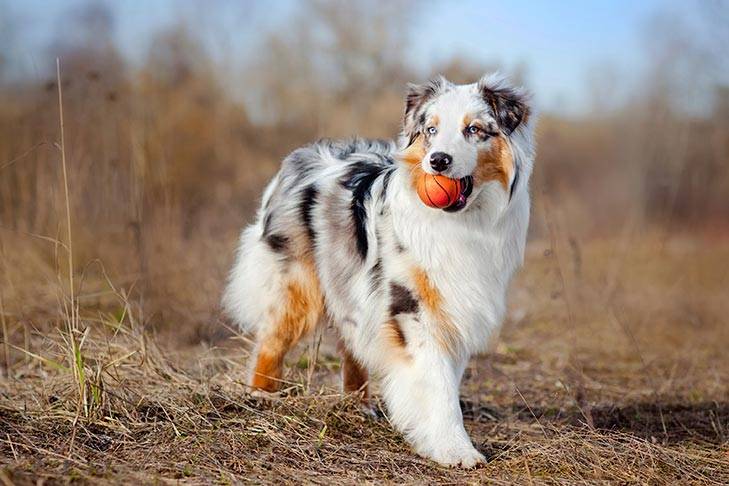 Australian Shepherd Chihuahua mixes are a great option for those looking for a small dog that can still provide the energy of an Australian Shepherd.
They're small enough to be suitable in both homes with yards and apartments, but they are known to have more energy than other small breeds like the Chihuahua.
Not only do they make excellent apartment dogs as they thrive in smaller spaces, but their active nature makes them a perfect choice for someone that loves to be outdoors and likes long walks or jogs.
The Aussie Chi is a wonderful combination of the intelligence of an Aussie Shepherd and the sassiness of the Chihuahua – creating a happy, playful pup with a calm disposition.
The Aussie Chi is not recognized by the A.K.C.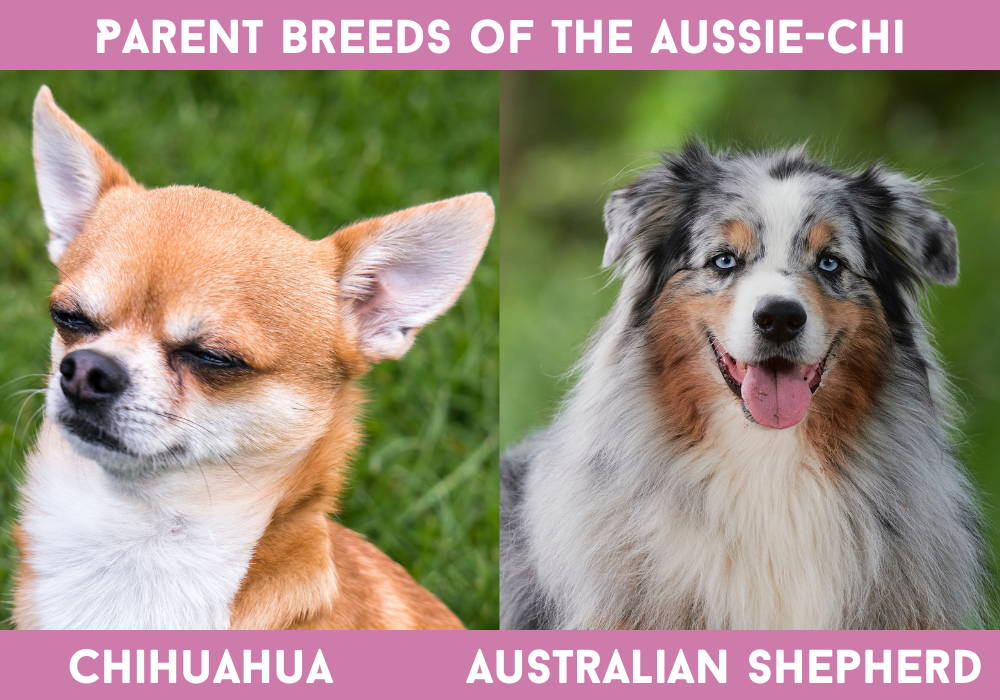 For many dog lovers, the Australian Shepherd Chihuahua mix is a breed that's hard to resist. This designer dog is incredibly cute and easy to carry around due to its small size.
In terms of looks, it really is a hybrid of both its parent breeds - it has the tall and sleek body shape of an Aussie Shepherd coupled with the small size of a Chihuahua. It's quite delightful - they have the face and eyes of a Chihuahua and their ears are just as big!
Although the Aussie Chi may seem stubby when compared to an Aussie Shepherd, they are much taller than your average Chihuahua, so keep that in mind when you're getting one!
The Australian Shepherd Chihuahua mix is a bundle of beauty and vibrancy, boasting coats in several spectacular colors from rich reds to lush blues. Some puppies even sport the multicolored 'tri-color' option or unique and eye-catching merle versions.
A full-grown Aussie Chi can range anywhere from 10 to 16 inches tall, which sits right in the middle of the 6 to 9-inch heights of a Chihuahua and the 18 to 23-inch heights of an Australian Shepherd.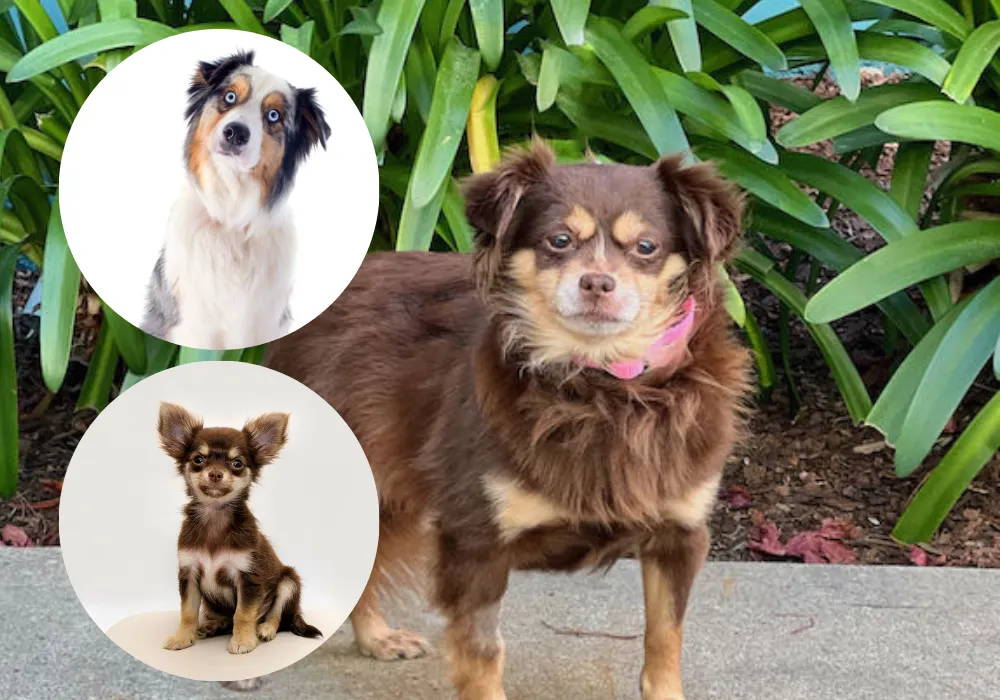 The Chihuahua Australian Shepherd mix is an incredibly energetic and friendly pup. He's the perfect pet for people who like to stay active, as he loves regular exercise and plenty of attention.
As a loyal pup, he is sure to never leave your side and might even offer a few warm snuggles from time to time! Even with their small size, Aussie Chis are full of spunk and may sometimes be stubborn.
However, when given love and affection, they are quick to learn obedience commands as well as tricks. All in all, this cute pup can offer lots of fun and surprises!

Aussie-Chi and other pets
Despite their small size, Aussie Chis have the high energy, intelligence, and loyalty of their Aussie Shepherd heritage, making them great playmates for both children and other animals.
However, the unpredictable nature of their Chihuahua roots means that Australian Shepherd Chihuahua Mixes should be carefully socialized when young to ensure they get along with other pets in the future.
With proper training and discipline, they can be quite loving towards other animals in the home. In short, an Aussie Shepherd Chihuahua can certainly coexist with other pets if given a chance!
If you're looking for a low-shedding pup, the Chihuahua Australian Shepherd Mix might not be the best fit for you.
Since both parents are considered to be moderate to heavy shedders, their hybrid offspring will likely follow suit. Although it's impossible to predict exactly how much a Chi-Aussie will shed due to its mixed genetics, one thing's for sure: brushing your Aussie Chi regularly will reap plenty of rewards.
Not only does regular brushing help prevent bothersome mats and tangles, but it's also an opportunity for quality bonding time with your pup. You can make the most out of a good brushing session by offering occasional treats and lots of love - that way, both you and your pup can reap the benefits that come along with proper grooming.
The Australian Shepherd Chihuahua mix is not hypoallergenic.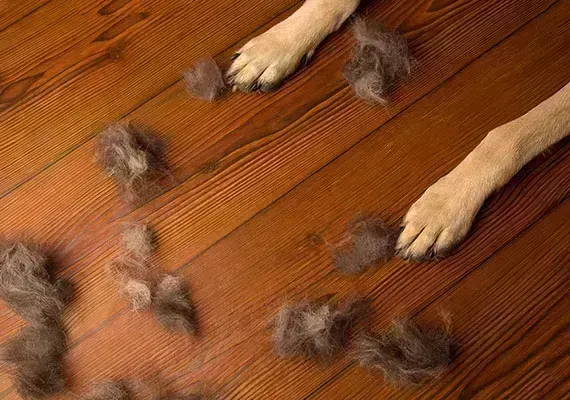 Chihuahua Australian Shepherd Mixes typically have a lifespan of between 12 and 17 years.
While Chihuahua Australian Shepherd Mixes may inherit some of their physical and behavioral traits from their parent breeds, they also inherit the same health issues.
Luxating patella is more commonly referred to as "floating kneecaps". This condition affects the anatomical structure of the Aussie Chi's legs and can often lead to pain and inflammation.
In order to ensure your Aussie Chi gets the best treatment possible, take them to their vet for regular check-ups and keep their diet balanced with nutritious foods. With that said, luxating patella needn't be a hurdle, as proper veterinary care go a long way in helping your Chihuahua Australian Shepherd enjoy life!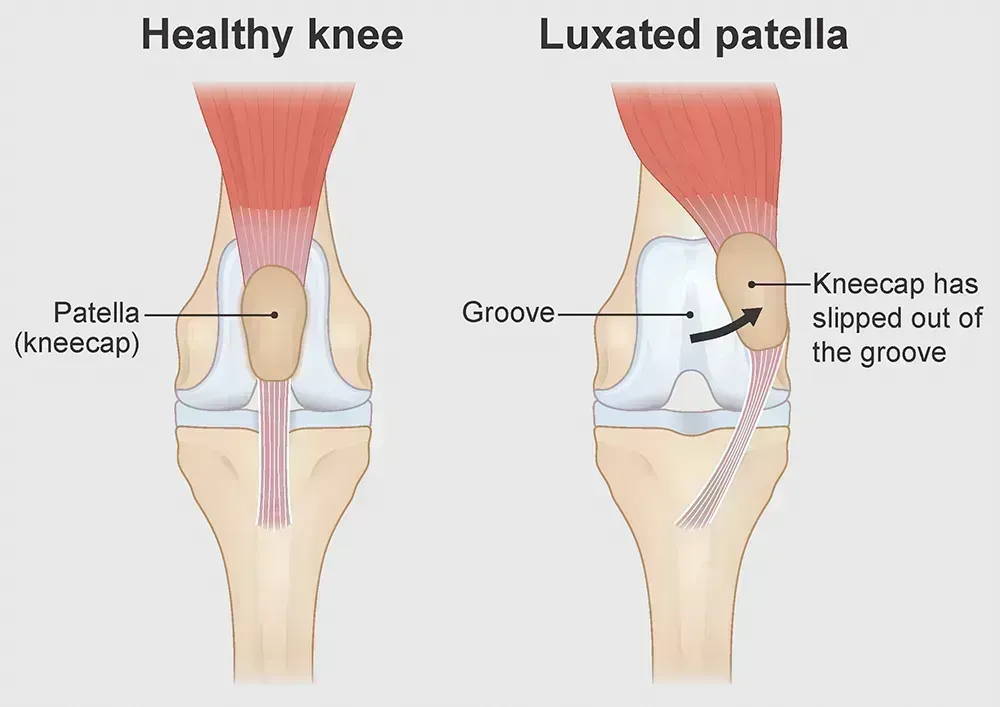 Sadly, Chihuahua Australian Shepherd mixes are prone to developing hip dysplasia, a condition where
the ball and socket joint at the hip deteriorates gradually over time.
Early diagnosis is key when it comes to managing this illness, yet because of the fluffy coat that hides them so well, signs of pain and distress can go unnoticed for too long. As with any breed, regular exercise on brisk walks is an important part of maintaining a good quality of your Aussie Chi.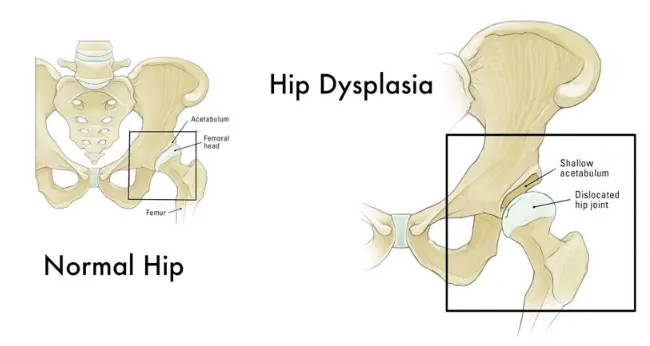 Australian Shepherd Chihuahua Mixes can also suffer from serious respiratory-related issues such as tracheal collapse. This devastating condition affects the integrity of the cartilage rings responsible for holding thee trachea open, leading to wheezing and labored breathing due to partial or even complete obstruction of the airways.
If left untreated, Aussie-Chis can experience severe breathing difficulty, which is why it's important to bring them to a vet for regular check-ups in order to maintain their optimal health.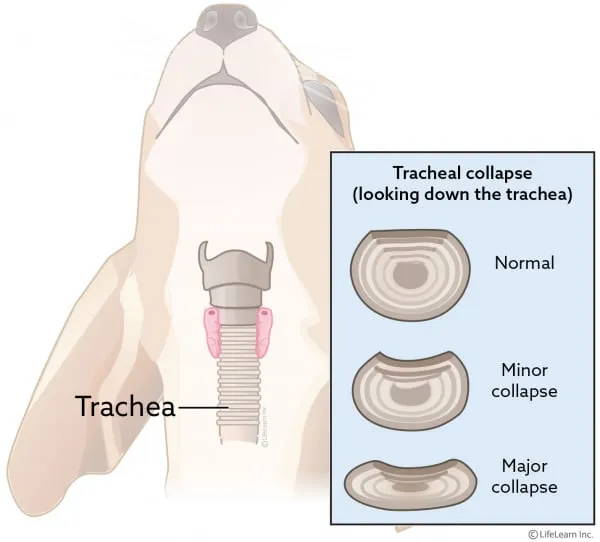 When caring for a Chihuahua Australian Shepherd Mix, you must consider grooming, exercising, training, and feeding.
The Aussie Chi often shares the same sorts of fur coat as its Australian Shepherd predecessor.
Its thick, double-layered coat is specially designed to weather all kinds of tough elements, but it also means regular grooming sessions are necessary!
To keep your Aussie Chi's fur from matting or cluttering up your home, daily brushing should help - if not daily, at least every other day. And for this particular breed, deshedders or pin brushes are recommended!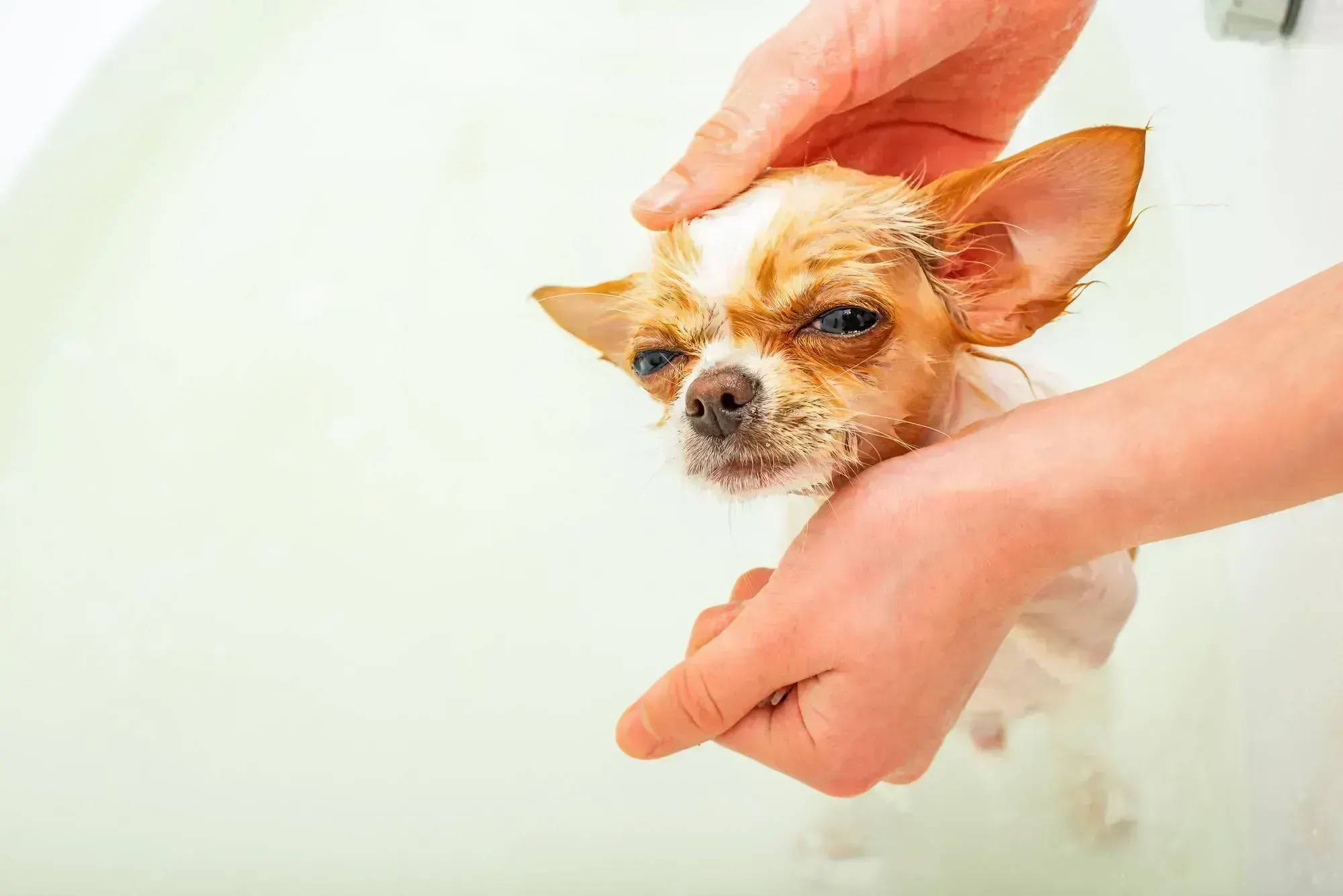 Not only Chihuahua Australian Shepherd mixes are highly intelligent, but they're also exceedingly responsive to training, making them ideal for activities that enhance their alertness such as agility courses.
The good news is they'll be equally as thrilled to learn some fancy tricks or compete! Despite the fact that Aussie Chis tend to be dominant, you can have them following your lead in no time with the right correction and consistency.
All in all, Australian Shepherd Chihuahua mixes make great companions in an active home with clear boundaries.
With an Aussie Chi, you can find yourself facing a unique dietary challenge. You want to make sure your pup is getting the best nutrition possible at every meal, but since it's a mix of two different breeds - an Australian Shepherd and a Chihuahua - deciding on an ideal diet isn't easy.
To start off with the safest possible option, high-quality commercial dog food is recommended as it ensures that all their dietary needs are met. If you're feeling more adventurous, you could also consider making homemade dog food; just make sure to check with your veterinarian first so that your pup is getting the right combination of proteins and carbs in their diet.
An Australian Shepherd Chihuahua mix is the perfect pup for anyone looking for a companion with a lot of get-up-and-go.
Just make sure you are prepared to give these dogs lots of attention; they need plenty of exercise and training to keep their spirits high.
A nice long walk or a jog every day is a great way to help them stay healthy and happy, in addition to regular playtime and mental stimulation through obedience classes. Aussie Chis have an abundance of energy that needs to be put to good use - but don't worry, the rewards for all this work will be plenty!
Male vs Female Aussie-Chi
Male Aussi Chis puppies are generally larger and more protective than their female counterparts, making them better guard dogs for those who want a loyal companion. Females Chihuahua Australian Shepherd mixes tend to be more timid and shy, but can still have an active attitude when it comes to bonding with family members.

Both males and females of this breed have goofy personalities and love to show off their athletic skills if given the opportunity!
Is it the Aussie-Chi right for you?
An Australian Shepherd Chihuahua mix is the perfect pup for any family.
He's energetic and he loves to stay active — running and playing fetch, with a clever, alert presence that makes him fantastic at protecting his fur friends and their home. He has more personality than you can imagine in one canine, combining the gentle care of an Aussie Shepherd with the alertness of a Chihuahua – and all wrapped up in a furry bundle of joy.
The Aussie Chi is an amazing companion for kids because he is always down for exploring and playing games. If your bunch needs a loyal playmate, look no further than this pup!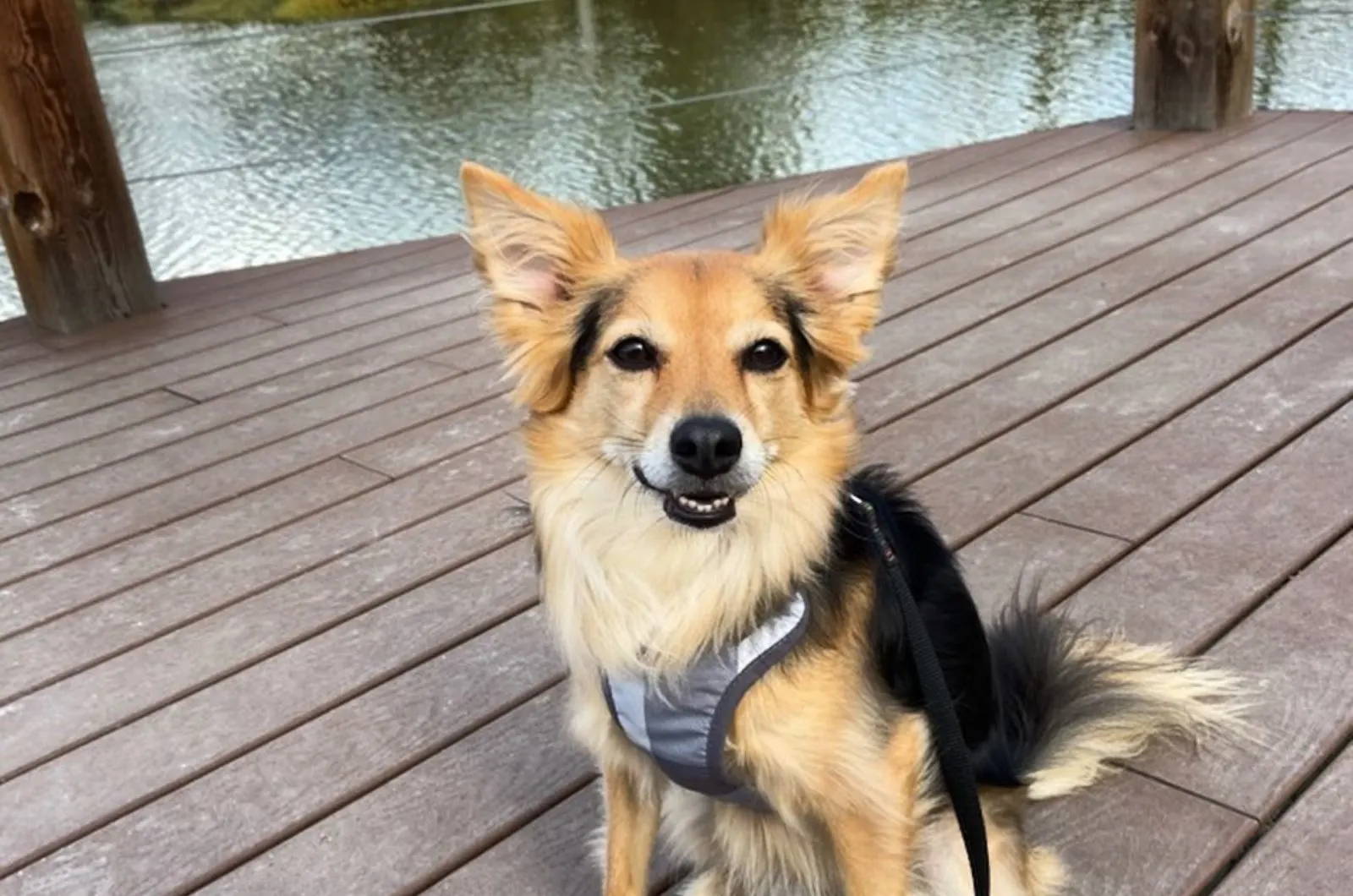 When it comes to highly trainable, loyal pets, you can't do any better than an Australian Shepherd Chihuahua Mix.
Their intelligence and energy make them perfect candidates for a variety of activities, from agility classes to therapy work. With the Aussie's natural herding instincts combined with the Chi's boundless enthusiasm and friendliness, these pups are sure to be lively and loyal family companions who can easily be trained.
While they may have some sassiness resulting from their parent breeds, their love of learning will always outweigh their stubbornness. Just remember that Aussie Chis need plenty of exercise and mental stimulation - so keep those tails wagging and brains engaged!
You have time to train a dog

You have a very active lifestyle
You want a very small dog

You want a dog that doesn't shed a lot

You don't want a high energy dog
What is an Australian Shepherd Chihuahua mix called?
The Australian Shepherd Chihuahua mix is generally just referred to as an Aussie Chi. However, this pup can sometimes also be called a Chi-Aussie or a Mexican Shepherd.
What does an Australian Shepherd Chihuahua mix look like?
An Aussie Chi is a pretty unique-looking pup, with a body that's typically quite long and lean. His coat can be short or long and comes in a variety of colors, including black, tan, red, blue merle, and white. He also tends to have striking eyes - usually one brown eye and one blue eye - that are a result of the merle gene found in both his Chihuahua and Aussie Shepherd roots.
How long do Australian Shepherd Chihuahua mixes live?
The average lifespan for an Australian Shepherd Chihuahua mix is about 12-17 years, although some can live a bit longer or shorter depending on their health and other factors.