Are Chihuahuas good with kids? Can they coexist?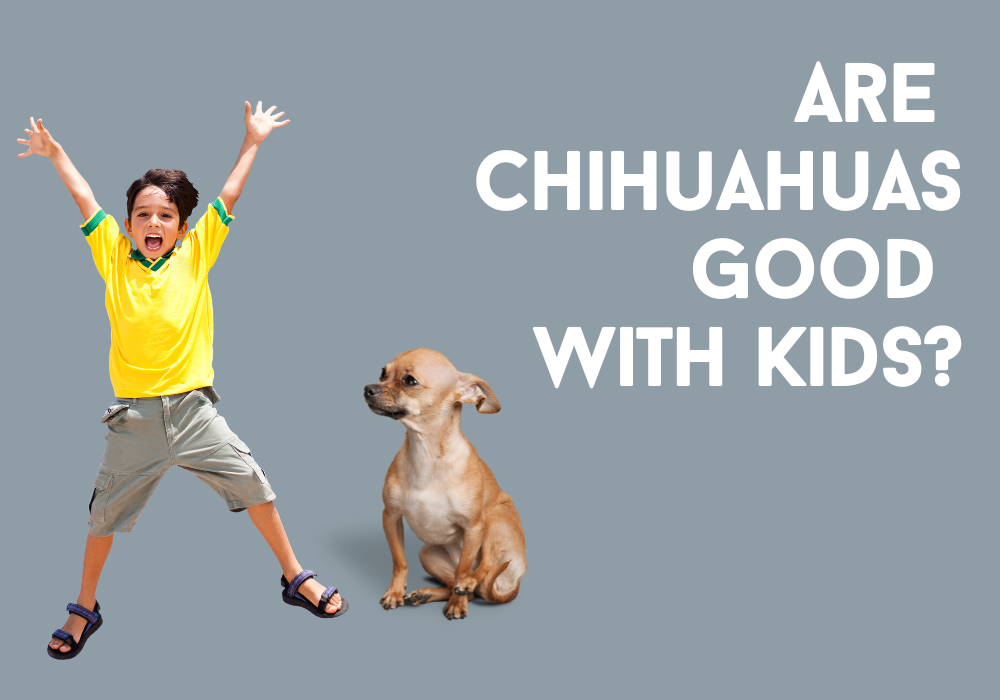 Curious about whether cute Chihuahuas and kids can coexist? Look no further – we've got all the answers you need.
Learn about how age factors into the equation, the pros and cons of having both a Chihuahua and a child, and even the top mistake kids make with these pint-sized pups (hint: it's a must-read).
But don't be fooled – just because Chihuahuas and kids may appear to be a match made in heaven doesn't always mean they'll get along swimmingly. Find out more about Chihuahua's personality in our insightful article.
Are Chihuahuas good with kids?
Are you wondering if Chihuahuas and Children can peacefully coexist under one roof? Well, you'll be relieved to know that with the right training and precautions, the answer is a resounding YES!
But, be warned, if you're not prepared to put in the time and effort for training, a Chihuahua might not be the best fit for your household.
Chihuahuas are better with kids over 10 years old
If you're thinking about adding a dog to your family, it's important to keep in mind that not all dog breeds are kid-friendly.
While Chihuahuas are undoubtedly cute and cuddly, they may not be the best choice if you have young children at home. Chihuahuas can be prone to snapping at kids, and their small size makes them easily injured by rough play.
However, if you have older children (around 10 years and up), a Chihuahua could be a great addition to your household, as long as your kids are respectful and kind to your Chi.
Teach your Child to interact with Chihuahuas
Make sure to keep a watchful eye when your child and Chihuahua are in the same room. It's important to teach your little one how to handle your Chihuahua gently.
Show them how to move slowly and calmly while petting or holding your Chi. Add a calming tone to your voice and use a catchy phrase like "Be gentle."
Remember, repetition is key when reinforcing these important lessons until you're confident your kid understands how to act around your Chihuahua.
Start with gentle petting
Introduce your children to the adorable Chihuahua puppy and teach them the art of gentle petting with a soft, soothing voice.
Demonstrate the right way - slow, tender strokes from the neck all the way down the Chihuahua's back. In case your kiddo starts playing a bit too rough, simply say 'no' and show them the right way again.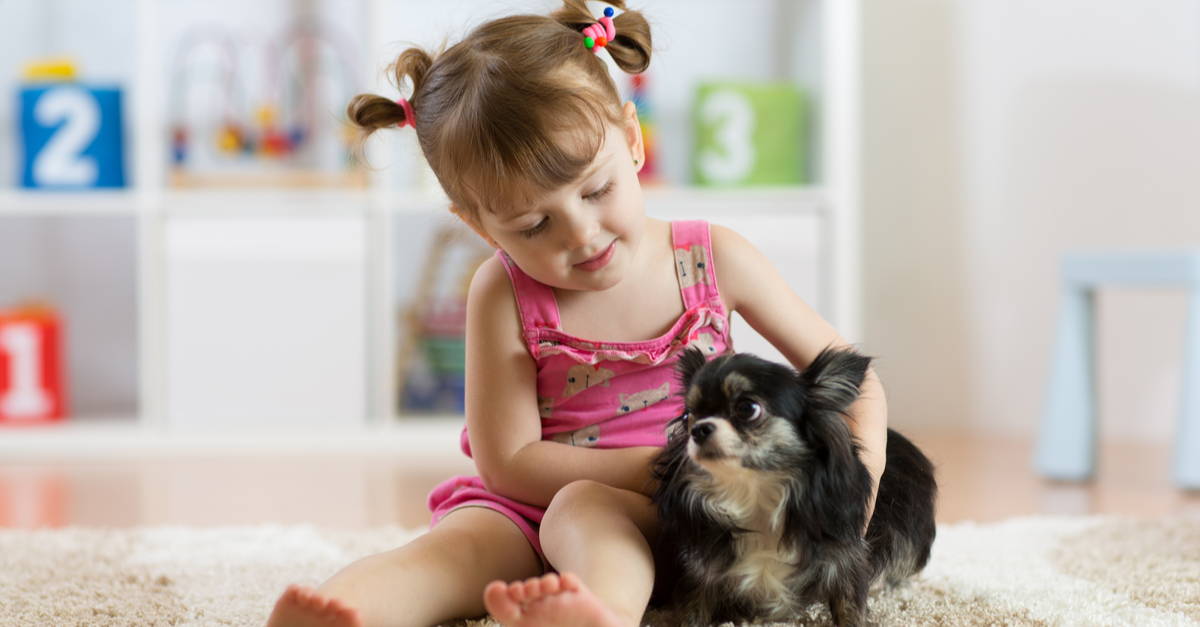 Show them how to handle the Chihuahua carefully
Parents, beware! A small child's innocent petting can have unexpected consequences when it comes to fragile Chihuahuas.
Make sure your little one is gentle and slow in their approach to avoid any paw-sible injuries. Remember, even small pets require big attention!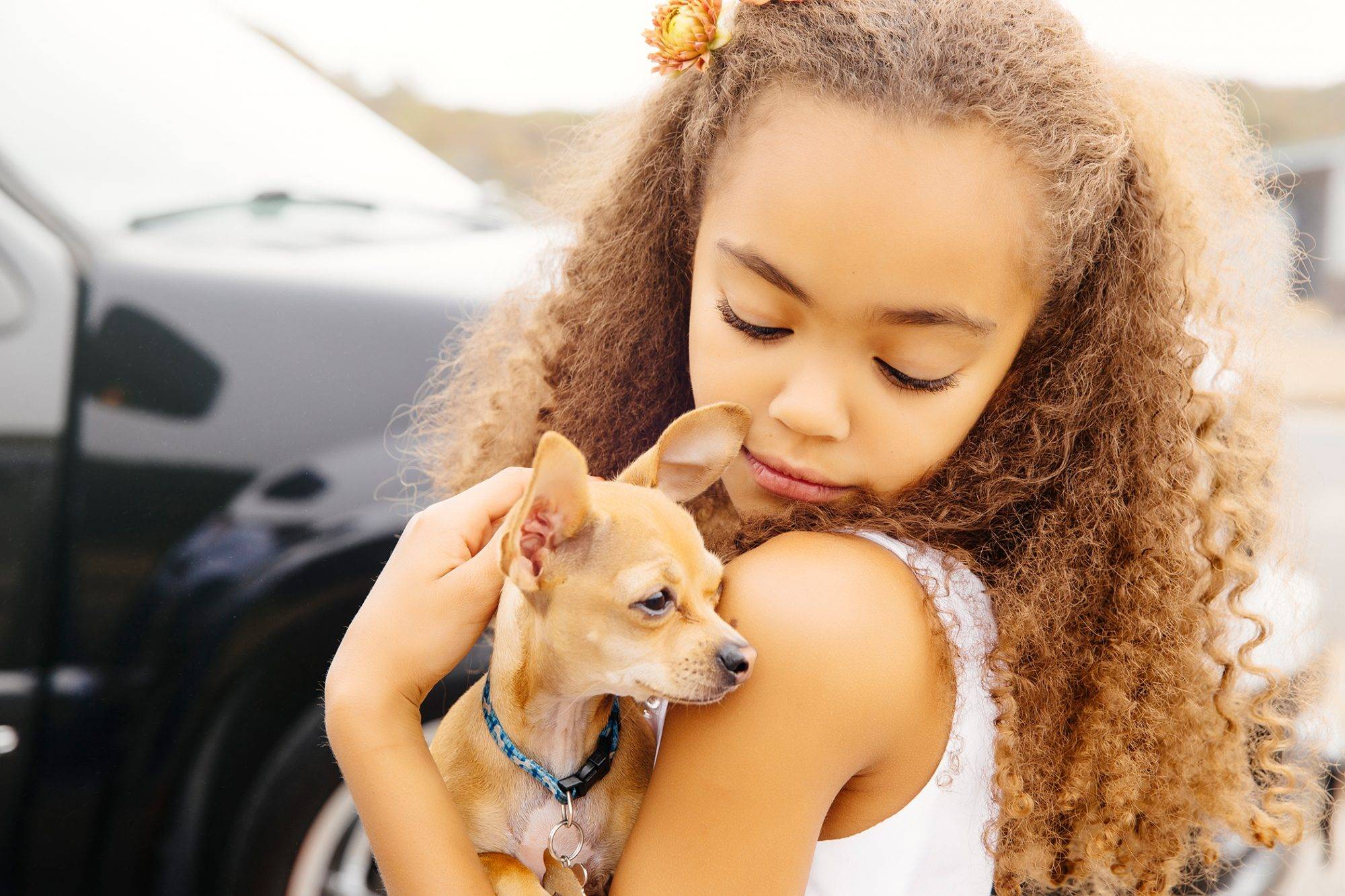 It's important to keep a close eye on your child when they're around a Chihuahua. But if you give them time to get to know each other, they can form a special bond.
Once that trust is established, you can let your child hold your Chihuahua solo. Just remember, it may take some patience and persistence to get there.
Creating a peaceful and loving environment for your Chihuahua not only benefits them but also sets a positive example for your child.
By refraining from physical discipline and approaching your Chihuahua in a gentle manner, you show your child the power of compassion and respect. Plus, studies show that physical punishment can hinder training and obedience, so why not opt for a kinder approach?
Train your Chihuahua to interact with kids
Teaching your Chihuahua to be comfortable around your child can be a rewarding experience. Puppies are easiest to train and can be placed in your child's arms to get them used to each other.
However, if your Chi is an adult, patience is key. Start by allowing your Chihuahua to be petted by your child and praise them both when they are getting along well. But be aware of warning signs like snapping or growling, and make sure to separate the Chihuahua from the child if necessary.
And don't forget to give your puppy a chew toy to redirect their natural urge to chew. With some perseverance and positive reinforcement, your Chihuahua and your child can become the best of friends.
If your Chihuahua is still a puppy, you can allow your child to hold them since there's no risk of injury. Just remember to closely supervise them to ensure it's a safe environment and that both your child and the puppy are gentle with one another. The more they interact, the more accustomed they will become to each other.
What to do if the puppy bites
Teaching your Chihuahua puppy not to bite can be a challenge, but it's important to set boundaries early on. If your furry little friend nips at your child, don't let it slide - a firm "NO" will go a long way in training them that biting is not okay.
While it may be tempting to let your puppy chew on your fingers during the teething stage, be aware that this can create bad habits that are tough to break later on. By emphasizing good behavior from the start, you'll be setting your Chihuahua up for a lifetime of love and obedience.
Keeping a close eye on your Chihuahua's behavior around your child is crucial to maintaining a safe and happy household.
If you notice any signs of aggression, like growling or showing their teeth, it's important to let them know that's not acceptable.
A firm "NO" followed by a timeout in their crate can help correct this behavior and ensure peaceful coexistence for all family members.
Your Chihuahua should remain calm
Keep the peace at home by ensuring that your Chihuahua and child get along swimmingly. To do this, it's important to make sure that your Chihuahua stays calm and relaxed whenever your little one is near.
Of course, this takes effort on your part, so be proactive by creating a safe space for both your Chihuahua and your child. Should your Chihuahua start to act up or show signs of aggression, it's up to you to show them who's boss.
Don't worry, all it takes is a firm "NO" to keep things under control.
Are chihuahuas good with kids with asthma?
Yes, Chihuahuas can be good with kids with asthma as long as proper precautions are taken. It's important to have your child wear a face mask or scarf when around the dog to avoid potential allergic reactions. You should also keep an eye on the amount of fur that builds up in your home and vacuum regularly to reduce the risk of an asthma attack.
Are Chihuahuas good with babies?
No, Chihuahuas are not typically good with babies. As previously mentioned, these small pups can be easily injured by rough play and may feel defensive around children who are too young to understand boundaries. It's important to wait until your child is over 10 years old before introducing them to a Chihuahua.