Are Chihuahuas Good With Cats? (+ Tips to Introduce Them)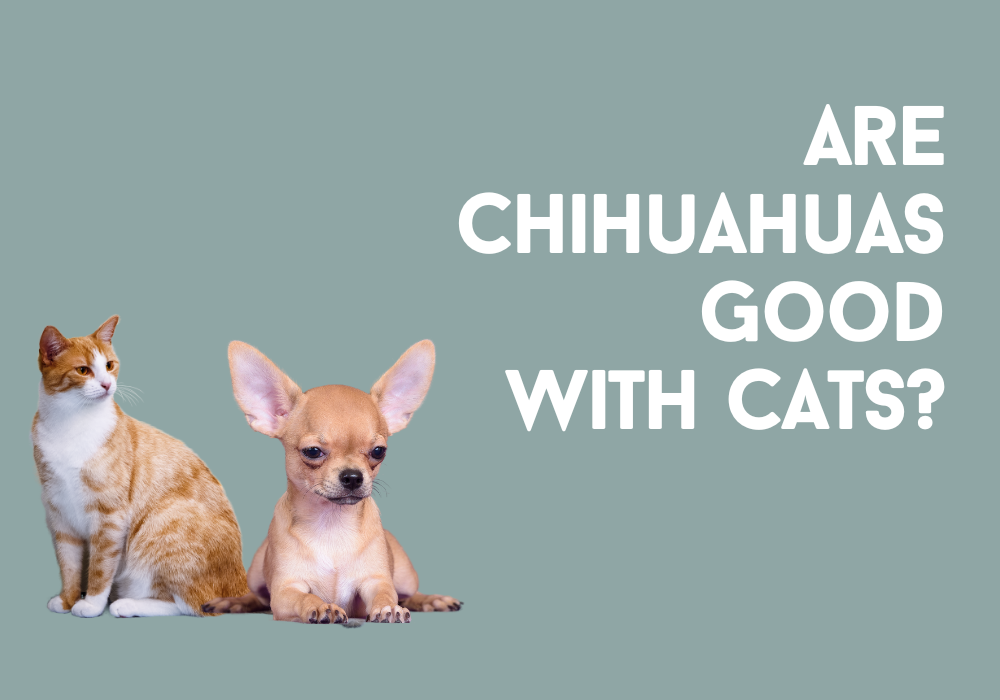 As a responsible Chiwawa owner, it's important to understand that not all animals get along, even if they are trained and socialized. While your sassy Chihuahua may play well with other dogs, it may not have the same friendly disposition towards cats.
However, it's possible for your Chihuahua to learn to live harmoniously with its feline counterparts. The key lies in early socialization and training.
If your Chihuahua is raised around cats and learns to interact with them positively, it should be able to coexist peacefully with cats.
Chihuahua and Cat Pictures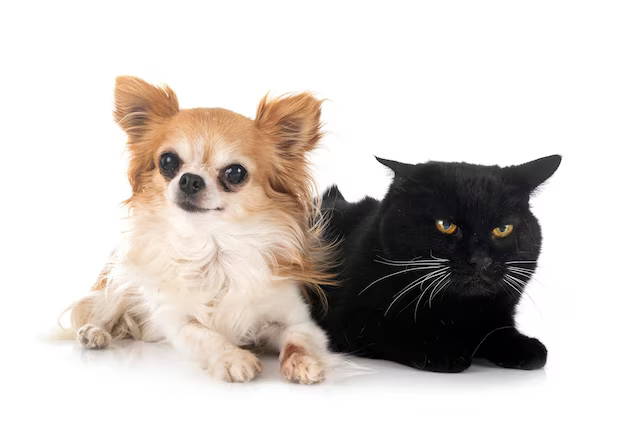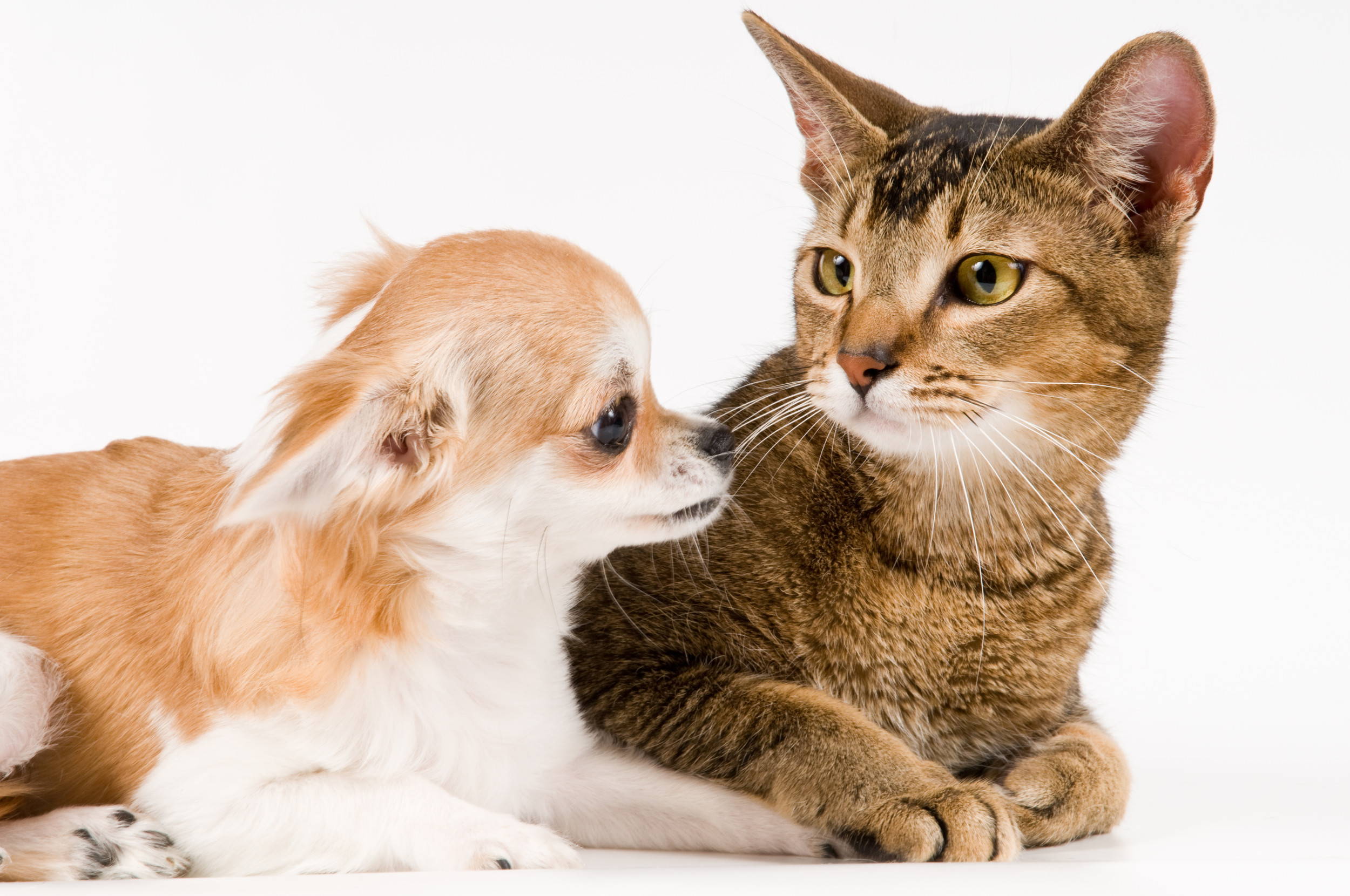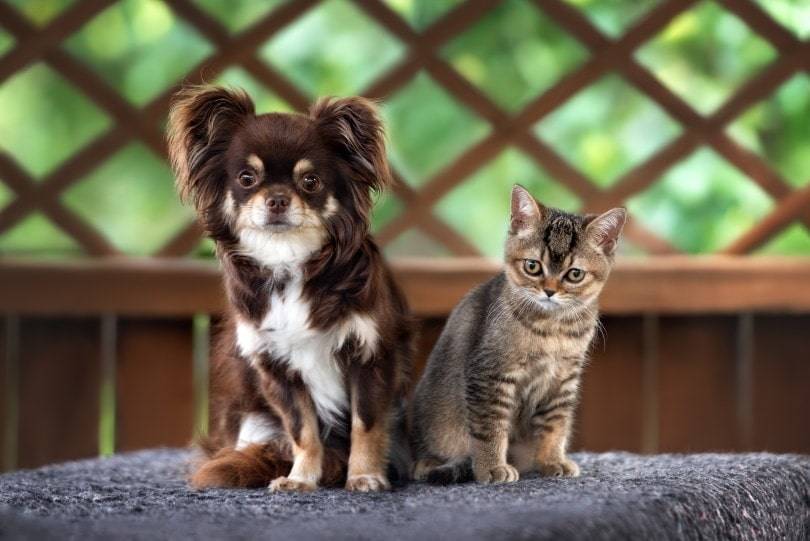 Chihuahuas and cats: can they get along?
Cohabitation can be a challenging step for animals, notably Chihuahuas. If you're thinking about bringing a cat into your Chihuahua's life—or vice versa—taking proper preparation measures is essential.
Consider your Chihuahua's feelings before introducing a cat to your home. Surprising them can trigger depression and jealousy, resulting in negative consequences. Take the necessary precautions to ensure a smooth transition for your furry friend.
- Chihuahuas and cats can display territorial behavior and act aggressively if they perceive a threat from people or other animals. However, they are easily won over by your affectionate and harmless demeanor, transforming into lovable companions.
- Chihuahuas are tinier than cats and at risk of getting hurt during playtime with felines three times their size. Despite appearances, even friendly interactions could result in harm.
- Age is a significant factor when it comes to introducing new pets. Even if you make an effort to get your senior Chihuahua to bond with a kitten, or your aging cat to befriend a puppy Chihuahua, it may not work out.
Compatibility is often limited by age differences.
Why Chihuahuas and Cats Might Not Get Along
Although Chihuahuas have the potential to get along with cats, it's important to recognize that it's not always a simple feat. The idea that cats and Chihuahuas naturally get along may be a common misconception.
In reality, there are numerous obstacles that could prevent these two pets from becoming friends. For instance, both of these animals have very different personalities and temperaments, which can lead to misunderstandings and conflicts.
Additionally, territorial issues, socialization barriers, and limited space may also exacerbate any pre-existing tensions. Thus, while it's possible for cats and Chihuahuas to coexist peacefully, it requires patience, effort, and careful supervision.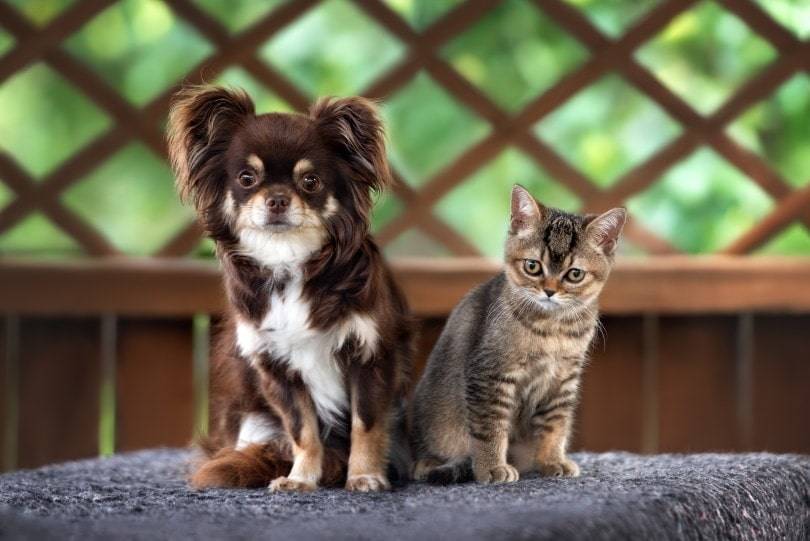 It is important to consider the size difference between cats and Chihuahuas when introducing them to each other. While it may seem harmless, cats are natural predators and can potentially view a Chihuahua as prey if the size difference is substantial enough.
Even if they seem to get along, accidents happen and a larger cat could unintentionally harm a smaller Chihuahua. It's crucial to monitor their interactions closely and always be cautious when introducing them.
It's important to consider the age of your pets when introducing them to each other. Many Chihuahuas and cats can peacefully coexist in the same household, but only if they grow up together.
Introducing a kitten to an older Chihuahua or vice versa can be a recipe for disaster. The older pet may feel threatened or territorial, leading to conflict and potential harm to both animals.
By taking the time to properly introduce and acclimate your pets, you can ensure a harmonious and safe environment for everyone.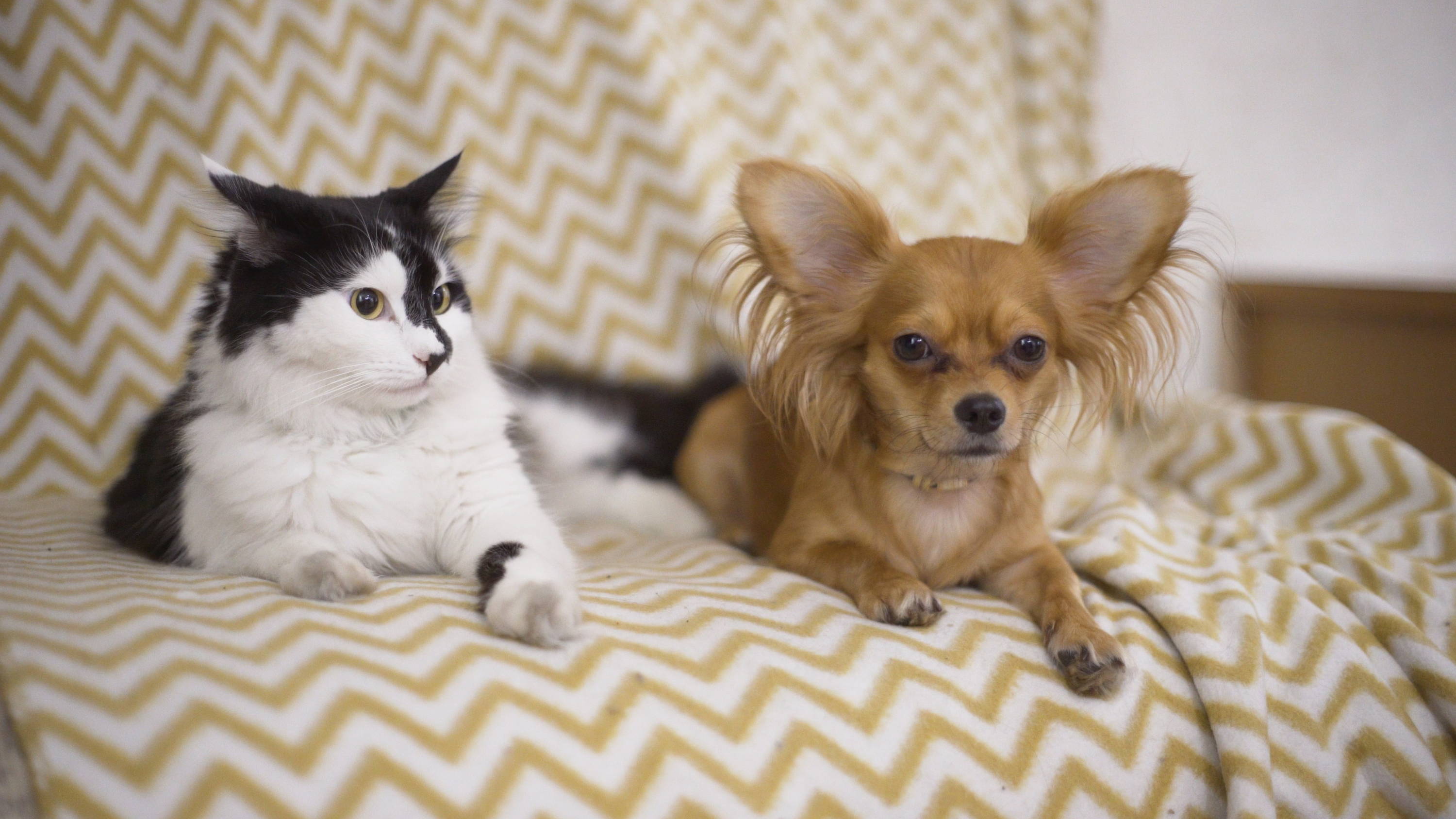 Introducing a new cat into a home where a Chihuahua has already established their territory can cause some serious tension between the two pets.
The Chihuahua may feel threatened and become increasingly territorial, causing them to lash out at the new feline resident. This can lead to fights or aggressive behavior toward each other, making the situation stressful for both pets and their owners.
Jealousy is a trait that is commonly found in both cats and Chihuahuas. It's not unusual for these animals to react negatively to the introduction of a new pet in the household.
Whether it's a new cat or a new Chihuahua, the initial reaction of jealousy can be quite overwhelming. Your Chihuahua might feel threatened and left out by the new cat, while a cat might feel the same way towards a new Chihuahua.
Tips to help your cat and Chihuahua get along
Bringing a Chihuahua and a cat into the same household can certainly be a challenge, but with some patience and careful planning, it is possible for the two to coexist in harmony.
Introduce them using crates
Rather than allowing your Chihuahua and cat to run up to each other the first time they meet, it is recommended to keep them both in their crates.
By doing so, you provide a secure environment for both animals to get accustomed to the presence of each other, without the risk of any sudden lunges or attacks.
This initial strategy will ultimately help to foster a positive and peaceful relationship between your pets for years to come.
Keep their belongings completely separate
When living in the same household, your cat and Chihuahua shouldn't share anything to prevent potential competition and tension.
It is important for the two animals to have their own possessions, such as separate food bowls and water bowls, along with designated places to sleep and play. Even sharing a litter box can be difficult, since cats prefer privacy when using them.
Make sure these items are kept out of reach of each other; it may be necessary to keep your pet's belongings in separate rooms or areas of the house.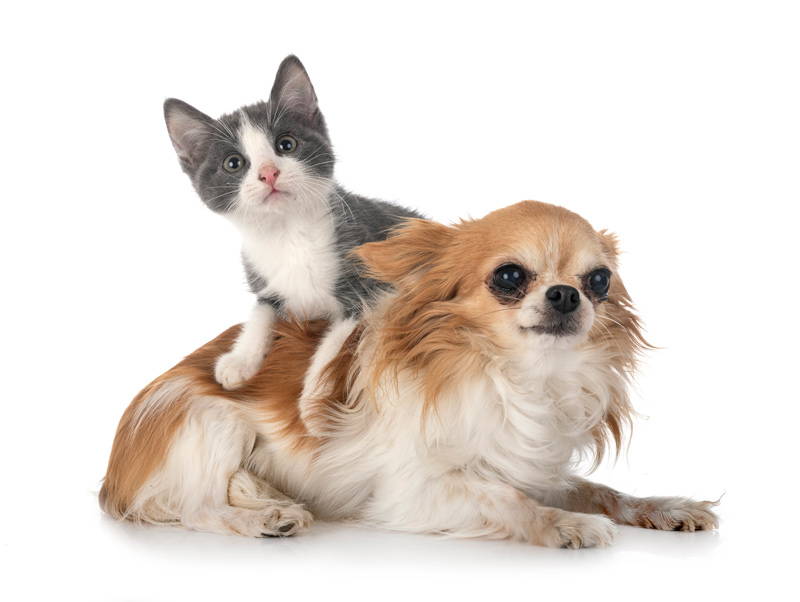 Give your Chihuahua and cat equal attention
As pet parents, it's our responsibility to show equal love and attention to all of our furry friends. Neglecting one pet over the other can cause a ripple effect of negative consequences, including jealousy and separation anxiety.
Not only can this lead to hostile behavior among your pets, but it can also result in destructive and problematic habits that are difficult to break.
By prioritizing the emotional well-being of both your Chihuahua and your cat, you're not only fostering a harmonious relationship between them but also setting the standard for responsible pet ownership.
How To Introduce Your Chihuahua To A Cat
When it comes to introductions between a Chihuahua and a cat, reactions should be at the forefront of your mind.
1/ Keep them separate for a few days
It's essential to remember that your new Chihuahua's or cat's first few days in your home are crucial to their adjustment process.
Keeping your cat and Chihuahua separated is vital in helping your new pet understand that their new environment is a safe place, as they get used to new sounds and smells.
Taking the time to ensure that all of the essentials are set up, such as bedding, food, and toys, will help your new pet relax and feel at home.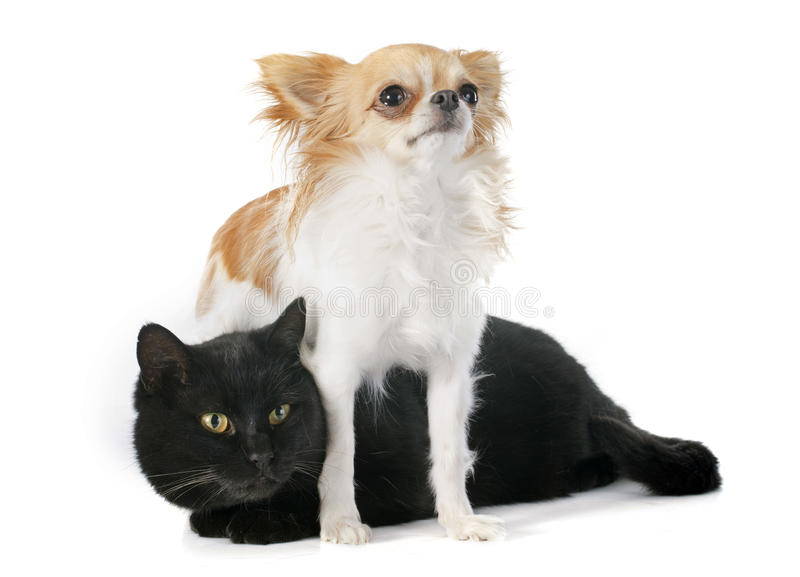 2/ Introduce them through a crate
As a pet owner, it's important to recognize that not all Chihuahuas and cats will get along naturally.
Separating them with a gate is a smart decision that allows them to analyze each other's body language without any risk of harm. However, even with precautions in place, things can still escalate quickly.
That's why it's essential to keep your emotions in check and remain calm throughout the introduction process.
When introducing your cat and Chihuahua for the first time, it's crucial to supervise their meeting closely. Without the barrier of a gate, the proximity of the two animals could spark discomfort or anxiety, which could lead to aggression.
Being present to mediate their interaction and soothe their nerves can prevent any unwanted altercations. In the event that your Chihuahua displays signs of aggression, it's imperative that you use a leash to control the situation.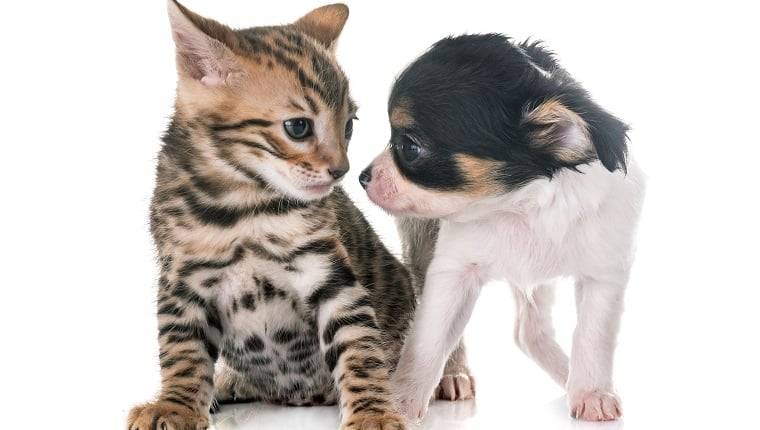 4/ Help them make their bond stronger
Once the initial meeting is over, the real work begins. It's important to prioritize building a strong relationship between your cat and Chihuahua.
Give them both equal attention and love to avoid any feelings of jealousy. This will also show them that they are both valuable members of the family.
Are Chihuahuas cat-friendly?
Yes, Chihuahuas are generally cat-friendly. However, proper introductions and supervision are necessary to ensure that both pets feel safe and comfortable in their shared environment. If your Chihuahua displays any signs of aggression, it is important to separate them immediately and seek the help of a professional trainer.
Some Chihuahuas may take to cats more quickly than others, but all can be trained to coexist peacefully with their feline housemates. With patience and positive reinforcement, your Chihuahua will learn to respect their furry friend over time.
Can a chihuahua kill a cat?
It is generally not recommended to leave cats and Chihuahuas unsupervised in the same environment. Even if your Chihuahua appears to be friendly, there is always a potential risk of aggression or injury. However, it is possible for them to live together peacefully with proper introduction and ongoing supervision.
Can chihuahuas eat cat food?
No, Chihuahuas should not eat cat food. Cat food is designed to meet the specific nutritional needs of cats and may be unhealthy for other animals. If you think your Chihuahua has ingested cat food, contact a veterinarian immediately.
Can a cat kill a Chihuahua?
Yes, a cat can potentially kill a Chihuahua. Even if your cat seems harmless and friendly, it is always best to supervise any interaction between them. If either pet displays signs of aggression, separate them immediately, and consider seeking the help of a professional trainer.
Why Do Chihuahuas like to chase cats?
Chihuahuas, like many other breeds, can develop a prey drive that compels them to chase cats. This is an instinctive behavior and while it can be difficult to break, it can be done with positive reinforcement and ongoing training.