American Eskimo Chihuahua Mix (Chimo) Breed information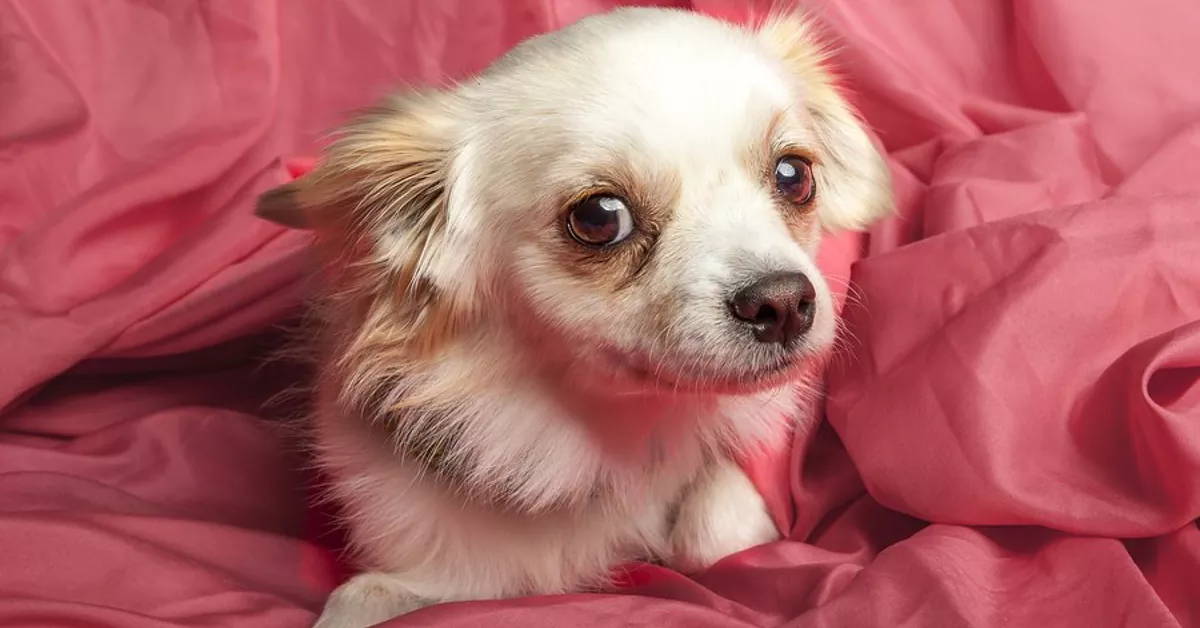 If you're looking for an active, loveable, and loyal pet that fits into any size household, then you need to get yourself a Chihuahua American Eskimo mix.
These dogs bring the best of both worlds: the intelligence and friendliness of an American Eskimo Dog combined with the energy and liveliness of a Chihuahua!
They make wonderful companions for active people, those who work from home, as well as families living in large homes with plenty of space.
Chimos are known for being highly trainable and able to adjust easily to any type of environment. Just don't forget that they have a notable suspicion towards strangers - they make great outdoor alarm systems! So if you're looking for supersized love in a small package then look no further than a Chihuahua American Eskimo mix!
American Eskimo Chihuahua Mix
grey, cream, tan, white, fawn, black, multicolored
families with older children, apartment dwellers
reserved, territorial, playful, intelligent, witty
Chihuahuas are small but mighty! This breed is known for its sass, intelligence, and loyal nature. They may be tiny in size, but don't let that fool you! Chihuahuas make great watchdogs with their boldness and alertness.
Although they can seem yappy or snappy at times, they too can be gentle and loving companions. In addition to their unique personalities, Chihuahuas are very low maintenance when it comes to grooming needs - all they need is occasional brushing and bathing.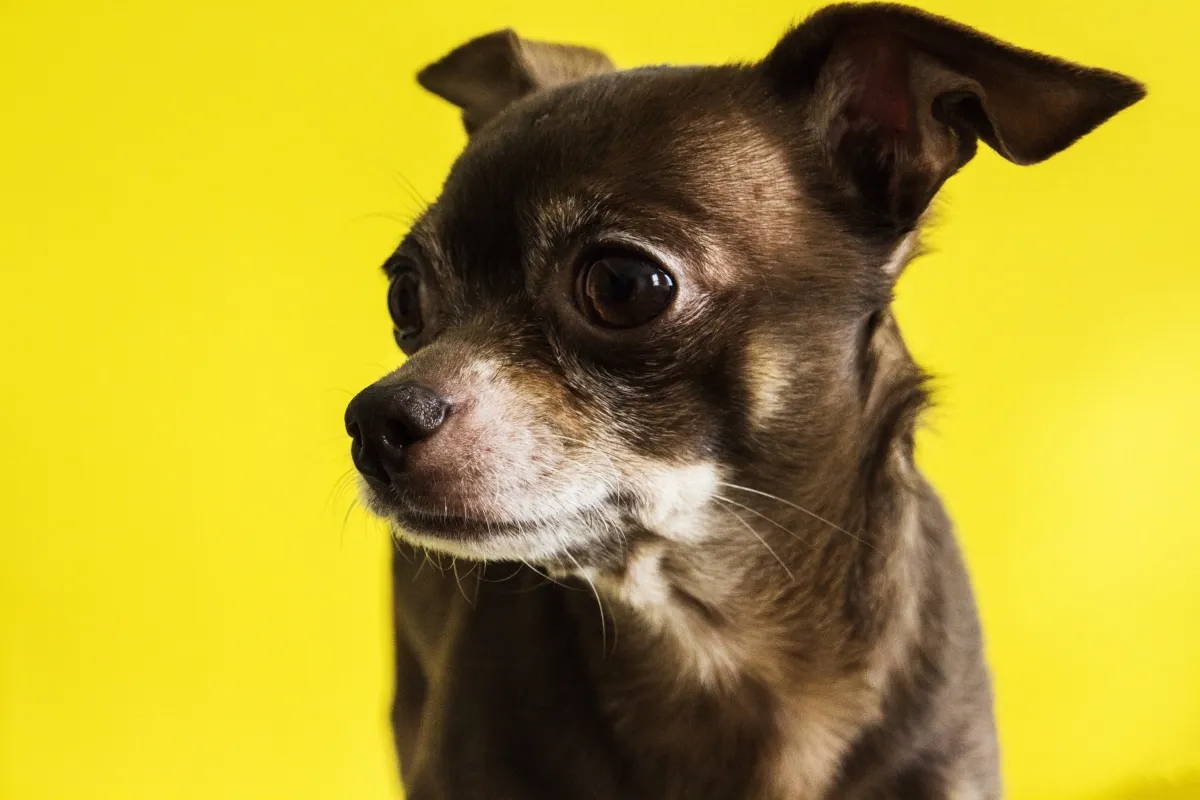 The American Eskimo dog is a loyal, affectionate and highly intelligent dog that makes an excellent companion. Although they may seem aloof to strangers, their owners can attest to the fact that when in the comfort of their home and family, these dogs are actually quite personable and full of fun.
American Eskimos tend to be independent thinkers, so training requires patience, consistency and lots of positive reinforcement.
Playful and active pups at heart, they love to engage in physical activity on a daily basis if possible - like running around in a large yard or going for hikes with their humans!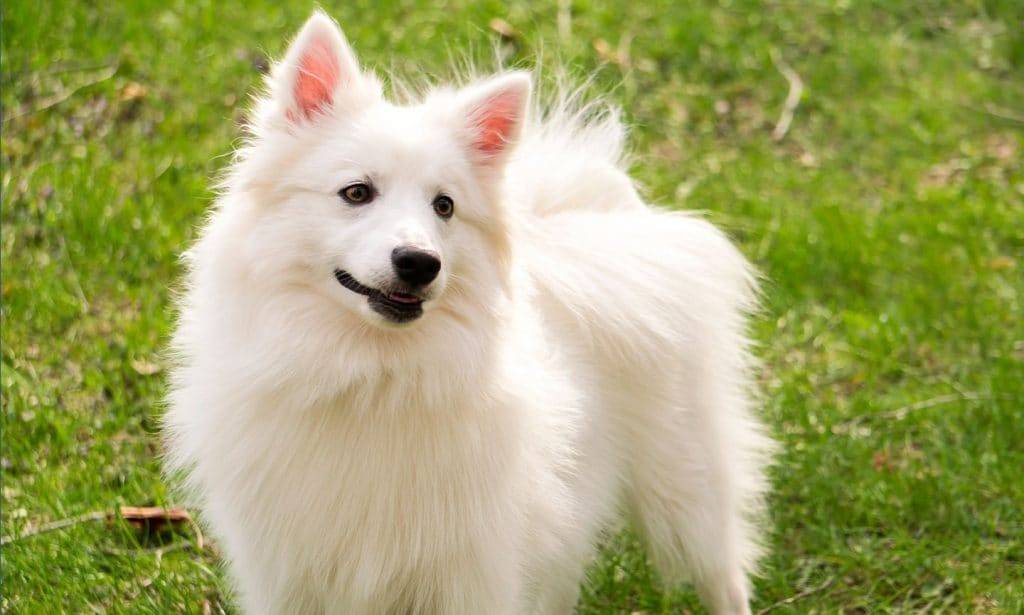 Despite their increasing popularity, American Eskimo Chihuahua mixes are tough to find a reliable breeder for. Unfortunately, you might run into puppy mills or backyard breeders which are both very risky when it comes to canine health and behavior.
Without proper research into genetics and pedigree, puppies could come with all sorts of unpleasant surprises, like behavioral issues or genetic illnesses.
Adopting a Chihuahua American Eskimo from a local shelter or rescue is an incredibly rewarding experience. Not only is adopting cheaper than buying from a breeder, but it also means that you are giving an animal in need the chance for a better life.
Although finding young puppies may be difficult, you will find that shelters have an abundance of adult and senior Chimos that are just as lovable and deserve just as much love. The main issue with adoption can be having to wait for the right animal to come available at the shelter. However, with patience and dedication, you will eventually be able to find your perfect new pup!
The American Eskimo Chihuahua Mix is not recognized by the A.K.C.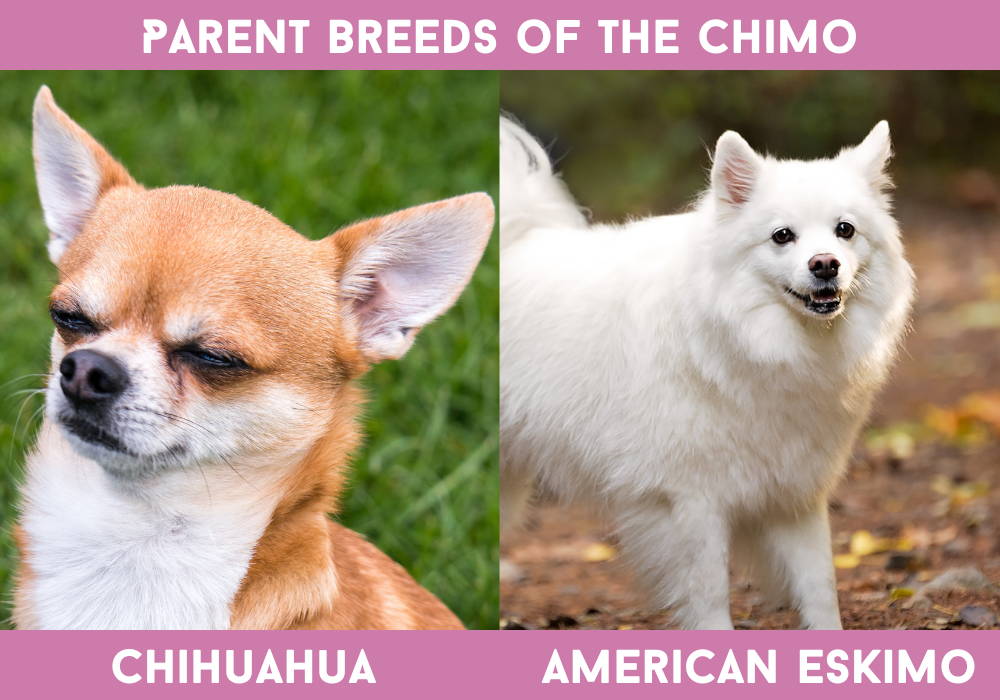 An American Eskimo Chihuahua mix is a unique blend of two distinct breeds. It looks like a smaller version of its Eskimo parent, with a slightly shorter muzzle, high-set ears, and bright almond-shaped eyes.
Its small frame is covered with a thick, white coat that blends in perfectly with its Chihuahua ancestry's brown markings on the head and back.
The Chihuahua American Eskimo mix has an impressive double-coat to ward off the cold winter temperatures and will usually require frequent grooming for the best possible results.
The Chimo stands at just 9 to 18 inches and rarely weighs more than 30 lbs, but it packs a lot of energy into its pint-sized frame.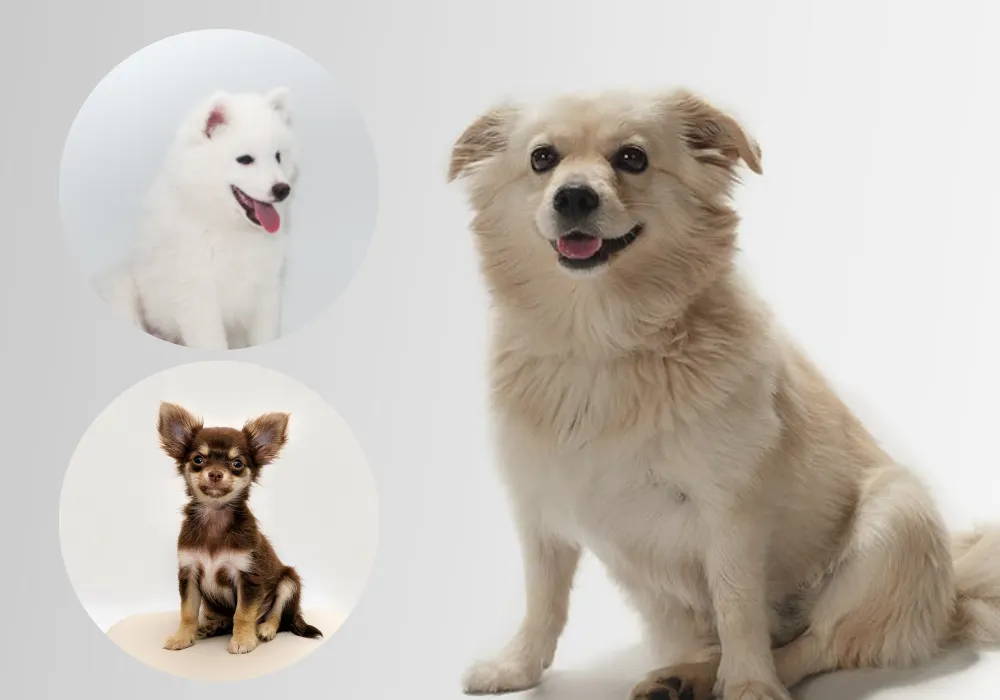 Since Chimos are a relatively new hybrid and there's little to no information available about this mix's general temperament and intelligence, the best way to get an idea of how your Chimo may be is to look at the individual temperaments of its parent breeds: the Chihuahua and American Eskimo Dog.
Although there's no specific guarantee, Chihuahua American Eskimo mixes typically enjoy spending time with people and need that daily interaction to stay happy. They may also show some overprotectiveness and stubbornness occasionally — but this can easily be overcome with proper socialization from day one!
While Chihuahua American Eskimo mixes are very smart, they can also be headstrong – so it's important to keep firm with your training session throughout the day while still showing lots of love and encouragement.
On top of that, they don't do well when left home alone for too long, so consider this before choosing one as a pet! Thankfully, despite their guarding instinct, they are usually very friendly and gentle around strangers.
Chihuahua American Eskimo mixes are known for their territoriality and sometimes aggressiveness towards unfamiliar dogs. When it comes to getting along with other pets in the home, however, the situation is a bit more complex.
Chimo dogs can form strong bonds with other animals in their home if they were raised together from an early age, so socialization is key when it comes to relationship building. With enough patience and training from the pet owner, Chimo behavior can be managed and harmonious relationships between them and their fur siblings are possible.
When introducing your Chihuahua American Eskimo mix to new animals in its environment, slow introductions and positive reinforcement techniques should be observed.
Though they generally get along well with cats and smaller animals in their home, unpredictable reactions can occur any time two strange animals meet each other - which is why taking extra care should always come first.
American Eskimo Chihuahua Mixes usually have long, fluffy hair and often look like miniature polar bears.
Despite their cuddly appearances, this breed is considered to be a medium-heavy shedder, so it's important to ensure that you're up for the task of regular vacuuming and brushing when considering a Chimo as a pet.
Fortunately, their easy-to-care-for coats make them a breeze to groom - just be sure to have the right tools on hand!
Chihuahua American Eskimo mixes are not hypoallergenic.
Chihuahua American Eskimo Mixes typically have a lifespan of between 12 and 15 years.
While Chimo dogs may inherit some of their physical and behavioral traits from their parent breeds, they also inherit the same health issues.
American Eskimo Chihuahua Mixes are prone to a condition known as Patellar Luxation — in other words, their kneecaps can become dislodged from their sockets.
Symptoms include limping, a notable skip in the gait in their walk, difficulty putting pressure on the affected leg, and pain or lameness. Fortunately, most dogs make a full recovery after surgery and have perfectly healthy lives afterward!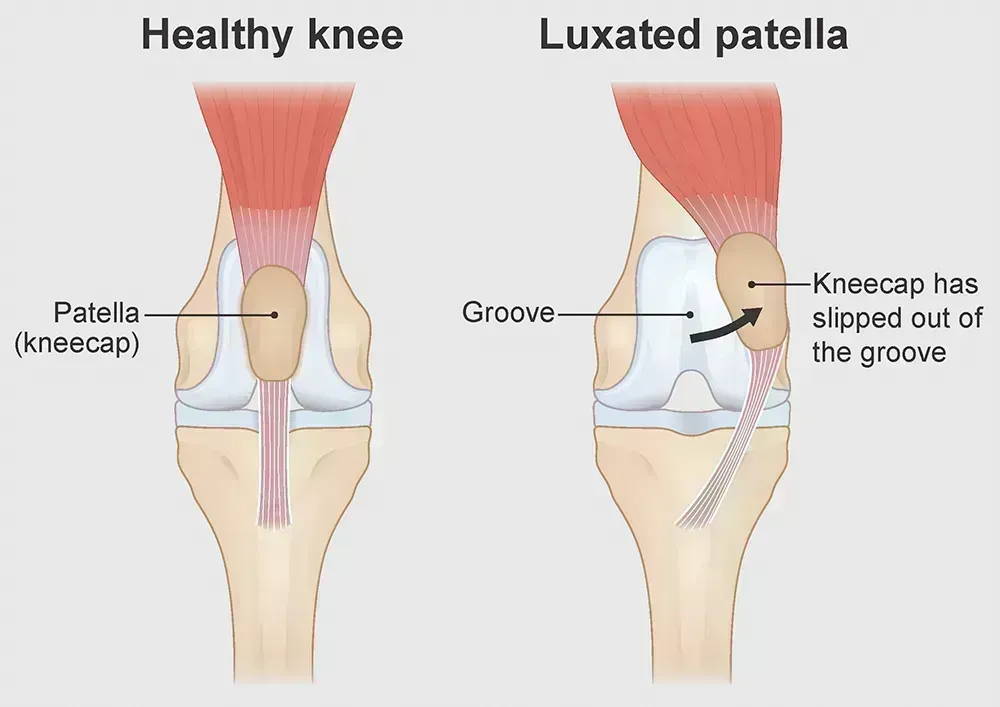 Suffering from hip dysplasia is an unfortunately common problem for Chihuahua American Eskimo Mixes. This hereditary condition can
cause them pain and difficulty in movement
, though it may not be visible early on in life.
It's important to have your pet examined by a veterinarian before any symptoms appear, so you can take the necessary steps to keep your fur baby as comfortable as possible throughout their life.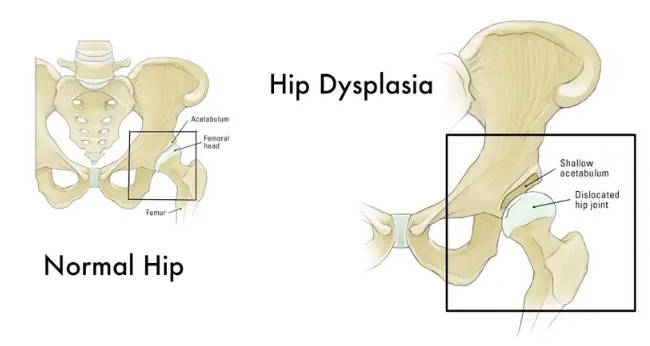 Unfortunately, Chihuahua American Eskimo Mixes are particularly vulnerable to a condition known as tracheal collapse.
It's caused by the wearing away of the cartilage in the trachea, which can cause difficulty breathing and coughing. While there is no cure for this condition, it can be treated with medications and lifestyle changes.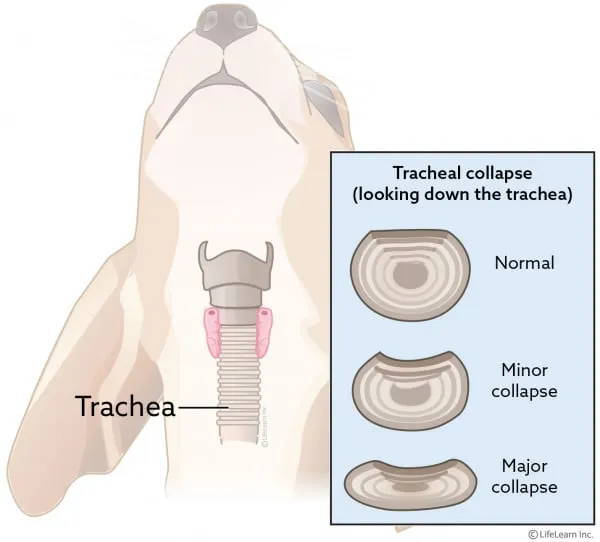 When caring for a Chihuahua American Eskimo Mix, you must consider grooming, exercising, training, and feeding.
American Eskimo Chihuahua mixes typically have a dense, double coat that should be brushed at least twice a week to keep it looking its best and prevent tangles. Some people even enjoy brushing their Chimo's hair daily!
It is also important to bathe them regularly with a good quality shampoo and conditioner, as bad skin can lead to itching and discomfort which could affect the health of the coat. To prevent excessive shedding and keep fur healthy, American Eskimo Chihuahua mixes need frequent trimmings.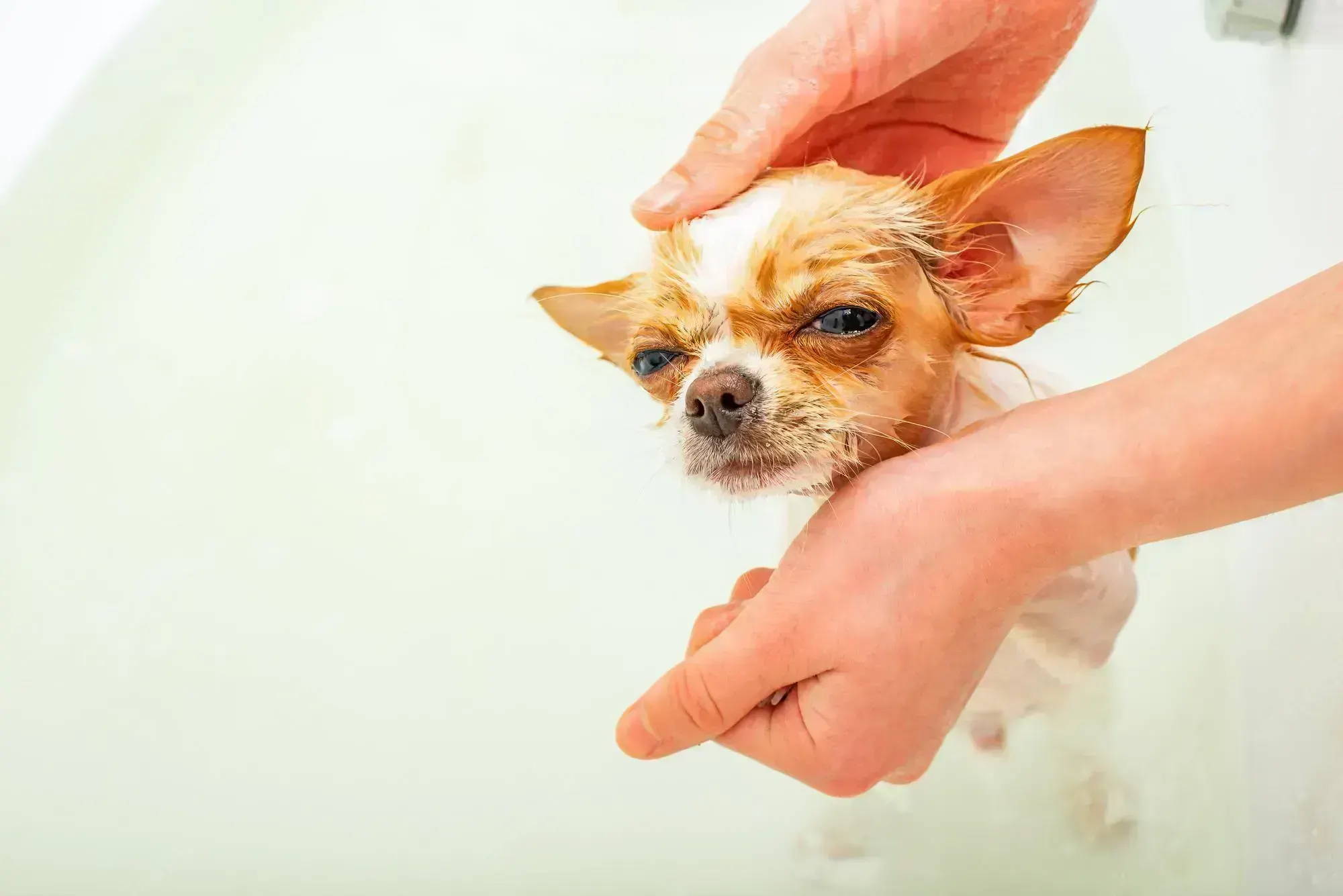 It's important to begin training with your Chihuahua American Eskimo Mix (Chimo) as soon as you bring them home. But be sure to use positive reinforcement-based techniques and avoid picking up your Chimo if they're misbehaving – this only reinforces the behavior.
Because of their size, housebreaking may be difficult initially, but regular trips outside to do their business will eventually take care of it. Doing short rounds of socialization with people and other dogs from an early age is key too; look into group classes for obedience or one-on-one sessions for additional training opportunities that would prove beneficial to Chimos in the long run!
The best way to feed your American Eskimo Chihuahua mix is by following the advice of a veterinarian who is familiar with the breed. Many owners opt for high-quality dry food specifically designed for small dogs as this, combined with occasional treats, meets all of their dietary needs.
If you choose to supplement the dry food with some canned food, be sure it has the appropriate nutrient content; if not, additional vitamins may need to be added. Additionally, the amount of food given should be adjusted depending on the activity level and age of your pup; both too much and too little food can compromise your Chimo's health and wellbeing in equal measure.
If you're lucky enough to own a Chihuahua American Eskimo Mix (Chimo), you'll want to be prepared for an active pup. Aim to take them out for a jaunt or two each day and at least 30 minutes for playing.
American Eskimos tend to wander, so give them a safe spot where they can have free rein - like a fenced-in backyard. To make playtime especially fun, come up with different games to engage their mind and really wear them out! If your Chimo happens to be particularly spunky, talk to your veterinarian about trying agility. Just make sure that you step back and let the expert decide if they're fit enough to take part in more difficult activities!
Male and female Chihuahua American Eskimo Mixes both have their own unique traits that make for an interesting combination. Generally speaking, male Chimos tend to be a bit larger and heavier than females, but both genders have similar energetic personalities.
Male Chihuahua American Eskimo Mixes are known for being a bit more loyal, making them an ideal companion pet if you're looking for unconditional love and devotion.
They thrive on human companionship but also enjoy playing independently or with other pets in the household. Females tend to be high-energy, loving lap dogs and can often learn commands faster than males; however they may require a little extra patience when training.
Is it the Chimo right for you?
Not great with small kids
Chimos are perfect for families with a bit older and calmer children. Though their small size can be quite attractive, it can also leave them vulnerable to roughhousing and handling.
Chihuahua American Eskimo mixes have a cheerful, yet subtle temperament that is gentle towards kids, but they may become irritated if they're mishandled or over-teased.
For this reason, families with kids under the age of six should consider another type of dog. Chimos are best in calming households where they can live happily amongst their loving family members and get showered in tons of cuddles.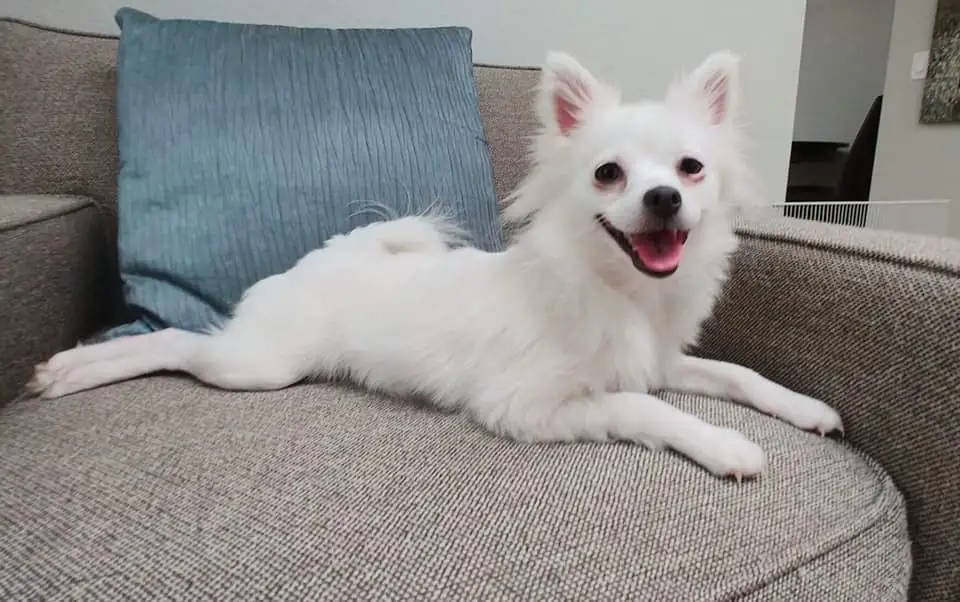 Prone to separation anxiety
Chihuahua American Eskimo Mixes are a unique and lovable breed, but they do require quite a bit of attention and affection. Given the fact that these designer mixes are prone to separation anxiety, they are best suited for families or individuals who can invest more time in their companions than the average pet owner.
As such, if someone works from home or is home most of the time, then the Chimo dog is likely an excellent fit as it will be showered with love and companionship from its new owner.
Thus, before getting one of these wonderful four-legged friends, prospective owners should think carefully about their lifestyle and how much time and effort they're able to dedicate to their furry companion.
You have an active lifestyle

You have a lot of time for a dog
You want a low shedding dog

You don't want a dog that barks a lot
What is an American Eskimo Chihuahua Mix called?
An American Eskimo Chihuahua Mix is often referred to as a 'Chimo'.
What does an American Eskimo Chihuahua Mix look like?
Chimos typically have a small, stocky body and can range in color from white to black. They usually have long, fluffy fur and often feature a 'mask' pattern on their face.
How long do American Eskimo Chihuahua Mixes live?
The average lifespan of an American Eskimo Chihuahua Mix is between 12 and 15 years.